International Journal of Services and Operations Management
This journal also publishes Open Access articles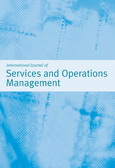 Editor in Chief

Prof. Angappa Gunasekaran

ISSN online

1744-2389

ISSN print

1744-2370
12 issues per year


CiteScore

1.4 (2021)

Globalisation of market and operations places tremendous pressure on productive management of services and manufacturing enterprises. Services are increasingly important in today's developed economies. Nevertheless, manufacturing plays a major role in national economies and is essential for the survival of service organisations. Considering the globalisation of services and manufacturing, a journal focusing on global perspective of operations management is of paramount importance. IJSOM focuses on new strategies, techniques and technologies for improving productivity and quality in both manufacturing and services.
Topics covered include
Operations strategy in services/manufacturing, SMEs
Designing service/manufacturing enterprises, virtual enterprises
Value chain perspectives
Service blue printing
Service delivery process, performance measures/metrics
Managing capacity
Managing and measuring quality
Information technology, MRP, ERP
Human resources
Production planning and control, scheduling, JIT
Lean/agile production
Supply chain/inventory management
Product and process design
E-commerce and operations
Location and facility planning
More on this journal...
Objectives
The main objectives of IJSOM are to promote research and practice of new strategies, techniques and technologies for improving the organisational competitiveness of both service and manufacturing industries around the world. IJSOM aims to help professionals working in the field of services and operations management, academic educators, industry consultants, and practitioners to contribute, to disseminate and to learn from each other's work. The global dimension is emphasised to overcome cultural and national barriers and to meet the accelerating technological changes and changes in global economy. IJSOM aims to act as a forum for exchanging innovative ideas and sharing research and practical experiences in services and operations management. IJSOM will publish high quality articles in all areas of manufacturing and service operations management.
Readership
IJSOM is a forum to help professionals, academics, researchers, practitioners and policy makers, working in the field of services and operations management, to discuss the important ideas, concepts and disseminate information and to learn from each other's work.
Contents
IJSOM publishes original papers, review papers, technical reports, case studies, conference reports, management reports, book reviews, notes, commentaries, and news. IJSOM will also publish paper addressing simulation and mathematical models. Special Issues devoted to important topics in services and operations management will occasionally be published.
Editor in Chief
Gunasekaran, Angappa, Penn State Harrisburg, USA
(an.gunasekarangmail.com)
Associate Editor
Subramanian, Nachiappan, University of Sussex, UK
Editorial Board Members
Antony, Jiju, Heriot-Watt University, UK
Apte, Uday, Southern Methodist University, USA
Babbar, Sunil, Florida Atlantic University, USA
Beresford, Anthony, Cardiff University, UK
Berry, William, Queens University of Charlotte, USA
Bommer, Michael, Clarkson University, USA
Buddress, Lee, Portland State University, USA
Bueno Campos, Eduardo, Universidad Autónoma de Madrid, Spain
Burns, Neil, Loughborough University, UK
Chen, Chialin, Queen's University, Canada
Clegg, Ben, Aston University, UK
Damien, Paul, The University of Texas at Austin, USA
Das, Ajay, Baruch College, USA
Davis, Mark, Bentley College, USA
Dobson, Gregory, University of Rochester, USA
Evans, James R., University of Cincinnati, USA
Eynan, Amit, University of Richmond, USA
Franceschini, Fiorenzo, Politecnico di Torino, Italy
Fransoo, Jan, Technische Universiteit Eindhoven, Netherlands
Gindy, Nabil, University of Nottingham, UK
Goodwin, Paul, University of Bath, UK
Hertz, Susanne, Jonkoping International Business School, Sweden
Hua, Zhongsheng, University of Science and Technology of China, China
Huchzermeier, Arnd, WHU - Otto-Beisheim Graduate School of Management, Germany
Kohler, Pierre, Swiss Business School, Switzerland
Koulamas, Christos, Florida International University, USA
Li, Shanling, McGill University, Canada
Lyu, JrJung, National Cheng Kung University, Taiwan, Province of China
Macbeth, Douglas K., University of Southampton, UK
MacBryde, Jillian, University of Strathclyde, UK
Mathieu, Richard G., Queens University of Charlotte, USA
McCarthy, Ian, Simon Fraser University, Canada
McComb, Sara, Purdue University, USA
McDermott, Chris, Rensselaer Polytechnic Institute, USA
Mercieca, Charles, UN-NGO, USA
Newman, W. Rocky, Miami University, USA
Olson, David L., University of Nebraska - Lincoln, USA
Oztekin, Asil, University of Massachusetts Lowell, USA
Parlar, Mahmut, McMaster University, Canada
Pentico, David W., Duquesne University, USA
Pesnel, Eric, ESCP-EAP, France
Robb, David, Tsinghua University, China
Rosenthal, Stephen R., Boston University, USA
Russell, Robert A., University of Tulsa, USA
Sethuraman, Kannan, University of Melbourne, Australia
Smith, Marilyn, Winthrop University, USA
Sum, Chee Chuong, National University of Singapore, Singapore
Swamidass, Paul M., Auburn University, USA
Tirtiroglu, Ercan, University of Adelaide, Australia
Twigg, David, University of Sussex, UK
Viswanathan, S., Nanyang Technological University, Singapore
Vonderembse, Mark, University of Toledo, USA
Zemel, Eitan, New York University, USA
A few essentials for publishing in this journal
Submitted articles should not have been previously published or be currently under consideration for publication elsewhere.
Conference papers may only be submitted if the paper has been completely re-written (more details available here) and the author has cleared any necessary permissions with the copyright owner if it has been previously copyrighted.
Briefs and research notes are not published in this journal.
All our articles go through a double-blind review process.
All authors must declare they have read and agreed to the content of the submitted article. A full statement of our Ethical Guidelines for Authors (PDF) is available.
There are no charges for publishing with Inderscience, unless you require your article to be Open Access (OA). You can find more information on OA here.



Submission process

All articles for this journal must be submitted using our online submissions system.
View Author guidelines.
Journal news
A slimline tonic for the pharmaceutical industry
17 March, 2023
Research in the International Journal of Services and Operations Management, has looked at the pharmaceutical industry in Jordan from the perspective of lean manufacturing practices and operations demonstrating that a lean approach can be beneficial to costs, speed, and reliability in the industry but does not apparently affect quality or innovation significantly... Abdel-Aziz Ahmad Sharabati of the Business Faculty at the Middle East University in Amman, Jordan, surveyed 116 managers from 10 of 14 Jordanian pharmaceutical manufacturing organizations on how lean operations are used in their organisations. Alongside the above findings, the work also showed that lead-time, setup time, inspection time, and delivery time were significant factors in determining a company's competitive advantage, while inventory was not [...]
More details...