International Journal of Learning Technology
This journal also publishes Open Access articles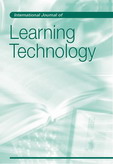 Executive Editor

Prof. Emeritus Lorna Uden

ISSN online

1741-8119

ISSN print

1477-8386
4 issues per year


Impact factor (Clarivate Analytics) 2023

0.6 (5 Year Impact Factor 0.7)
JCI 0.23

CiteScore

1.3 (2022)

IJLT is an international, refereed, scholarly journal providing an interdisciplinary forum for the presentation and discussion of important ideas, concepts, and exemplars that can deeply influence the role of learning technologies in learning and instruction. This unique and dynamic journal focuses on the epistemological thrust of learning vis-à-vis instruction and the technologies and tools that support the process. IJLT publishes papers related to theoretical foundations, design and implementation, and effectiveness and impact issues related to learning technologies.
Topics covered include
Communities of learners (practice), computer-mediated communication
[Social] constructivism, computer-supported collaborative learning
Cognitive tools, intelligent agents, semantic web
Distributed/intelligent learning/tutoring, multimedia/interactive learning environments
Virtual reality environments, human-computer interface issues
Learning objects for personalised learning, building learning communities
Technology-facilitated learning in complex domains
Learning technology systems' evaluation, technological standardisation
Simulation-supported learning/instruction
Learning technology in education and commerce
Disciplinary-related inquiry, e.g., learning technologies for science inquiry
MOOCs, social media and cloud computing in e-learning
Data analytics and big data in education
E-learning evaluation and content; e-portfolios
Smart education; internet of things/technology adoption and diffusion for learning
More on this journal...
Objectives
IJLT aims:
to act as an international forum for discussion of the use and design of technology in learning and instruction
to foster communication between academics and practitioners
to promote research on the use of learning technologies
to encourage a multidisciplinary approach to the advancement of the use and design of technologies in teaching and learning
to provide a deeper understanding of the nature, theory and practice of learning and instruction
Readership
Researchers and theorists, cognitive scientists, learning technologists, teachers and learners, instructional designers, designers and developers, implementers and evaluators, managers and administrators.
Contents
Papers are invited for IJLT on any of the topics listed below. Suggestions are also welcome for special issues.
Executive Editor
Uden, Lorna, Staffordshire University, UK
(l.udenstaffs.ac.uk)
Associate Editor
Sullins, Jeremiah, Harding University, USA
Editorial Board Members
Brandão, Leônidas de Oliveira, University of São Paulo, Brazil
Champney, Roberto, Louisiana State University, USA
Ching, Gregory, National Chengchi University, Taiwan, Province of China
Demetriou, Kyriakos, University of Nicosia, Cyprus
Dorça, Fabiano, Universidade Federal de Uberlândia (UFU), Brazil
Florjan?i?, Viktorija, University of Primorska, Slovenia
Kotsiantis, Sotos, University of Patras, Greece
Lai, Hui Min, Chienkuo Technology University, Taiwan, Province of China
Lau, Eric Kin Wai, The Open University of Hong Kong, Hong Kong SAR, China
Moreira, António, University of Aveiro, Portugal
Moreira, Fernando, Universidade Portucalense, Portugal
Papadakis, Stamatios, University of Crete, Greece
Reinsmith-Jones, Kelley, East Carolina University, USA
Ruhnau, Britta, BiTS, University of Applied Science, Germany
Terras, Melody Mary, University of the West of Scotland, UK
Tselios, Nikolaos, University of Patras, Greece
Vallance, Michael, Future University Hakodate , Japan
A few essentials for publishing in this journal
Submitted articles should not have been previously published or be currently under consideration for publication elsewhere.
Conference papers may only be submitted if the paper has been completely re-written (more details available here) and the author has cleared any necessary permissions with the copyright owner if it has been previously copyrighted.
Briefs and research notes are not published in this journal.
All our articles go through a double-blind review process.
All authors must declare they have read and agreed to the content of the submitted article. A full statement of our Ethical Guidelines for Authors (PDF) is available.
There are no charges for publishing with Inderscience, unless you require your article to be Open Access (OA). You can find more information on OA here.



Submission process

All articles for this journal must be submitted using our online submissions system.
View Author guidelines.