International Journal of Technology Marketing
This journal also publishes Open Access articles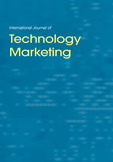 Editor in Chief

Dr. Peter Bican

ISSN online

1741-8798

ISSN print

1741-878X
4 issues per year


CiteScore

1.4 (2022)

IJTMkt proposes and fosters discussion on the advancement of marketing practice and theory, with emphasis on technology and technology intensive products. This perspective acknowledges the complexity and importance of linking technology and marketing issues, as well as the necessity of innovatively marketing technology and technology intensive products.
Topics covered include
Marketing management
Communication, esp. in technology based companies
Technology features, user acceptance, established/new business models
Marketing in large corporations, SMEs, high-tech/standard industries
Marketing for universities, public research laboratories
International comparisons, benchmarking
Licensing, franchising, strategic cooperation/alliances, branding
Government policy and entrepreneurship
University-industry linkages, venture capital, incubators, technology parks
Enterprise support systems, technology evaluation
Consumer behaviours/attitudes, business ethics
More topics...
Strategies, practices and toolkits for technology marketing
Marketing considerations for technology and technology-intensive products
Network marketing for technology and technology-intensive products
Online marketing for technology and technology-intensive products
Collaborative marketing for technology and technology-intensive products
Direct marketing for technology and technology-intensive products
Database marketing for technology and technology-intensive products
Licensing for technology and technology-intensive products
Franchising for technology and technology-intensive products
Strategic cooperation/alliance for technology and technology-intensive products
Branding for technology and technology-intensive products
Technology marketing management
Technology and marketing
History of technology marketing
Patent and technology marketing
Entrepreneurship and technology marketing
Corporate innovation restructuring and technology marketing
Government policy and technology marketing
University-industry linkage and technology marketing
Venture capital and technology marketing
New business incubators and technology marketing
Technology parks and technology marketing
Enterprise support systems and technology marketing
Business ethics and technology marketing
Technology evaluation and technology marketing
Benchmarking technology marketing
Organisation behaviour and organisation theory in technology marketing
Information and telecommunication technology and technology marketing
Consumer behaviour and technology marketing
Pricing and technology marketing
Knowledge management and technology marketing
Social and cultural difference and technology marketing
Technology marketing in action
Technology marketing based on technology features
Technology marketing based on users' acceptance
Technology marketing based on enterprise's established business model
Technology marketing based on enterprise's new business model
Technology marketing in large corporations
Technology marketing in small and medium sized enterprises (SMEs)
Technology marketing in high-tech industries
Technology marketing in standard industries
Technology marketing in developing countries
Technology marketing in developed countries
Technology marketing for universities
Technology marketing for public research laboratories
International comparison in technology marketing
More on this journal...
Objectives
The objectives of the IJTMkt are to develop, promote and coordinate the development and practice of technology marketing methods. It aims to overcome the barriers between technical and business sides in a society experiencing accelerating technological changes. It also aims to help marketing professionals, R & D managers, scholars and policy-makers to contribute, to disseminate information and to learn from each other's work, so keeping readers abreast of the timely data and current thinking necessary for better technology-related marketing decisions and strategy.
Readership
IJTMkt caters to the needs of marketing executives, R & D managers, academics, researchers and policy makers, who are concerned with a range of marketing issues in technical based business.
Contents
IJITMkt publishes original papers, theory-based empirical papers, review papers, in-depth case studies, conference reports, notes, and commentaries. Special issues devoted to important topics in Technology Management, Marketing Strategies and Practices, and related topics will be published occasionally. Contribution may be by submission or invitation, and suggestions for special issues and publications are welcome.
Honorary Editors
Brem, Alexander, University of Stuttgart, Germany
Rauschnabel, Philipp A., Universität der Bundeswehr München, Germany
Viardot, Éric, EADA, Spain
Editor in Chief
Bican, Peter, Friedrich-Alexander-University Erlangen-Nuremberg , Germany
(peter.bicanfau.de)
Executive Editor
Sherif, Mostafa Hashem, AT&T, USA
Associate Editor (Arabia)
Selim, Hassan, United Arab Emirates University, United Arab Emirates
Associate Editor (Australia)
Lichtenstein, Sharman, Deakin University, Australia
Associate Editor (China)
Chen, Jin, Tsinghua University, China
Associate Editor (South America)
Talavera, Jorge, ESAN University, Peru
Editorial Board Members
Baptista, Rui, Technical University of Lisbon, Portugal
Brennan, Louis, Trinity College, University of Dublin, Ireland
Gottardi, Giorgio, Università di Padova, Italy
Hills, Stacey Barlow, Southern Vermont College, USA
Hsieh, Chihmao, Washington University in St. Louis, USA
Human, Gert, University of Cape Town, South Africa
Jansen, Justin, Rotterdam School of Management, Netherlands
Jing, Bing, New York University, USA
Kim, Hyuk-Rae, Yonsei University, South Korea
Kim, Jongbae, Sungshin University, South Korea
Kopalle, Praveen K., Dartmouth College, USA
Lim, L. K. Lynn, University of Applied Sciences Northwestern Switzerland (FHNW), Switzerland
Liu, Yi, Xi'an Jiaotong University, China
Martin, Lynn, University of Central England, UK
Melanthiou, Yioula, University of Nicosia, Cyprus
Miller, Laura, University of Alaska Fairbanks, USA
Moitra, Deependra, Strategy and Innovation Consultancy, India
Mylonakis, Ioannis, Ministry of Finance, Greece
Ordóñez de Pablos, Patricia, Universidad de Oviedo, Spain
Puumalainen, Kaisu, Lappeenranta University of Technology, Finland
Sengupta, Sanjit, San Francisco State University, USA
Simons, Kenneth L., Rensselaer Polytechnic Institute, USA
Singh, Prakash, University of Melbourne, Australia
tom Dieck, Mandy Claudia, Manchester Metropolitan University, UK
Vanhaverbeke, Wim, Hasselt University & Eindhoven University of Technology, Netherlands
Venter, Peet, University of South Africa, South Africa
Yoneyama, Shigemi, Musashi University, Japan
A few essentials for publishing in this journal
Submitted articles should not have been previously published or be currently under consideration for publication elsewhere.
Conference papers may only be submitted if the paper has been completely re-written (more details available here) and the author has cleared any necessary permissions with the copyright owner if it has been previously copyrighted.
Briefs and research notes are not published in this journal.
All our articles go through a double-blind review process.
All authors must declare they have read and agreed to the content of the submitted article. A full statement of our Ethical Guidelines for Authors (PDF) is available.
There are no charges for publishing with Inderscience, unless you require your article to be Open Access (OA). You can find more information on OA here.



Submission process

All articles for this journal must be submitted using our online submissions system.
View Author guidelines.
Journal news
Bail the bait and switch, avoid ambiguous advertising
23 October, 2023
Ambiguous advertising is nothing new. It has been the stock-in-trade of unscrupulous sellers since the very transactions in an ancient market. In the age of social media unethical marketing methods are rife. Research in the International Journal of Technology Marketing acts as a warning to advertisers hoping to exploit consumers in this manner. The work by Lilia Khrouf of the University of Manouba and Souad Maghraoui of the University of Soussein, both in Tunis, Tunisia, suggests that ambiguous advertisements placed on social media can compromise user trust and brand loyalty when such ambiguity is obvious or is unveiled. The research, which focused on the impact of ambiguity in advertising on one particular social media site, highlighted that vagueness in advertising statements does not persuade users to make a purchase, but tends to lead them to conclude that the advertiser is attempting to manipulate them [...]
More details...