International Journal of Sport Management and Marketing
This journal also publishes Open Access articles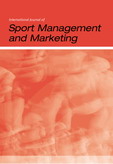 Editor in Chief

Dr. M.A. Dorgham

ISSN online

1740-2808

ISSN print

1475-8962
6 issues per year


CiteScore

1.1 (2022)

IJSMM, a fully-refereed international journal, aims to present current practice and research in the area of sport management and marketing. IJSMM is a unique publication useful for everyone interested in the new developments in sport management and marketing theory and practices.
Topics covered include
Sports technology monitoring, audit and evaluation
Innovation and technology
Emerging technologies
International sports technology management
Sporting organisation management
Total quality management
Quality management systems
Strategic management
Sports marketing
Sports financial management, economics
Sports facilities planning, evaluation, management
Sports event management
Human resource development and management
Entrepreneurs in the sporting sector
Management in professional sports clubs
More on this journal...
Objectives
IJSMM is a multidisciplinary journal which aims to provide a unique focus on a wide range of sport management and sport technology topics. It covers advances in theory, new concepts, methods and applications and case studies. Each issue disseminates quality sport-related research relevant to sport technology and sport management, examining both hard and soft perspectives in managing sporting organisations in the public and private sectors.
Readership
Professionals, academics, researchers, sports managers, marketers and economists, policy makers, and government officials.
Contents
IJSMM welcomes both academic and practical contributions. It publishes original papers, theory-based empirical papers, review papers, case studies, conference reports, book reviews and relevant reports and news, as well as a calendar of international events.
Editor in Chief
Dorgham, M.A., International Centre for Technology and Management, UK
(editorialinderscience.com)
Associate Editor
Andrew, Damon P. S., Florida State University , USA
Editorial Board Members
Andreff, Wladimir, Université Paris 1 Pantheon Sorbonne, France
Beech, John, Coventry University, UK
Breuer, Christoph, German Sport University Cologne, Germany
Byers, Terri, University of New Brunswick, Canada
Chadwick, Simon, Emlyon Business School, France
Chen, Peter, Chinese Culture University, Taiwan, Province of China
Coalter, Fred, University of Stirling, UK
Correia, Abel, Technical University of Lisbon, Portugal
Cousens, Laura, Brock University, Canada
Davakos, Harry, The Citadel, USA
Desbordes, Michel, Emlyon Business School and University of Paris-Sud, France
Dickson, Geoff, La Trobe University, Australia
Douvis, John, University of Athens, Greece
Ferrand, Alain, Université de Poitiers, France
Forrest, David, University of Salford, UK
Frick, Bernd, Witten/Herdecke University, Germany
Fu, Frank H., Hong Kong Baptist University, Hong Kong SAR, China
Funk, Daniel, Temple University, USA
Greenwell, Chris, University of Louisville, USA
Grohs, Reinhard, Privatuniversität Schloss Seeburg, Austria
Howell, Jeremy, University of San Francisco, USA
Humphreys, Brad R., West Virginia University, USA
Jackson, Steven J., University of Otago, New Zealand
Kitchin, Paul, University of Ulster, UK
Kriemadis, Thanos, University of Peloponnese, Greece
Ladany, Shaul P., Ben-Gurion University of the Negev, Israel
Mahony, Daniel F., Winthrop University, USA
Mason, Daniel, University of Alberta, Canada
Neves, João Carvalho das, ISEG, Portugal
Pawlowski, Tim, University of Tübingen, Germany
Pedersen, Paul M., Indiana University, USA
Pons, Frank, Kedge Business School and Laval University, Canada
Rascher, Daniel A., University of San Francisco, USA
Rodríguez Guerrero, Plácido, Oviedo University, Spain
Sam, Mike, University of Otago, New Zealand
Sarkar, Soumodip, Universidade de Évora, Portugal
Scherer, Jay, University of Alberta, Canada
Tapp, Alan, University of West of England, UK
Taylor, Tracy, RMIT College of Business and Law, Australia
Todd, Samuel, University of South Carolina, USA
Torgler, Benno, Yale University, USA
Van Hoecke, Jo, Vrije Universiteit Brussel, Belgium
Won, Doyeon, Texas A&M University-Corpus Christi, USA
Zhang, James J., University of Georgia, USA
A few essentials for publishing in this journal
Submitted articles should not have been previously published or be currently under consideration for publication elsewhere.
Conference papers may only be submitted if the paper has been completely re-written (more details available here) and the author has cleared any necessary permissions with the copyright owner if it has been previously copyrighted.
Briefs and research notes are not published in this journal.
All our articles go through a double-blind review process.
All authors must declare they have read and agreed to the content of the submitted article. A full statement of our Ethical Guidelines for Authors (PDF) is available.
There are no charges for publishing with Inderscience, unless you require your article to be Open Access (OA). You can find more information on OA here.



Submission process

All articles for this journal must be submitted using our online submissions system.
View Author guidelines.
Journal news
Gym bunnies get fit to the beat
28 July, 2023
Research in the International Journal of Sport Management and Marketing sheds light on the effect of music on people using fitness facilities, providing useful insights for the health and fitness industry. The study shows how different types of music, whether self-selected by those working out or chosen by the fitness facility, affect the emotional and cognitive responses of customers in such environments. Antonio S. Williams and Zack P. Pedersen of Indiana University, Bloomington, Indiana, USA, and Byungik Park of Dongguk University, Seoul, South Korea explain that external stimuli, such as music, can influence a person's emotional and cognitive states, and so sought to understand whether music could be motivational in the context of exercise [...]
More details...