International Journal of Technology Management
This journal also publishes Open Access articles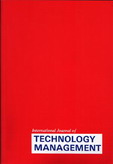 Editor in Chief

Dr. M.A. Dorgham

ISSN online

1741-5276

ISSN print

0267-5730
12 issues per year


Impact factor (Clarivate Analytics) 2023

2.8 (5 Year Impact Factor 2.5)
JCI 0.45

CiteScore

2.5 (2022)

IJTM aims to provide a refereed and authoritative source of information in the field of managing with technology, and the management of engineering, science and technology. It seeks to establish channels of communication between government departments, technology executives in industry, commerce and related business, and academic experts in the field.
Topics covered include
Competitiveness and cooperation
Knowledge assets
Globalisation, business/government relations
Productivity, efficiency, quality
Sourcing, technology transfer/licensing
Strategic planning, technology management/policies
R&D and design management
Multinational corporations, innovation, new technology, IT
Management of production systems, factory and office automation
R&D/manufacturing/marketing and after-market interface
International technology management policy and strategy
Legal aspects and financial considerations
Investment patterns and opportunities
Technology monitoring, audit, evaluation
Technology relations/trends, esp. in Far East, South Pacific, emerging markets
More on this journal...
Objectives
The objectives of IJTM are to develop, promote and coordinate the science and practice of technology management. It also aims to help professionals working in the field, engineering and business educators and policy-makers to contribute, to disseminate information and to learn from each other's work. The international dimension is emphasised in order to overcome cultural and national barriers and to meet the needs of accelerating technological change and changes in the global economy.
Readership
IJTM provides a vehicle to help professionals, academics, researchers and policy makers, working in the field of technology management, engineering and business education, to disseminate information and to learn from each other's work.
Contents
IJTM publishes original papers, review papers, technical reports, case studies, conference reports, management reports, book reviews, notes, commentaries, and news. Special Issues devoted to important topics in technology management will ocasionally be published.
Commentaries on papers and reports published in IJTM are encouraged. Authors will have the opportunity to respond to the commentary on their work before the entire treatment is published. Contribution may be by submission or invitation, and suggestions for special issues and publications are welcome.
Editor in Chief
Dorgham, M.A., International Centre for Technology and Management, UK
(editorialinderscience.com)
Regional Editor China
Zhang, Richard, Institute of Industrial Productivity, China
Regional Editor Far and Middle East
Zhang, George G., Academy of Industrial Entrepreneurship, China
Editorial Board Members
Al-Shamlan, Ali Abdullah, Kuwait Foundation for the Advancement of Sciences, Kuwait
Badran, Adnan, Philadelphia University, Jordan
Beffa, Jean-Louis, Saint-Gobain Group, France
Benton, Peter, Former Vice-President, European Management Association, UK
Bullinger, Hans-Jörg, Fraunhofer Gesellschaft, Germany
Chen, Jin, Tsinghua University, China
Clark, Kim B., Harvard Business School, USA
Davignon, Etienne, Société Générale de Belgique, Belgium
De Maria y Campos, Mauricio, Embassy of Mexico, South Africa
Eaton, Robert, DaimlerChrysler Corp, USA
Emmerij, Louis, City University of New York, USA
Fu, Xiaolan, University of Oxford, UK
Hawley, Robert, World Nuclear University, UK
Kuper, George H., Council of Great Lakes Industries, USA
Metcalfe, J. Stanley, University of Manchester, UK
Myers, Rupert, CRC for Greenhouse Accounting Advisory Council, Australia
Naylor, Michael, Management Consultant, USA
Ricupero, Rubens, UNCTAD, Switzerland
Vargas, José I., Federal Government of Brazil, Brazil
A few essentials for publishing in this journal
Submitted articles should not have been previously published or be currently under consideration for publication elsewhere.
Conference papers may only be submitted if the paper has been completely re-written (more details available here) and the author has cleared any necessary permissions with the copyright owner if it has been previously copyrighted.
Briefs and research notes are not published in this journal.
All our articles go through a double-blind review process.
All authors must declare they have read and agreed to the content of the submitted article. A full statement of our Ethical Guidelines for Authors (PDF) is available.
There are no charges for publishing with Inderscience, unless you require your article to be Open Access (OA). You can find more information on OA here.



Submission process

All articles for this journal must be submitted using our online submissions system.
View Author guidelines.