International Journal of Learning and Change
This journal also publishes Open Access articles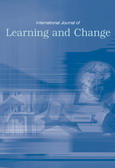 Editor in Chief

Dr. Shantha Liyanage

ISSN online

1740-2883

ISSN print

1740-2875
6 issues per year


CiteScore

1.2 (2022)

IJLC seeks to improve the understanding and approach to learning by addressing both theoretical and practical issues that have a high relevance to reforming and revitalising organisational capability, knowledge and intellectual assets. Learning is essential to individuals and organisations, whilst change is inevitable and needs to be managed wherever possible. IJLC is dedicated to the advancement of knowledge of management of learning and change, especially the process and method of learning and change in science-based and technology-driven developments and applications.
Topics covered include
Individual/organisational learning processes
Experiences/knowledge management, absorption processes
Technological/social change processes
Knowledge/learning connections
Situated/problem-based/electronic/multimedia learning/action
Communication, relationships, networking, collaborations
Increasing organisational productivity, managing sustainable change
Knowledge creation/diffusion, transfer processes
Community of learning and practices
Individual/organisational/capability learning
Science/technology learning/education
Narratives/metaphor/storytelling in organisational learning
Organisational structures, governance, political factors, policies
Ethical issues of (management of) change
Nature/quality of learning/change/knowledge, qualitative research methods
More on this journal...
Objectives
The core objective of IJLCis to deepen the knowledge and understanding of both individual and to link learning with organisational change and development. The academic objectives addressed in IJLC include: to deepen theoretical understanding of learning and its connection with knowledge; to develop methods and approaches to learning; to integrate leaning with technological, social and economic change; to promote international networks and dialogue between researchers, industry practioners and public sector persons.
IJLC|s objectives are to encourage new approaches and practices that provide insight into how firms use learning as a precursor of change and to foster new thinking around learning theories and change management processes. The journal is also dedicated to explore how firms formulate learning strategies to manage competitiveness and capabilities under uncertain conditions. In addition, IJLC aims to provide a forum for the publication of research and to promote links between the theory and practice of learning and management of innovation, knowledge, science and technology.
Readership
IJLC aims to inspire scholars and practitioners dealing with learning and change. It assists those individuals and firms to manage the process of change by developing effective management techniques that are relevant, applicable, and appropriate, providing a vehicle through which to deepen the understanding of managing learning and change processes caused by scientific and technological advances. IJLC also addresses management issues faced by all knowledge-based firms, and, therefore, is relevant to all individuals, irrespective of their position in the organisation. The readership will include practitioners, academics, industrialists, and business students.
Contents
IJLC publishes original papers, review articles, book reviews, and thematic issues that are relevant to learning and change in various cultural and organisational settings. It accepts scholarly contributions based on both quantitative and qualitative research methods. Special issues devoted to particular themes of learning and change will also be published from time to time.
Editor in Chief
Liyanage, Shantha, New South Wales Department of Education, Australia
(shantha.liyanagedet.nsw.edu.au)
Associate Editor
Annerstedt, Jan, Copenhagen Business School, Denmark
Regional Editor Asia Pacific
Murray, Peter A., University of Southern Queensland, Australia
Regional Editor Eastern Europe
Skvarciany, Viktorija, Vilnius Gediminas Technical University, Lithuania
Regional Editor Europe
Meidutė-Kavaliauskien, Ieva, General Jonas Žemaitis Military Academy of Lithuania, Lithuania
Regional Editor Scandinavia
Johannessen, Stig, Complexity and Management Centre Norway, Norway
Regional Editor USA
Kalyanaram, Gurumurthy, City University of New York, New Jersey Institute of Technology and Tata Institute, USA
Editorial Board Members
Birkenkrahe, Marcus Speh, Berlin School of Economics and Law, Germany
Bozeman, Barry, Georgia Tech, USA
Davidaviciene, Vida, Vilnius Gediminas Technical University, Lithuania
Díaz Andrade, Antonio, Auckland University of Technology, New Zealand
Ferreira, Fernando Alberto Freitas, University Institute of Lisbon, Portugal
Frost, Jetta, University of Hamburg, Germany
Gammelgaard, Britta, Copenhagen Business School, Denmark
Gluckman, Peter, University of Auckland, New Zealand
Hukkinen, Janne, University of Helsinki, Finland
Hunyor, Stephen, University of Sydney and Royal North Shore Hospital, Australia
Husted, Kenneth, The University of Auckland, New Zealand
Kodama, Fumio, University of Tokyo (retired), Japan
Kumar, Payal, Glocal University, India
Kumari, Roshni, ELLTA Organisation (Exploring Leadership & Learning Theories in Asia), Pakistan
Lambert, Bruce Henry, NIAS - Nordic Institute of Asian Studies, Denmark
Loomes, Kerry, The University of Auckland, New Zealand
Maani, Kambiz, University of Queensland, Australia
Maurer, Herman A., Graz University of Technology, Austria
Pandey, I.M., Delhi University, India
Poon, Patrick, Lingnan University, Hong Kong SAR, China
Psoni, Paraskevi, Athens University of Economics and Business,, Greece
Ramadani, Veland, South-East European University, North Macedonia
Reiss, Thomas, Fraunhofer Institute for Systems and Innovation Research, Germany
Rudolf, Victor, University of Queensland, Australia
Sanugi, Bahrom, Universiti Sains Islam Malaysia, Malaysia
Senanayake, Manori P, University of Colombo , Sri Lanka
Skår, John, Karolinska Institutet, Sweden
Sugasawa, Yoshio, Japan University of Economics, Japan
Sun, Hongyi, The City University of Hong Kong, Hong Kong SAR, China
Tongsan, Wang, Institute of Quantitative & Technical Economics (IQTE), China
Van Pottelsberghe, Bruno, Université libre de Bruxelles, Belgium
Weerawardena, Jay, University of Queensland, Australia
Wensley, Anthony, University of Toronto, Canada
White, Nancy, Full Circle Associates, USA
A few essentials for publishing in this journal
Submitted articles should not have been previously published or be currently under consideration for publication elsewhere.
Conference papers may only be submitted if the paper has been completely re-written (more details available here) and the author has cleared any necessary permissions with the copyright owner if it has been previously copyrighted.
Briefs and research notes are not published in this journal.
All our articles go through a double-blind review process.
All authors must declare they have read and agreed to the content of the submitted article. A full statement of our Ethical Guidelines for Authors (PDF) is available.
There are no charges for publishing with Inderscience, unless you require your article to be Open Access (OA). You can find more information on OA here.



Submission process

All articles for this journal must be submitted using our online submissions system.
View Author guidelines.