International Journal of Business Excellence
This journal also publishes Open Access articles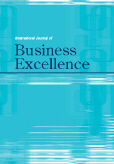 Editor in Chief

Prof. Angappa Gunasekaran

ISSN online

1756-0055

ISSN print

1756-0047
12 issues per year


CiteScore

1.8 (2022)

Business excellence relies heavily on the type of strategies, techniques and tools for measuring and benchmarking the business performance. Subsequently, identifying best practices and their implementation eventually decides excellence in business. Given the importance of business excellence, a journal devoted to performance evaluation and best practices, especially in order to be competitive in the global market, is essential. IJBEX addresses new developments in business excellence and best practices, and methodologies to determine these in both manufacturing and service organisations.
Topics covered include
Performance measures and metrics in business management
Methodologies and tools for performance measurement
Benchmarking business performance
Business excellence in various functional areas
Best practices in business management
World class business and operational strategies and techniques
Alignment between different levels of strategies
Understanding the customer requirements
Process design and management
Knowledge management for improved performance
Systems approach for determining the best practices
Six-Sigma, QFD, Taguchi methods and TQM
Data warehousing and data mining in business excellence
Measuring performance in creative industries
Best practices in creative economy and industries
More on this journal...
Objectives
The main objective of IJBEX is to promote research and application of new developments in business performance measures, metrics, benchmarking and best practices. Moreover, developing suitable implementation framework is a challenge for successful results with best practices. IJBEX aims to help professionals working in the field of business, academic educators, industry consultants, and practitioners to contribute, to disseminate and to learn from each other's work. Global business perspectives and the implications of business excellence are emphasised in developing appropriate strategies, tactics, techniques, tools and operational policies for being successful in achieving the best performance. IJBEX aims to act as a forum for exchanging new ideas, research results and sharing practical experiences in business excellence. The journal will also (i) raise the awareness of business excellence in emerging economies, (ii) focus on the excellence in creative economy and industries, (iii) provide insights regarding the latest business excellence and best practices, and (iv) offer a networking forum for academics, professionals and entrepreneurs.
Readership
IJBEX is a forum to help professionals, chief executive officers, and corporate heads of firms, managing directors, senior general managers, board of directors, academics and researchers in business, information directors, quality managers, and human resource directors. It will enable academics and practitioners working in the field of business excellence, to discuss important ideas and concepts, and disseminate information for mutual learning and continuous improvement.
Contents
IJBEX publishes original papers, review papers, conceptual framework, industrial papers, news, case studies, empirical research, viewpoints, and book reviews. Special Issues devoted to important topics in business performance measurement, metrics and best practices and their implications on global business are welcome. Papers that deal with excellence in various business disciplines such as accounting and finance, marketing, management information systems, organisational management, operations, supply chain, logistics, government, entrepreneurship, sustainable technology development, business infrastructure development, ethical and environmental laws and standards, health services, international business, manufacturing, education, energy, mining, sports, and transportation are all encouraged for IJBEX.
Editor in Chief
Gunasekaran, Angappa, Penn State Harrisburg, USA
(an.gunasekarangmail.com)
Associate Editor
Putnik, Goran, University of Minho, Portugal
Editorial Board Members
Achoui, Mustapha, King Fahd University of Petroleum and Minerals, Saudi Arabia
Achtenhagen, Leona, Jönköping International Business School, Sweden
Baldwin, Lynne P., Brunel University, UK
Ball, Stephen, Sheffield Hallam University, UK
Banwet, Devinder Kumar, Indian Institute of Technology Delhi, India
Barber, Kevin, Bradford University, UK
Bowers, Michael, Davenport University, USA
Burnes, Bernard, University of Stirling, UK
Callarman, Thomas E., China Europe International Business School (CEIBS), China
Carpinetti, Luiz C. R., University of São Paulo, Brazil
Chadee, Doren, University of Southern Queensland, Australia
Chakravorty, Satya S., Kennesaw State University, USA
Chiang, Wen-Chyuan, University of Tulsa, USA
Clausen, Christian, Technical University of Denmark (DTU), Denmark
Comm, Clare, University of Massachusetts - Lowell, USA
Corner, Patricia (Trish), Auckland University of Technology, New Zealand
Cressy, Robert, University of Birmingham, UK
Diaz, Angel, Instituto de Empresa Business School, Spain
Eriksson, Päivi, University of Eastern Finland, Finland
Eunni, Rangamohan, Youngstown State University, USA
Farr-Wharton, Rodney, University of the Sunshine Coast, Australia
Fawcett, Stanley E., Weber State University, USA
Ferdows, Kasra, Georgetown University, USA
Götze, Uwe, Chemnitz University of Technology, Germany
Gleich, Ronald, EBS Universität für Wirtschaft und Recht i. Gr., Germany
Glickman, Theodore S., George Washington University, USA
Groenevelt, Harry, University of Rochester, USA
Haapasalo, Harri Jouni Olavi, University of Oulu, Finland
Igel, Barbara, Skolkovo Moscow School of Management, Russian Federation
Jarvis, Robin, London South Bank University, UK
Jharkharia, Sanjay, Indian Institute of Management (IIM) Kozhikode, India
Johnson, Dana, Michigan Technological University, USA
Jones, Robert, Swinburne University of Technology, Australia
Karjaluoto, Heikki, University of Jyväskylä, Finland
Kerbache, Laoucine, HEC School of Management, France
Komaran, Raj, Singapore Management University, Singapore
Kylaheiko, Kalevi, Lappeenranta University of Technology, Finland
Lee, Yoo-Taek, Babson College, USA
Leleux, Benoit, IMD – International Institute for Management Development, Switzerland
Lloyd-Reason, Lester, Anglia Ruskin University, UK
Müllern, Tomas, Jönköping International Business School (JIBS), Sweden
Mahadevan, B., Indian Institute of Management Bangalore, India
Marlow, Susan, University of Nottingham, UK
Menezes, Mozart, MIT-Zaragoza International Logistics Program, Spain
Miguel, Paulo A. Cauchick, University of Sao Paulo - USP, Brazil
Muthaly, Siva, Swinburne University of Technology, Australia
Nueno, Pedro, IESE Business School, Spain
O'Connor, Peter, University of South Australia, Australia
Palaniappan, Sellappan, Malaysia University of Science and Technology, Malaysia
Parayitam, Satyanarayana, University of Massachusetts - Dartmouth, USA
Rai, Bharatendra K., University of Massachusetts - Dartmouth, USA
Raposo, Mário, Universidade da Beira Interior, Portugal
Reddy, Narendra, University of the South Pacific, Fiji
Riempp, Gerold, European Business School (EBS), Germany
Rohleder, Thomas, Mayo Clinic, USA and University of Calgary, Canada
Rouse, Anne, Deakin University, Australia
Roy, Matthew H., University of Maasassesshuts - Dartmouth, USA
Seetharaman, A., Multimedia University, Malaysia
Selvarajah, Christopher, Swinburne University of Technology, Australia
Sense, Andrew, University of Wollongong, Australia
Siegel, Donald S., University at Albany, SUNY, USA
Solis, Luis, Instituto de Empresa Business School, Spain
Solomon, Norman, Fairfield University, USA
Sulaiman, Ainin, University of Malaya, Malaysia
Wynarczyk, Pooran, Newcastle University, UK
Xuereb, Jean-Marc, ESSEC, France
Yamin, Shahid, United Arab Emirates University, United Arab Emirates
Zaepfel, Guenther, Johannes Kepler University, Austria
Zeffane, Rachid, University of Sharjah, United Arab Emirates
A few essentials for publishing in this journal
Submitted articles should not have been previously published or be currently under consideration for publication elsewhere.
Conference papers may only be submitted if the paper has been completely re-written (more details available here) and the author has cleared any necessary permissions with the copyright owner if it has been previously copyrighted.
Briefs and research notes are not published in this journal.
All our articles go through a double-blind review process.
All authors must declare they have read and agreed to the content of the submitted article. A full statement of our Ethical Guidelines for Authors (PDF) is available.
There are no charges for publishing with Inderscience, unless you require your article to be Open Access (OA). You can find more information on OA here.



Submission process

All articles for this journal must be submitted using our online submissions system.
View Author guidelines.
Journal news
Balancing social missions with profitability
25 September, 2023
A study in the International Journal of Business Excellence has revealed how accountability in the performance of social village-owned enterprises (VOEs) is critical to their meeting both their social mission and achieving financial viability without compromising either. The research, which focused on VOEs across four districts, examined 451 participants and showed how social ethics and financial aims must be delicately balanced. Yesi Mutia Basri, Hariadi Yasni, Poppy Nurmayanti M., and Novita Indrawati of the Faculty of Economics and Business at the University of Riau in Pekanbaru, Indonesia, explain that accountability is the pivot about which an organisation must balance its social impact and financial security. Moreover, when social organizations are held accountable for their actions and decisions, they tend to perform better both in terms of their social mission and financial health, the team found. This connection underscores the need for a clear approach to the organisation's social goals and its finances [...]
More details...