International Journal of Public Sector Performance Management
This journal also publishes Open Access articles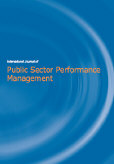 Editor in Chief

Prof. Leo Paul Dana

ISSN online

1741-105X

ISSN print

1741-1041
8 issues per year


CiteScore

0.9 (2022)

IJPSPM fosters discussion on performance management in the public sector, with an emphasis on the implementation of performance management technologies. It acknowledges the complexity of public sector performance management as an interface between the values placed upon public sector activities and their implementation. This gap between what is desirable and what is feasible stands at the crossing of many public sector issues such as cultural and ideological processes as well as regulation and economic processes operating over different space-time scales.
Topics covered include
Theory/practice of performance management
Evaluation methods/practices, analyses of efficiency
Performance benchmarking/measurement, organisational impact
Performance information utilisation, organisational learning
Output/outcome/quality indicator definitions
Performance reward issues
Visibilisation of performance, performance indicator efficiency
Organisational paths of performance
Link between values/cultures and performance management
Performance measurement roles in transforming institutional settings
Performance measurement/management/policy context relationships
Leadership, accountability
Innovation in public sector management
Managing public infrastructure technology
Public sector as venture capitalist/entrepreneur
More on this journal...
Objectives
The objectives of IJPSPM are to share the latest advances that the field has to offer and to create a sustained dialogue between policy makers, government agencies, academic and research institutions and persons concerned with the complex role of performance management in the public sector.
The international dimension is emphasised in order to overcome cultural and national barriers. We promote comparative studies which, emphasising the importance of context, do not abandon the quest for theoretical explanations and generalisations, and which develop theories that are context-sensitive.
All methodologies, such as analytical, empirical, behavioural, survey and case studies are welcome.
Readership
IJPSPM's readership comprises academics, practitioners, policy makers, consultants and research students with an interest in research in the field of public sector performance management. The journal provides a vehicle to disseminate information and to learn from each other's work.
Contents
IJPSPM publishes original papers, review papers, case studies, conference reports, management reports, book reviews, notes, commentaries and news. Special Issues devoted to important topics in public sector performance management will occasionally be published.
Editor in Chief
Dana, Leo Paul, Dalhousie University, Canada
(lp762359dal.ca)
Associate Editors
Brahmi, Mohsen, IAE Southern Campus and FEM. S. University, Tunisia
Šević, Željko, Universiti Utara Malaysia, Malaysia
Turc, Emil, Université Aix-Marseille, France
Editorial Board Members
Baumard, Philippe, French National Conservatory of Arts and Crafts (CNAM), France
Bedrani, Slimane, National Institute of Agronomy and Center of Applied Economics for Development (CREAD), Algeria
Benoît, Bernard, Université Libre de Bruxelles, Belgium
Bianchi, Piervito, University of Foggia, Italy
Bouayad, Brahim, Cadi Ayyad University, Morocco
Côme, Thierr, Université de Reims Champagne Ardennes, France
Carassus, David, University of Pau and the Adour, France
Cepiku, Denita, University of Rome "Tor Vergata", Italy
Cherif, Mondher, University of Sfax, Tunisia
Drumaux, Anne, Brussels Free University, Belgium
Emery, Yves, IDHEAP (Swiss Graduate School of Public Administration), Switzerland
Eymeri-Douzans, Jean-Michel, Institute of Political Science, France
Gagnon, Jacques, University of Sherbrooke, Canada
Giauque, David, University of Lausanne, Switzerland
Guenoun, Marcel, Université Paul-Cezanne Aix-Marseille III, France
Gunardi, Ardi, Universitas Pasundan, Indonesia
Halgand, Nathalie, University of Nantes, France
Haouas, Ilham, University of Dubai, United Arab Emirates
Hintea, Calin Emilian, Babes-Bolyai University, Romania
Joshi, Manoj, Amity University, India
Joyce, Paul, Nottingham Trent University, UK
Kapur, Vijay, University of Delhi, India
Kuhlmann, Sabine, German University of Administrative Sciences, Germany
Kumar, Pawan, Lovely Professional University, India
Leitão, João, University of Beira Interior & CEG-IST, University of Lisbon, Portugal
Mazouz, Bachir, Québec University, Canada
Mazzoleni, Alberto, University of Brescia, Italy
Meneguzzo, Marco, University of Rome "Tor Vergata", Italy
Moinard, Christian, Audencia Nantes School of Management, France
Ohkita, Kenichi, Aichi University, Japan
Orange, Gérald, Rouen Graduate School of Management, France
Padovani, Emanuele, University of Bologna, Italy
Pasquier, Martial, IDHEAP (Swiss Graduate School of Public Administration), Switzerland
Pillania, Rajesh K., Management Development Institute Gurgaon, India
Proctor, Tony, University of Chester, UK
Proeller, Isabella, University of Potsdam, Germany
Rocher, Sebastien, University of Poitiers, France
Rochet, Claude, Institute for Public Management and Economic Development (IGPDE), France
Scorsone, Eric, Michigan State University, USA
Sedjari, Ali, Université Mohamed V University, Morocco
Talbot, Colin, University of Manchester, UK
Tanaka, Hiraki, Shizuoka University of Art and Culture, Japan
Van Dooren, Wouter, University of Antwerp, Belgium
Villeneuve, Jean-Patrick, IDHEAP (Swiss Graduate School of Public Administration), Switzerland
Wei, Liu, East China University of Politics and Law, China
A few essentials for publishing in this journal
Submitted articles should not have been previously published or be currently under consideration for publication elsewhere.
Conference papers may only be submitted if the paper has been completely re-written (more details available here) and the author has cleared any necessary permissions with the copyright owner if it has been previously copyrighted.
Briefs and research notes are not published in this journal.
All our articles go through a double-blind review process.
All authors must declare they have read and agreed to the content of the submitted article. A full statement of our Ethical Guidelines for Authors (PDF) is available.
There are no charges for publishing with Inderscience, unless you require your article to be Open Access (OA). You can find more information on OA here.



Submission process

All articles for this journal must be submitted using our online submissions system.
View Author guidelines.
Journal news
Emotional intelligence makes the virtual team work
23 March, 2023
Research from a team in India published in the International Journal of Public Sector Performance Management looks at the notion of "emotional intelligence" in the context of virtual teams. While it demonstrates an obvious relationship, the literature is still in the nascent stage and so precludes solid conclusions. Anu Singh Lather of Ambedkar University in Delhi and Simran Kaur of Guru Gobind Singh Indraprastha University are well aware that research into emotional intelligence and its effects in virtual teams is still in its infancy and so hoped to offer new insights through a systematic review of the research literature as it stands. Emotional intelligence refers to the ability of individuals to recognize and manage their own emotions, as well as to understand and effectively respond to the emotions of others. Emotional intelligence can be broken down into several key components, including self-awareness, self-regulation, motivation, empathy, and social skills [...]
More details...