International Journal of Social Media and Interactive Learning Environments
This journal also publishes Open Access articles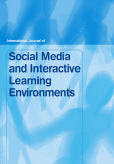 Editor in Chief

Dr. Qiyun Wang

ISSN online

2050-3962

ISSN print

2050-3954
4 issues per year

The use of social media has drawn significant attention from educators in recent years. An increasing number of practitioners have started using social media in their teaching. IJSMILE proposes and fosters discussion on the affordances of social media (social networking sites) for teaching and learning, with emphasis on the potential ways and concerns of using social media in the educational context and implications for designing interactive and collaborative learning environments.
Topics covered include
Social networking sites and web 2.0 tools for learning
Technological affordances of social media
Issues and concerns with using social media for learning
New technologies, e.g. iPad, iPhone, netbooks, e-books, cloud computing
Web-based collaborative and interactive learning
Computer-supported collaborative learning
Design and development of web-based learning environments
Informal learning with social technologies
Socio-cultural learning
Ubiquitous and mobile learning
Online course design and development
Online learning and life-long learning
Learning support and management systems
More on this journal...
Objectives
The objectives of IJSMILE are to provide an avenue for practitioners and researchers to share their practices and concerns, and their empirical research studies on using social media and other web 2.0 tools to support formal and informal learning. It also aims to promote effective design and use of web-based learning environments for social interaction and collaboration. The international dimension is emphasised in order to get a full picture of social media usage in different cultural and educational contexts.
Readership
IJSMILE provides a vehicle to help professionals, academics, researchers and teachers working in the field of educational technology, information technology, curriculum design and subject teaching to share their experiences and also to learn from each other's work.
Contents
IJSMILE publishes original research papers, case studies and conceptual papers. Special issues devoted to important topics in using social media for teaching and learning are also published.
Editor in Chief
Wang, Qiyun, Nanyang Technological University, Singapore
(qiyun.wangnie.edu.sg)
Editor
Zhu, Zhiting, East China Normal University, China
Advisory Board
Barker, Philip, University of Teesside, UK
Chen, Nian-Shing, National Sun Yat-sen University, Taiwan, Province of China
Collis, Betty, University of Twente, Netherlands
Ho, Kwok Keung, HK Teachers' Association, Hong Kong SAR, China
Kawachi, Paul, Open University of China , China
Kinshuk, , Athabasca University, Canada
Plomp, Tjeerd, University of Twente, Netherlands
Van Den Akker, Jan, Institute for Curriculum Development (SLO), Netherlands
Editorial Board Members
Abedin, Babak, University of Technology, Sydney, Australia
Baijnath, Narend, University of South Africa, South Africa
Chen, Li, Beijing Normal University, China
Dabbagh, Nada, George Mason University, USA
Gao, Ping, University of Northern Iowa , USA
Jegede, Olugbemiro, Association of African Universities, Ghana
Kang, Haijun, Kansas State University, USA
Khine, Myint Swe, Emirates College for Advanced Education, United Arab Emirates
Lacasa, Pilar, Universidad de Alcalá, Spain
Li, Wenhao, Central China Normal University, China
Looi, Chee-Kit, National Institute of Education, Singapore
Lu, Hong, Shandong Normal University, China
Mazer, Joseph, Clemson University, USA
Ni, Xiaopeng, Cleveland State University , USA
Nieveen, Nienke, Institute for Curriculum Development (SLO), Netherlands
Ozuem, Wilson, University of Gloucestershire, UK
Pardo, Abelardo, University of Sydney, Australia
Ren, Youqun, East China Normal University , China
Sharma, Ramesh, Ambedkar University Delhi, India
Singh, Mohini, RMIT University, Australia
Wang, Lu, Capital Normal University, China
Woo, Huay Lit, National Institute of Education, Singapore
Yan, Hanbing, East China Normal University, China
Yang, Harrison Hao, State University of New York at Oswego, USA
Zhao, Jianhua, South China Normal University, China
Zulkardi, H., Universitas Sriwijaya, Indonesia
A few essentials for publishing in this journal
Submitted articles should not have been previously published or be currently under consideration for publication elsewhere.
Conference papers may only be submitted if the paper has been completely re-written (more details available here) and the author has cleared any necessary permissions with the copyright owner if it has been previously copyrighted.
Briefs and research notes are not published in this journal.
All our articles go through a double-blind review process.
All authors must declare they have read and agreed to the content of the submitted article. A full statement of our Ethical Guidelines for Authors (PDF) is available.
There are no charges for publishing with Inderscience, unless you require your article to be Open Access (OA). You can find more information on OA here.



Submission process

All articles for this journal must be submitted using our online submissions system.
View Author guidelines.