International Journal of Business and Emerging Markets
This journal also publishes Open Access articles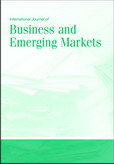 Editor in Chief

Prof. Charbel Salloum

ISSN online

1753-6227

ISSN print

1753-6219
4 issues per year


CiteScore

1.1 (2022)

Scholars and managers have shown significant interest in business opportunities provided by emerging markets (EM). Foreign firms'opportunities range from investing in EM to outsourcing from EM, whereas local firms/economies benefit from investments and expertise of foreign firms. Understanding EM characteristics in the face of evolving government policies and changing consumer behaviour is crucial to identifying new consumer needs and developing suitable products/services to meet them. IJBEM addresses these needs by stressing the use of qualitative and empirical data.
Topics covered include
Research issues in EM
International business and local government policies
Business, production, and market orientation of local firms
Outsourcing from EM
Marketing effectiveness and marketing culture
Local culture, consumer behaviour, and advertisements
Transforming local brands into global brands
Small- and medium-sized enterprises (SMEs) and family businesses
Local multinational firms and their management
Foreign investments, risks, and returns
Corporate culture, strategy and ethics
Organisational behaviour, human resources, and training and development
Financial and non-financial business performance
Information technology and competitiveness
More on this journal...
Objectives
The main objective of the inter-disciplinary peer-reviewed IJBEM is to encourage application of research methods to solve specific business-related problems in EM. The journal aims to promote articles that are based on the unification of the theoretical-quantitative or the empirical-qualitative approach, and that propose future research directions for scholars and recommend actionable business strategies for managers.
Readership
IJBEM publishes articles on a broad spectrum of topics relating to EM, and provides scholars with informative research-based articles to advance the research agenda, and managers with practical recommendations to grow their businesses. Policy makers should also benefit from the theory-practice focus of the journal.
Contents
As the dedicated journal in EM, IJBEM publishes original articles - theoretical and empirical - in all areas of business - marketing, operations, human resources, and organisational behaviour, among others. Special issues devoted to important topics in EM will occasionally be published.
Editor in Chief
Salloum, Charbel, EM Normandie Business School, France
(csalloumem-normandie.fr)
Associate Editors
Jarrar, Hajer, Excelia Group, France
Kreckova Kroupova, Zuzana, University of Economics, Czech Republic
Liu, Yi, Shandong University, China
Lu, Jintao, Taiyuan University of Science and Technology, China
McKenzie, Brent, University of Guelph, Canada
Pereira, Renato, University Institute of Lisbon, Portugal
Valeri, Marco, Niccolò Cusano University, Italy
Wanasika, Isaac, University of Northern Colorado, USA
Editorial Board Members
Ahamed, Jalal, University of Skövde, Sweden
Almaharmeh, Mohammad Issa, University of Jordan, Jordan
Amponsah, Christian Tabi, Yorkville University, Canada
Aziz, Miriam R., INSEEC Business School, France
Battisti, Enrico, University of Turin, Italy
Bonfanti, Angelo, University of Verona, Italy
Brannon, Daniel C., University of Northern Colorado, USA
Butler, Bella, Curtin Business School, Australia
Cardinali, Silvio, Università Politecnica delle Marche, Italy
Chan, Christopher, York University, Canada
Choi, Jeonghwan (Jerry), Wenzhou-Kean University, China
Chung, Christina, Ramapo College of New Jersey, USA
Díaz, Fernando, Universidad Diego Portales, Chile
Du, Wenyu, Beihang University, China
El Khoury, Charbel M., American University in Dubai, United Arab Emirates
Erkol Bayram, Gül, Sinop University, Turkey
Fattobene, Lucrezia, LUM Jean Monnet University, Italy
Graziano, Elvira Anna, Link Campus University, Italy
Gunardi, Ardi, Universitas Pasundan, Indonesia
Juárez-Torres, Miriam, General Directorate of Economic Research, Mexico
Kherchi, Ishak, University of Hassiba Ben Bouali de Chlef, Algeria
Kopf, Dennis A., University of Wisconsin - Whitewater, USA
Mann, Manveer, Montclair State University, USA
Masiero, Gilmar, University of São Paulo, Brazil
Muk, Alexander, Texas State University- San Marcos, USA
Ogasavara, Mario Henrique, Escola Superior de Propaganda e Marketing, Brazil
Oshimi, Daichi, Tokai University, Japan
Perera, Yasanthi, Brock University, Canada
Pham, Long, University of Louisiana at Monroe and Thuyloi University, USA
Saleem, Irfan, Sohar University, Oman
Salloum, Laura, TBS Business School, France
Singh, Ramendra, Indian Institute of Management Calcutta (IIMC), India
Twinomurinzi, Hossana, University of Johannesburg, South Africa
Venkataramany, Sivakumar, Ashland University, USA
Wolf, Marco, The University of Southern Mississippi, USA
A few essentials for publishing in this journal
Submitted articles should not have been previously published or be currently under consideration for publication elsewhere.
Conference papers may only be submitted if the paper has been completely re-written (more details available here) and the author has cleared any necessary permissions with the copyright owner if it has been previously copyrighted.
Briefs and research notes are not published in this journal.
All our articles go through a double-blind review process.
All authors must declare they have read and agreed to the content of the submitted article. A full statement of our Ethical Guidelines for Authors (PDF) is available.
There are no charges for publishing with Inderscience, unless you require your article to be Open Access (OA). You can find more information on OA here.



Submission process

All articles for this journal must be submitted using our online submissions system.
View Author guidelines.