International Journal of Advanced Mechatronic Systems
This journal also publishes Open Access articles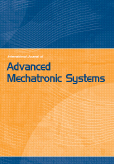 Editor in Chief

Prof. Mingcong Deng

ISSN online

1756-8420

ISSN print

1756-8412
4 issues per year


CiteScore

0.6 (2022)

Research and experiments in the synergistic integration of mechanical engineering, electronic control and systems concepts have contributed significantly to the design of systems, devices, processes and products. IJAMechS provides concise and quantitative expressions of the theoretical and practical developments in mechatronic systems and is set up to reflect the relevant generic studies.
Topics covered include
Mechatronics design philosophy
Design of machines, devices and systems possessing a degree of computer-based intelligence
Mechatronic system modelling, identification and control
Instrumentation and manufacturing methods
Design ideas on computer integration
Robotics
Mechatronic systems fault diagnosis and fault tolerance
Networked mechatronic systems
Applications of machine vision, image processing, pattern recognition and synthesis
More on this journal...
Objectives
The intention of IJAMechS is to provide an international forum to report current developments from interdisciplinary theoretical studies, computational algorithm development, and applications of mechatronic systems. It particularly welcomes those emerging methodologies and techniques which bridge theoretical studies and applications in all mechatronic systems. Novel quantitative engineering and science studies may also be considered.
Readership
IJAMechS provides a vehicle to help professionals, academics and researchers working in the fields of science, technology and engineering to disseminate information and to learn from each other's work.
Contents
IJAMechS publishes original papers, review papers, technical reports, book reviews, commentaries and news. Special Issues devoted to important topics in advanced mechatronic systems will be occasionally published.
Editor in Chief
Deng, Mingcong, Tokyo University of Agriculture and Technology, Japan
(dengcc.tuat.ac.jp)
Associate Editor
Jiang, Changan, Osaka Institute of Technology, Japan
Advisory Board
Inoue, Akira, Okayama University, Japan
Lee, Tsu-Tian, Tamkang University, Taiwan, Province of China
Editorial Board Members
Bandyopadhyay, B., Indian Institute of Technology Bombay, India
Chen, Xinkai, Shibaura Institute of Technology, Japan
Deng, Zhi-Cong, Intel Japan Co. Ltd, Japan
Habib, Maki, American University in Cairo, Egypt
Lin, Zongli, University of Virginia, USA
Matsuno, Fumitoshi, Kyoto University, Japan
Osuka, Koichi, Osaka University, Japan
Osunleke, Ajiboye, Obafemi Awolowo University, Nigeria
Owens, David H., University of Sheffield, UK
Ponnambalam, Sivalinga G., VIT University, India
Shen, Tielong, Sophia University, Japan
Shi, Yang, University of Victoria, Canada
Su, Chun-Yi, Concordia University, Canada
Tedesco, Francesco, University of Calabria, Italy
Wang, Hong, Oak Ridge National Laboratory, USA
Wen, Shengjun, Zhongyuan University of Technology, China
Xie, Shane, University of Leeds, UK
Yang, Shuanghua, Loughborough University, UK
Yang, Zi-Jiang, Ibaraki University, Japan
Yu, Hongnian, Edinburgh Napier University, UK
Yu, Wen, CINVESTAV-IPN (National Polytechnic Institute), Mexico
Yue, Shigang, University of Lincoln, UK
Zhang, Jingxin, Swinburne University of Technology, Australia
A few essentials for publishing in this journal
Submitted articles should not have been previously published or be currently under consideration for publication elsewhere.
Conference papers may only be submitted if the paper has been completely re-written (more details available here) and the author has cleared any necessary permissions with the copyright owner if it has been previously copyrighted.
Briefs and research notes are not published in this journal.
All our articles go through a double-blind review process.
All authors must declare they have read and agreed to the content of the submitted article. A full statement of our Ethical Guidelines for Authors (PDF) is available.
There are no charges for publishing with Inderscience, unless you require your article to be Open Access (OA). You can find more information on OA here.



Submission process

All articles for this journal must be submitted using our online submissions system.
View Author guidelines.
Journal news
Robotic fire escape
3 August, 2023
Fires threaten lives, property, and the environment. Fighting fire and rescuing those trapped by a fire is risky but essential. New research in the International Journal of Advanced Mechatronic Systems, looks at how autonomous wheeled rescue robots might be used in fire rescue. The work involves the development of a novel path-planning algorithm with an advanced fire-recognition system for indoor fires. The system offers significant benefits over conventional map-based approaches and finds the shortest and safest escape route for those trapped by the fire. Shaun Q.Y. Tan, V.J. Karthik, A. Govind, and P.M. Rajasree of the Electronics and Instrumentation Department at RV College of Engineering in Bengaluru, India, tackled the challenge of fire recognition and localization using convolutional neural networks (CNNs) along with various image processing techniques. To optimize their CNN model effectively, they employed the particle swarm optimization (PSO) approach [...]
More details...
14 - 16 December 2023, Vellore Institute of Technology, Vellore, India
Selected authors will be invited to elaborate on their research topic and submit the results to the journal for review and potential publication.