International Journal of Mobile Communications
This journal also publishes Open Access articles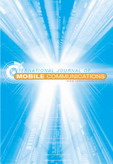 Editor in Chief

Dr. June Wei

ISSN online

1741-5217

ISSN print

1470-949X
8 issues per year


Impact factor (Clarivate Analytics) 2023

1.6 (5 Year Impact Factor 1.7)
JCI 0.62
The world of mobile communications is not a trend, but a phenomenon. IJMC, a fully refereed journal, publishes articles that present current practice and theory of mobile communications, mobile technology, and mobile commerce applications.
Topics covered include
Integrated mobile marketing communications
Wireless advertising/CRM
Telematics, pervasive computing
Incoming/outgoing wireless links
Location management
Diffusion, security, efficacy, interaction/integration
Metric mobile business enterprises
PDAs in services delivery
M-/u-business models, m-/u-commerce
Digital office, groupware, roomware
Mobile ad hoc networking, wireless information assurance
Nomadic/portable communications
Cross-cultural mobile communications
Teaching mobile communication applications
Mobile/handheld devices in the classroom, tele-learning
More on this journal...
Objectives
The objectives of the IJMC are to develop, promote and coordinate the development and practice of mobile communications. The IJMC aims to help professionals working in the field, academic educators and policy-makers to contribute, to disseminate knowledge, and to learn from each other|s work. The international dimension is emphasised in order to overcome cultural and national barriers and to meet the needs of accelerating technological change and changes in the global economy. IJMC is an outstanding outlet that which can shape a significant body of research in the field of mobile communications and in which results can be shared across institutions, governments, researchers and students, and also industry.
Readership
Professionals, academics, researchers, and managers in the field of mobile communications.
Contents
IJMC publishes original and review papers, technical reports, case studies, conference reports, management reports, book reviews, and notes, commentaries, and news. Contribution may be by submission or invitation, and suggestions for special issues and publications are welcome.
Editor in Chief
Wei, June, University of West Florida, USA
(jweiuwf.edu)
Associate Editors
Doukidis, Georgios, Athens University of Economics and Business, Greece
Kabara, Joseph, University of Pittsburgh, USA
Shih, Dong-Her, National Yunlin University of Science and Technology, Taiwan, Province of China
Wu, Xiaobo, Zhejiang University, China
Senior Editor
Lee, Sang M., University of Nebraska – Lincoln, USA
Editorial Board Members
Al-Mashari, Majed, King Saud University, Saudi Arabia
Alani, Omar Younis, University of Salford, UK
Ammari, Habib M., Norfolk State University, USA
Andersson, Per, Stockholm School of Economics, Sweden
Balocco, Raffaello, Politecnico di Milano, Italy
Barnes, Stuart J., King's College London, UK
Benlamri, Rachid, Lakehead University, Canada
Biaz, Saad, Auburn University, USA
Buchanan, Bill, Edinburgh Napier University, UK
Chong, Alain Yee-Loong, University of Nottingham, Ningbo Campus, China
Choudrie, Jyoti, University of Hertfordshire, UK
Constantiou, Ioanna, Copenhagen Business School, Denmark
Develi, Ibrahim, Erciyes University, Turkey
Douglas, David E., University of Arkansas, USA
Fang, Xiaowen, DePaul University, USA
Fife, Leslie D., Torchmark Corp., USA
Fjermestad, Jerry, New Jersey Institute of Technology, USA
Gao, Ping, University of Manchester, UK
Georgoulas, Dimitrios, Aston University, UK
Gerpott, Torsten J., Universität Duisburg-Essen, Germany
Giaglis, George M., Athens University of Economics and Business, Greece
Green, Jr., Kenneth W., Southern Arkansas University, USA
Heinrichs, Lynn R., Western Carolina University, USA
James, Karen E., Louisiana State University in Shreveport, USA
Lesjak, Dušan, International School for Social and Business Studies, Slovenia
Lin, Binshan, Louisiana State University in Shreveport, USA
Luo, Xin (Robert), The University of New Mexico, USA
McCotter, J. Kevin, BellSouth Corporation, USA
McQueen, Robert J., University of Waikato, New Zealand
Mirchandani, Prakash, University of Pittsburgh, USA
Ooi, Keng-Boon, UCSI University, Malaysia
Ozok, Ant, University of Maryland, Baltimore County, USA
Pelton, Lou E., University of North Texas, USA
Phonphoem, Anan, Kasetsart University, Thailand
Rau, P.L. Patrick, Tsinghua University, China
Scornavacca, Eusebio, University of Baltimore, USA
Seymour, Tom, Minot State University, USA
Shieh, Yao Y., University of California, USA
Shim, Jung Pil, Mississippi State University, USA
Shin, Dong-Hee, Sungkyunkwan University, South Korea
Siau, Keng, Missouri University of Science and Technology, USA
Tan, Joseph, McMaster University, Canada
Tsang, Philip Manwah, Caritas Institute of Higher Education, Hong Kong SAR, China
Turowski, Klaus, University of Augsburg, Germany
Vasilakos, Athanasios, Lulea University of Technology, Sweden
Weng, Sung-Shun, National Taipei University of Technology, Taiwan, Province of China
Xu, Heng, Pennsylvania State University, USA
Yang, Jiaqin, Georgia College & State University, USA
Yuan, Yufei, McMaster University, Canada
A few essentials for publishing in this journal
Submitted articles should not have been previously published or be currently under consideration for publication elsewhere.
Conference papers may only be submitted if the paper has been completely re-written (more details available here) and the author has cleared any necessary permissions with the copyright owner if it has been previously copyrighted.
Briefs and research notes are not published in this journal.
All our articles go through a double-blind review process.
All authors must declare they have read and agreed to the content of the submitted article. A full statement of our Ethical Guidelines for Authors (PDF) is available.
There are no charges for publishing with Inderscience, unless you require your article to be Open Access (OA). You can find more information on OA here.



Submission process

All articles for this journal must be submitted using our online submissions system.
View Author guidelines.