Middle East Journal of Management
This journal also publishes Open Access articles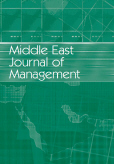 Editor in Chief

Prof. Kayhan Tajeddini

ISSN online

2050-3644

ISSN print

2050-3636
6 issues per year


Impact factor (Clarivate Analytics) 2023

1.3 (5 Year Impact Factor 1)
JCI 0.22
The Middle East region has experienced rapid political and economic change over the last four decades. The challenges to managers and management researchers operating within the area are often different to those experienced in other parts of the world. MEJM contributes to an understanding of different management cultures and provides readers with a fresh look at emerging management practices and research in the countries of this region and beyond.
Topics covered include
Marketing and marketing research
Management issues, development and education
Entrepreneurship and family business
Foreign direct investments
Service industry
Cross-cultural dimensions of business and management
Supply chain management
Human resource management
Strategic management
Business ethics, values and social responsibility
Innovation and change theory and practice
Tourism and hospitality management/industry
Quality management and continuous improvement
Financial management
More on this journal...
Objectives
The main objective of the peer-reviewed MEJM is to encourage the application of research methods to solve specific business-related problems in the Middle East. MEJM is the only journal that actively encourages dialogue between Middle East management researchers and supports research from the region. The journal seeks to highlight the best practice and research of developed and rapidly growing countries in the Middle East region. It contributes to the development of solutions for contemporary management challenges.
Readership
MEJM is a forum to help professionals, chief executive officers and corporate heads of firms, managing directors, senior general managers, boards of directors, academics and researchers in business, information directors, quality managers and human resource directors. It will enable academics and practitioners working in the field of business excellence to discuss important ideas and concepts and disseminate information for mutual learning and continuous improvement with reference to the Middle East.
Contents
MEJM publishes articles including empirical research, conceptual papers, in-depth literature reviews and testing of alternative methodologies and theories that have significant contributions to the knowledge of management in the Middle East region. The journal strives to bridge the gap between academia and practice; hence it also publishes viewpoints from practitioners, case studies and research notes of emerging trends. Book reviews of cutting edge topics are also welcome. The journal will also combine a region-specific orientation with a comparative approach.
Editor in Chief
Tajeddini, Kayhan, Tokyo International University, Japan
(ktajedditiu.ac.jp)
Editorial Board Members
Abdi, M. Reza, Bradford University , UK
Abou-Elgheit, Emad, University of New York, USA
Akdere, Mesut, Purdue University, USA
Asgari, Nader, CYRUS Institute of Knowledge and Bentley University, USA
Bahaee, Mahmood, Central Michigan University , USA
Bodolica, Virginia, American University of Sharjah, United Arab Emirates
Budur, Taylan, Tishk International University, Iraq
Chiabrishvili, Maia, American University of the Middle East (AUM), Kuwait
Croft, Robin, University of Bedfordshire, UK
Demir, Ahmet, Tishk International University, Iraq
Doulat, Mehran, Xiamen University, Malaysia and Massey University, New Zealand
ElBadawy, Tarek A., Auburn University at Montgomery, USA
Falahat, Mohammad, Universiti Tunku Abdul Rahman, Malaysia
Farazmand, Farideh, Lynn University, USA
Fusilier, Marcelline, Lewis University, USA
Gamage, Thilini Chathurika, Sabaragamuwa University of Sri Lanka, Sri Lanka
Honig, Or Arthur, Tokyo International University, Japan
Jenatabadi, Hashem Salarzadeh, University of Malaya, Malaysia
Kara, Ali, Penn State York, USA
Lee, Timothy, University of the Sunshine Coast, Australia
Ma'toufi, Alireza, Islamic Azad University, Iran
Merkle, Thorsten, University of Applied Sciences of the Grisons, Switzerland
Neal, Mark, School of Oriental & African Studies (SOAS), University of London, UK
Nobanee, Haitham, Abu Dhabi University, United Arab Emirates
Pardo, Phillip, Ritumeikan Asia Pacific University, Japan
Qalati, Sikandar Ali, Jiangsu University, China
Qumsieh, Gretel, Les Roches School of Management, Switzerland
Ratten, Vanessa, La Trobe University, Australia
Salehi, Mahdi, Ferdowsi University of Mashhad, Iran
Shayan, Ebrahim, Ritumeikan Asia Pacific University, Japan
Sohail, Mohammad Sadiq, King Fahd University of Petroleum and Minerals, Saudi Arabia
Soltani, Ebrahim, University of Kent, UK
Spraggon, Martin, Mohammed bin Rashid School of Government, United Arab Emirates
Tabari, Saloomeh, Sheffield Hallam University, UK
Tajdini, Javad, Eastern Mediterranean University, Cyprus
Tajeddini, Omid, Tokyo International University, Japan
Trueman, Myfanwy, Bradford University, UK
Walle, Alf H., University of Alaska Fairbanks, USA
Zaim, Halil, American University of the Middle East, Kuwait
A few essentials for publishing in this journal
Submitted articles should not have been previously published or be currently under consideration for publication elsewhere.
Conference papers may only be submitted if the paper has been completely re-written (more details available here) and the author has cleared any necessary permissions with the copyright owner if it has been previously copyrighted.
Briefs and research notes are not published in this journal.
All our articles go through a double-blind review process.
All authors must declare they have read and agreed to the content of the submitted article. A full statement of our Ethical Guidelines for Authors (PDF) is available.
There are no charges for publishing with Inderscience, unless you require your article to be Open Access (OA). You can find more information on OA here.



Submission process

All articles for this journal must be submitted using our online submissions system.
View Author guidelines.