International Journal of Mechanisms and Robotic Systems
This journal also publishes Open Access articles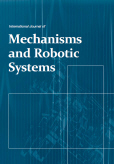 Editor in Chief

Prof. Dan Zhang

ISSN online

2047-7252

ISSN print

2047-7244
4 issues per year

IJMRS is a multidisciplinary journal publishing in all areas of mechanisms and robotic technologies. It covers novel design concepts, theories and methodologies, together with a diversity of application fields including: machine tools, vehicle simulators, medical robots, microrobots, pick-and-place robots, cable robots, reconfigurable/modular robots, bio-inspired robots, flexible robots, mobile robots, humanoid robots and related applications.
Topics covered include
Design theory and approaches
Innovative mechanisms
Mathematical and computational issues
Kinematics and dynamics
Performance mapping and optimisation
Reconfiguration and sustainability
Hardware and systems
Calibration
Intelligent robotic instrumentation and measurement
Motion planning and control
Human-robot interfaces
Perception and machine learning
Robotic machine tools and manufacturing systems
Micro- and nano-robotics
Flexible/compliant/hybrid/bio-inspired robots
More on this journal...
Objectives
The rapid development of integrated mechanisms and robotics technologies has made a significant contribution in modern industry. It is expected that the progress of mechanism research and robotic systems will play an important role in changing the technical world and even the daily life of human beings in the 21st century. The objectives of IJMRS are to establish an effective channel of communication between scholars, academic and research institutions, industries, policy makers and government agencies concerned with mechanisms and robotic systems.
Readership
IJMRS provides a forum to help professionals, academics, students, researchers and policy makers who work on any topic of mechanisms and robotic systems to disseminate information and to learn from each other's work.
Contents
IJMRS publishes original papers, review papers, technical reports and case studies. Special Issues devoted to important topics in related fields will occasionally be published.
Editor in Chief
Zhang, Dan, York University, Canada
(dzhang99yorku.ca)
Associate Editors
Ceccarelli, Marco, University of Rome Tor Vergata, Italy
He, Bin, Shanghai University, China
Larochelle, Pierre, South Dakota Mines, USA
Assistant Editor
Zou, Qi, York University, Canada
Editorial Board Members
Dong, Janet Jiaxiang, University of Cincinnati, USA
Dong, Wei, Harbin Institute of Technology, China
Duan, Xuchao, Xidian University, China
Fassi, Irene, Institute of Industrial Technologies and Automation, Italy
Huang, Guangyu, Zhejiang Lab, China
Legnani, Giovanni, Universitá di Brescia, Italy
Simionescu, Petru A., Texas A&M University - Corpus Christi, USA
Tian, Chunxu, Fudan University, China
Wang, Wilson, Lakehead University, Canada
Wei, Bin, Algoma University, Canada
A few essentials for publishing in this journal
Submitted articles should not have been previously published or be currently under consideration for publication elsewhere.
Conference papers may only be submitted if the paper has been completely re-written (more details available here) and the author has cleared any necessary permissions with the copyright owner if it has been previously copyrighted.
Briefs and research notes are not published in this journal.
All our articles go through a double-blind review process.
All authors must declare they have read and agreed to the content of the submitted article. A full statement of our Ethical Guidelines for Authors (PDF) is available.
There are no charges for publishing with Inderscience, unless you require your article to be Open Access (OA). You can find more information on OA here.



Submission process

All articles for this journal must be submitted using our online submissions system.
View Author guidelines.