International Journal of Product Lifecycle Management
This journal also publishes Open Access articles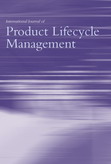 Editor in Chief

Prof. Benoît Eynard

ISSN online

1743-5129

ISSN print

1743-5110
4 issues per year


CiteScore

1.9 (2022)

Product Lifecycle Management is defined as a strategic business approach for effective management and use of corporate intellectual capital. Challenges faced by product development teams include globalisation, outsourcing, mass customisation, fast innovation and product traceability, enhancing the need for collaboration and knowledge management along the product lifecycle stages. PLM systems are gaining acceptance for managing all information about products throughout their whole lifecycle, from conceptualisation to operations/disposal. IJPLM addresses the development, promotion and coordination of PLM science and practice.
Topics covered include
PLM for digital factories
End of life and regulatory aspects
Long-term retention and archiving
Embedded lifecycle intelligence in products, traceability/security issues
PLM infrastructure, implementation processes
Capture, structuring, reuse of lifecycle information
Collaborative product development, models for cross-disciplinary information sharing
PLM user requirements, customer preferences
Lifecycle virtual and simulation environments
Interoperability and enterprise systems integration
Emerging PLM standards and best practices
Organisational change management, PLM support for product innovation
Business strategies and benefits
Green and sustainable products
PLM educational and training approaches
More on this journal...
Objectives
To draw up the prospects for research in this field, the IJPLM aims to help its readers understand and address PLM issues, identify appropriate visions and strategies, and then successfully plan, implement and use the corresponding systems and practices. IJPLM aims to contribute to a wide-scale dissemination of PLM knowledge, and works that seek to develop and apply pragmatic and advanced solutions for deploying collaborative processes of value creation and delivery. It also establishes channels of communication between experts in academic and research institutions, practitioners and professionals working in industry and related business, and policy makers.
Readership
Engineers and academics working in university research and design departments and institutes; and managers, designers, technologists, and research and development engineers working in industry.
Contents
IJPLM welcomes original papers that pertain to state-of-the-art, research and development, product development case studies, novel applications, and tools in the areas related to PLM. It also publishes conference reports, relevant reports and news, book reviews and briefs, and also educational approaches. Suggestions for Special Issues devoted to important topics in Product Lifecycle Management and related topics are welcome.
Honorary Editors
Bernard, Alain, Ecole Centrale de Nantes, France
Bouras, Abdelaziz, Qatar University, Qatar
Editor in Chief
Eynard, Benoît, Université de Technologie de Compiègne, France
(benoit.eynardutc.fr)
Managing Editor
Sapidis, Nickolas S., University of Western Macedonia, Greece
Associate Editor
Rachuri, Sudarsan, National Institute of Standards and Technology, USA
Regional Editor Asia
Gurumoorthy, Balan, Indian Institute of Science, India
Regional Editor Europe
McMahon, Chris, University of Bristol, UK
Editorial Board Members
Bandinelli, Romeo, University of Florence, Italy
Bilalis, Nikolaos, Technical University of Crete, Greece
Chakpitak, Nopasit, Chiang Mai University, Thailand
Dutta, Debasish, University of Illinois at Urbana-Champaign, USA
El-Beqqali, Omar, University S. M. Ben Abdallah, Morocco
Foufou, Sebti, Qatar University, Qatar
Harik, Ramy, University of South Carolina, USA
Hehenberger, Peter, University of Applied Sciences Upper Austria, Austria
Huang, George Q., The University of Hong Kong, Hong Kong SAR, China
Hvolby, Hans-Henrik, Aalborg University, Denmark
Jardim-Goncalves, Ricardo, New University of Lisbon, Portugal
Kärkkäinen, Hannu, Tampere University of Technology, Finland
Kiritsis, Dimitris, Ecole Polytechnique Fédérale de Lausanne, Switzerland
Lim, Jong Gyun, Samsung Advanced Institute of Technology, Democratic People's Republic of Korea
Lopez-Ortega, Omar, Universidad Autónoma del Estado de Hidalgo, Mexico
Lu, Wen Feng, National University of Singapore, Singapore
Mas Morate, Fernando, AIRBUS Military, Spain
McKay, Alison, University of Leeds, UK
Nee, Andrew Yeh-Ching, National University of Singapore, Singapore
Nöel, Frédéric, Institut Polytechnique de Grenoble, France
Ouzrout, Yacine, Université Lumière Lyon 2 - IUT Lumière, France
Park, YoungWon, University of Tokyo, Japan
Pels, Henk Jan, Technische University Eindhoven, Netherlands
Ríos Chueco, José, Universidad Politécnica de Madrid, Spain
Rivest, Louis, Ecole de technologie superieure, Canada
Rossi, Monica, Politecnico di Milano, Italy
Roucoules, Lionel, Ecole Nationale Supérieure d'Arts et Métiers, France
Schabacker, Michael, Otto-von-Guericke University Magdeburg, Germany
Segonds, Frederic, Arts et Métiers ParisTech (ENSAM), France
Silventoinen, Anneli, Lappeenranta University of Technology, Finland
Smirnov, Alexander, Russian Academy of Sciences (SPIIRAS), Russian Federation
Subrahmanian, Eswran, Carnegie Mellon University, USA
Terzi, Sergio, Politecnico di Milano, Italy
Thoben, Klaus-Dieter, BIBA - Bremer Institut für Produktion und Logistik GmbH, Germany
Tollenaere, Michel, INPG National Polytechnical Institute of Grenoble, France
Vajna, Sandor, Otto-von-Guericke University Magdeburg, Germany
Vieira, Darli Rodrigues, Université du Québec à Trois-Rivières (UQTR), Canada
Young, Robert, Loughborough University, UK
Zancul, Eduardo de Senzi, Universidade de São Paulo, Brazil
A few essentials for publishing in this journal
Submitted articles should not have been previously published or be currently under consideration for publication elsewhere.
Conference papers may only be submitted if the paper has been completely re-written (more details available here) and the author has cleared any necessary permissions with the copyright owner if it has been previously copyrighted.
Briefs and research notes are not published in this journal.
All our articles go through a double-blind review process.
All authors must declare they have read and agreed to the content of the submitted article. A full statement of our Ethical Guidelines for Authors (PDF) is available.
There are no charges for publishing with Inderscience, unless you require your article to be Open Access (OA). You can find more information on OA here.



Submission process

All articles for this journal must be submitted using our online submissions system.
View Author guidelines.