International Journal of Management Practice
This journal also publishes Open Access articles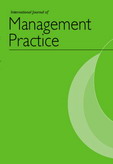 Editor

Prof. Yong Wang

ISSN online

1741-8143

ISSN print

1477-9064
6 issues per year


CiteScore

1.1 (2022)

Significant amounts of theory are not applied to management practice, being too far removed from the world of practice or being sound but handled in a manner that confines them to academia. IJMP focuses on the pragmatics of informing management action/practice, translating existing theories into forms relevant, digestible and amenable to practical action, besides developing new insights by developing and examining leading edge managerial practices to enhance organisational performance. The challenges are dynamic, so the subject coverage is merely indicative.
Topics covered include
Small/family business management, intra/entrepreneurship
Government policy on entrepreneurship
Creating marketing orientation
Managing workplace motivation/pressure/stress
De-layering, restructuring
Managing learning and improvement
Instilling creativity
Managing globalisation and international business
Managing supply chains
E-management practices
Sustainable finance
Green reporting
ESG investing
Environmental policy
Sustainable development
More on this journal...
Objectives
The aim of the IJMP is to help turn management theory into management practice. IJMP endeavours to illustrate pragmatic solutions to corporate problems and challenges.
Readership
Professionals, academics, researchers, and managers.
Contents
IJMP publishes papers that are able to show how to turn theory into practice or describe leading managerial practices that enable business performance. It will adopt a pragmatic and easy to read jargon free style. IJMP will encourage papers that develop frameworks and define processes that help to translate specific concepts and philosophy into organisational actions. The journal will also publish rigorously compiled case studies of companies that illustrate ||best practice|| ways of doing things, and highlight key challenges and ways of transferring these practices into other organisations.
Honorary Editor
Ahmed, Pervaiz K., Monash University Malaysia, Malaysia
Editor
Wang, Yong, University of Wolverhampton, UK
(yong.wangwlv.ac.uk)
Associate Editors
Anosike, Uchenna Paschal, University of Wolverhampton, UK
Hardaker, Glenn, Universiti Brunei Darussalam, Brunei Darussalam
Kok, Seng Kiong, RMIT University, Vietnam
Lu, Jintao, Taiyuan University of Science and Technology, China
Oriade, Ade, University of Wolverhampton, UK
Yu, Ellen Pei-yi, Birkbeck, University of London, UK
Editorial Board Members
Ahuja, Vandana, Symbiosis Institute of Business Management NOIDA, India
Al-Okaily, Manaf, Jadara University and University of Jordan, Jordan
Beena, Fatima, American College of Dubai, United Arab Emirates
Chonko, Larry, Baylor University, USA
D'Amico, Michael F., The University of Akron, USA
De Vries, Manfred F.R. Kets, INSEAD, France
Dehler, Gordon E., College of Charleston, USA
Hamlin, Bob, University of Wolverhampton , UK
Hax, Arnaldo C., Massachusetts Institute of Technology , USA
Hooi, Lai Wan, The University of Nottingham, Malaysia
Kakabadse, Andrew, Cranfield School of Management, UK
Khan, Hira Salah ud din, Jiangsu University, China
Klefsjö, Bengt, Luleå University, Sweden
Lin, Binshan, Louisiana State University in Shreveport, USA
Misra, Rajnish Kumar, Jaypee Institute of Information Technology, India
Mustafa, Michael, University of Nottingham Malaysia Campus, Malaysia
Rafiq, Mohammed, Loughborough University, UK
Rossi, Matteo, University of Sannio, Italy
Ryan, Neal, Queensland University of Technology, Australia
Schmidt-Wilk, Jane, Maharishi University of Management, USA
Simintiras, Antonis, University of Wales, UK
Sivakumar, K., Lehigh University, USA
Sohal, Amrik, Monash University, Australia
Soufani, Khaled, University of Cambridge, UK
Vesperi, Walter, Università degli Studi di Messina, Italy
Wang, Catherine L., Oxford Brookes University, UK
Wilderom, Celeste P.M., University of Twente, Netherlands
A few essentials for publishing in this journal
Submitted articles should not have been previously published or be currently under consideration for publication elsewhere.
Conference papers may only be submitted if the paper has been completely re-written (more details available here) and the author has cleared any necessary permissions with the copyright owner if it has been previously copyrighted.
Briefs and research notes are not published in this journal.
All our articles go through a double-blind review process.
All authors must declare they have read and agreed to the content of the submitted article. A full statement of our Ethical Guidelines for Authors (PDF) is available.
There are no charges for publishing with Inderscience, unless you require your article to be Open Access (OA). You can find more information on OA here.



Submission process

All articles for this journal must be submitted using our online submissions system.
View Author guidelines.
Journal news
Sleepless in IT
24 October, 2023
Research in the International Journal of Management Practice has looked at sleep disorders among information technology professionals with respect to psychological distress and conflicts between one's working life and family commitments. The study by an international team from Bangladesh, Chile and Spain used the statistical tool of partial least squares structural equation modelling to analyse data from a structured questionnaire completed by IT professionals. The work sheds new light on how sleep disorders in this sector are affected by workplace factors. The team found that financial insecurity and job pressure contributed significantly to work-family conflict. In addition, they linked the pressures of the job and excessive work contact to psychological distress. All of these factors then contributed to problems for the professionals in terms of their sleep patterns [...]
More details...