International Journal of Vehicle Autonomous Systems
This journal also publishes Open Access articles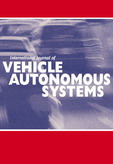 Editor in Chief

Dr. Kevin Deng

ISSN online

1741-5306

ISSN print

1471-0226
4 issues per year


CiteScore

0.8 (2022)

IJVAS is an established international authoritative reference in the field of vehicle autonomous systems research and development. Such systems aim to increase accident avoidance and road capacity, improve the travel experience by relieving occupants of driving/navigation chores, reduce total vehicle numbers and eliminate some of the services/infrastructure associated with motoring today
Topics covered include
Active safety and driver-assistance systems
Vehicle and chassis dynamics and controls
Vehicle electronics, electrification and mechatronics
Vehicular wireless communications and networks
Object sensing and detection; sensor fusion
Intelligent vehicle and transport systems
Vehicle navigation, motion and trajectory planning
Multi-vehicle coordination and vehicle platooning
More on this journal...
Objectives
IJVAS aims to investigate: how vehicle autonomous systems contribute to the high and safe performance, as well as the reliability and cost effectiveness of vehicles in an ecologically friendly environment; how the systems contribute to the driver comfort and reduce his/her working load during driving; and how the systems are designed and accepted by the driver (the customer).
Readership
Professionals, academics, researchers, and managers.
Contents
IJVAS publishes original papers, review papers, case studies, conference reports, briefs and reports and news, book reviews and notes.Commentaries on papers and reports published in IJVAS are encouraged. Authors will have the opportunity to respond to the commentary on their work before the entire treatment is published. Special Issues devoted to important topics in vehicle autonomous systems and related topics, will be published occasionally.
Editor in Chief
Deng, Kevin, Jilin University, China
(kwdengoutlook.com)
Associate Editors
Beji, Lotfi, University of Evry and University of Paris-Saclay, France
Li, Bin, Aptiv PLC, USA
Ponnan, Suresh, Vel Tech - Technical University, India
Xia, Xin, UCLA Samueli School of Engineering, USA
Zhao, Annie, General Motors Global R&D Center, USA
Advisory Board
Broggi, Alberto, Università di Parma, Italy
Guo, Konghui, Jilin University, China
Kücükay, Ferit, Technical University of Brunswick, Germany
McPhee, John J., University of Waterloo, Canada
Pischinger, Franz F., FEV Motorentechnik GmbH, Germany
Vukobratovic, Miomir, Mihailo Pupin Institute, Serbia
Editorial Board Members
Ajanović, Zlatan, Virtual Vehicle Research Center, Austria
Dong, Chiyu, DiDi, USA
Emirler, Mumin Tolga, Yildiz Technical University, Turkey
Hamid, Umar Zakir Abdul, Sensible 4, Finland
Huang, Yanjun, Tongji University, China
Klomp, Matthijs, Chalmers University of Technology, Sweden
Kolmanovsky, Ilya, Ford Motor Company, USA
Li, Keqiang, Tsinghua University, China
Lyu, Chen, Nanyang Technological University, Singapore
Sardarmehni, Tohid, Texas A&M University, USA
Sezer, Volkan, Istanbul Technical University, Turkey
Shahbakhti, Mahdi, University of Alberta, Canada
Sharaf, A.M., University of Ontario, Canada
Shyrokau, Barys, Delft University of Technology, Netherlands
Taghavifar, Hamid, Coventry University, UK
Zhu, Bing, Jilin University, China
A few essentials for publishing in this journal
Submitted articles should not have been previously published or be currently under consideration for publication elsewhere.
Conference papers may only be submitted if the paper has been completely re-written (more details available here) and the author has cleared any necessary permissions with the copyright owner if it has been previously copyrighted.
Briefs and research notes are not published in this journal.
All our articles go through a double-blind review process.
All authors must declare they have read and agreed to the content of the submitted article. A full statement of our Ethical Guidelines for Authors (PDF) is available.
There are no charges for publishing with Inderscience, unless you require your article to be Open Access (OA). You can find more information on OA here.



Submission process

All articles for this journal must be submitted using our online submissions system.
View Author guidelines.