International Journal of Management and Enterprise Development
This journal also publishes Open Access articles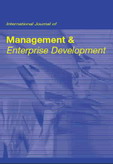 Editor in Chief

Prof. Zbigniew Pastuszak

ISSN online

1741-8127

ISSN print

1468-4330
4 issues per year


CiteScore

1.3 (2022)

IJMED is a major international research journal dedicated to business development strategy and entrepreneurship policy as well as management processes in an international and cross-cultural context. IJMED provides a venue for high quality papers including theoretical research articles, evidence-based case studies and practical applications seeking to explore best practice and investigate strategies for rapid growth management in SMEs. IJMED has a history of contributing to the academic literature, providing conceptual and practical insights and generating innovative ideas for organizational enterprise.
Topics covered include
SMEs' start-up development, corporate venturing
Technological opportunities, new firm creation, valuation
Technological adoption, technology transfer, technopreneurship
Joint ventures/alliances, franchising and corporate ownership
Business incubator development strategy
Economic and social entrepreneurship
Virtual coaching services for SMEs
SMEs and entrepreneurship policy
Start-up cognitions/behaviours
Halo effect, technology licensing
Long-run technology investments
Knowledge management/technology strategy in SMEs
Managing rapid growth, accelerating competitive effectiveness
Strategy decision speed and SME performance
Entrepreneurs in non-profit sector
More on this journal...
Objectives
The IJMED aims to help professionals working in the field, academic educators and policy-makers to contribute, to disseminate knowledge, and to learn from each other|s work through cutting edge thinking. The international dimension is emphasised in order to overcome cultural and national barriers and to meet the needs of accelerating technological change and changes in the global economy. IJMED is an outstanding outlet whereby management and enterprise and development research can shape itself and results can be shared across institutions, governments, researchers and students, as well as industry.
Up-to-date, leading edge research to keep you ahead and maintain a competitive edge best practice in SMEs
Practical guidance on ways to achieve effectiveness and efficiency in SME management and development
In-depth analysis and interpretation to advance our understanding and provide a framework for further study of management and enterprise development
International coverage which allows us to share information and knowledge and insight on a worldwide scale
Readership
Professionals, academics, researchers, and managers in small and medium sized business, policy makers, and non-profit organisations.
Contents
The IJMED publishes original and review papers, technical reports, case studies, conference reports, management reports, book reviews, and notes, commentaries, and news. Contribution may be by submission or invitation, and suggestions for special issues and publications are welcome.
High quality papers to keep you at the forefront of the latest thinking and research in SMEs
Case studies and practical applications to illustrate management and enterprise development
Editor in Chief
Pastuszak, Zbigniew, Maria Curie-Sklodowska University, Poland
(ijmededitorgmail.com)
Associate Editors
Debicki, Bart, Towson University, USA
Dermol, Valerij, International School for Social and Business Studies, Slovenia
Juana-Espinosa, Susana Amalia De, Universidad de Alicante, Spain
Park, Sang Chul, Korea Polytechnic University, South Korea
Phusavat, Kongkiti, Kasetsart University, Thailand
Rossi, Matteo, University of Sannio, Italy
Wiechetek, Łukasz, Maria Curie-Skłodowska University, Poland
Advisory Board
Kadono, Yasuo, Ritsumeikan University, Japan
Keohler, Jerry W., University of South Florida, USA
Lin, Binshan, Louisiana State University in Shreveport, USA
Rakowska, Anna, Maria Curie-Sklodowska University, Poland
Rutherford, Matthew, Virginia Commonwealth University, USA
Türkyilmaz, Ali, University of Stavanger, Norway
Wankel, Charles, St. John's University, USA
Editorial Board Members
Akman, Gülşen, Kocaeli University, Turkey
An, Hua-Cheng, National Chiao Tung University, Taiwan, Province of China
Banas, Jaroslaw, Maria Curie-Skłodowska University, Poland
Barbulescu, Adina, West University of Timisoara, Romania
Brannon, David, Towson University, USA
Brem, Alexander, University of Stuttgart, Germany
Breznik, Kristijan, International School for Social and Business Studies, Slovenia
Bustinza, Óscar F., University of Granada, Spain
Canós-Darós, Lourdes, Universitat Politècnica de València, Spain
Gola, Arkadiusz, Lublin University of Technology, Poland
Granata, Giuseppe, Università Telematica Mercatorum, Italy
Grimaldi, Michele, University of Cassino and Southern Lazio, Italy
Haapasalo, Harri Jouni Olavi, University of Oulu, Finland
Hidayanto, Achmad Nizar, Universitas Indonesia, Indonesia
Hosseini, Elahe, Yazd University, Iran
Isoherranen, Ville, University of Oulu, Finland
Joshi, Manoj, Amity University, India
Kędziora, Damian, Hanken School of Economics, Finland
Kadak, Tarmo, Tallinn University of Technology, Estonia
Kelly, Eileen, Ithaca College, USA
Kess, Pekka, University of Oulu, Finland
Kibler, Bruce Alan, Gannon University, USA
Kifor, Claudiu, Lucian Blaga University of Sibiu, Romania
Kushnirovich, Nonna, Ruppin Academic Center, Israel
Kuzmin, Oleg, Lviv Polytechnic National University, Ukraine
Lechuga Sancho, Paula, University of Cadiz, Spain
Matoba, Akihiro, Kanagawa University, Japan
Medrek, Marek, Maria Curie Skłodowska University, Poland
Minciullo, Marco, Università Cattolica del Sacro Cuore, Italy
Muhos, Matti, University of Oulu, Finland
Neuvonen, Heidi, JAMK University of Applied Sciences, Finland
Numprasertchai, Haruthai, Kasetsart University, Thailand
Olivas-Luján, Miguel, Clarion University of Pennsylvania, USA
Ooi, Keng-Boon, UCSI University, Malaysia
O'Brien, Connie, Kutztown University, USA
Patnaik, Srikanta, Interscience Institute of Management and Technology, Bhubaneswar, India
Pereira-Moliner, Jorge, University of Alicante, Spain
Qian, Shanshan, Towson University, USA
Randolph, Robert, University of Nevada, Las Vegas, USA
Rubino, Michele, Università LUM Jean Monnet, Italy
Santandreu-Mascarell, Cristina, Universitat Politècnica de València, Spain
Sari, Kazim, Beykent University, Turkey
Seghiouer, Hamid, Abdelmalek Essaâdi University, Morocco
Senthilkumar, Sukumar, Vellore Institute of Technology, India
Sgroi, Filippo, University of Palermo, Italy
Sharma, Parveen, Lovely Professional University, India
Sliwinski, Adam, Warsaw School of Economics, Poland
Takala, Josu, University of Vaasa, Finland
Tarhini, Ali, Sultan Qaboos University, Oman
Tepanon, Yodmanee, Kasetsart University, Thailand
Todorovic, Igor, University of Banja Luka, Bosnia and Herzegovina
Trunk, Aleš, International School for Social and Business Studies, Slovenia
Vassileva, Bistra, University of Economics-Varna, Bulgaria
Vitolla, Filippo, LUM Jean Monnet University, Italy
Wang, Ping, James Madison University, USA
A few essentials for publishing in this journal
Submitted articles should not have been previously published or be currently under consideration for publication elsewhere.
Conference papers may only be submitted if the paper has been completely re-written (more details available here) and the author has cleared any necessary permissions with the copyright owner if it has been previously copyrighted.
Briefs and research notes are not published in this journal.
All our articles go through a double-blind review process.
All authors must declare they have read and agreed to the content of the submitted article. A full statement of our Ethical Guidelines for Authors (PDF) is available.
There are no charges for publishing with Inderscience, unless you require your article to be Open Access (OA). You can find more information on OA here.



Submission process

All articles for this journal must be submitted using our online submissions system.
View Author guidelines.
Journal news
Catering for entrepreneurial refugees
6 November, 2023
A study in the International Journal of Management and Enterprise Development investigates the concept of refugee entrepreneurship aiming to better understand the needs of refugees looking to establish their businesses, particularly in the catering industry. Jukka Ojasalo, Maria Ekström, and Joonas Koski of the Laurea University of Applied Sciences in Espoo, Finland, carried out an empirical study using qualitative theme interviews and focus groups. From the results, the team has developed a comprehensive model for capability development in the context of refugee entrepreneurship [...]
More details...