International Journal of Business Information Systems
This journal also publishes Open Access articles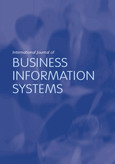 Editor in Chief

Prof. Angappa Gunasekaran

ISSN online

1746-0980

ISSN print

1746-0972
12 issues per year


CiteScore

1.8 (2021)

Business information systems (BIS) can be defined as systems integrating information technology, people and business. BIS bring business functions and information modules together for establishing effective communication channels which are useful for making timely and accurate decisions and in turn contribute to organisational productivity and competitiveness. This paradigm shift leads to global outsourcing, strategic alliances and partnerships to be competitive in terms of price, quality, flexibility, dependability, responsiveness. IJBIS highlights new strategies, techniques, tools and technologies for developing suitable BIS.
Topics covered include
Economic models for information systems
Data mining, data warehousing and information logistics
Geo-BIS
Language technology for BIS
Mobile e-business, web services for e-business, e-commerce
Legal information systems
Business intelligence
Knowledge management
Decision support systems
Strategic information systems
Artificial intelligence, expert systems, multimedia
Accounting information systems
Balanced scorecard, performance measures/metrics
IT/IS evaluation, internet standards/protocols/communications
ERP and supply chains; CRM
More on this journal...
Objectives
The main objectives of IJBIS are to promote the research and practice of new strategies, tools, techniques and technologies for the design, development and implementation of BIS. This will help improving the organisational competitiveness in both service and manufacturing industries around the world. IJBIS aims to help professionals working in the field of BIS, academic educators, industry consultants, and practitioners to contribute, to disseminate and to learn from each other's work. The global dimension is emphasised to overcome cultural and national barriers and to meet the accelerating technological changes and changes in global economy. IJBIS aims to act as a forum for exchanging innovative ideas and sharing research and practical experiences in BIS. IJBIS will publish high quality articles in all areas of BIS.
Readership
IJBIS is a forum to help professionals, academics, researchers, practitioners and policy makers, working in the field of BIS, to discuss the important ideas, concepts and disseminate information and to learn from each other's work.
Contents
IJBIS publishes original papers, review papers, technical reports, case studies, conference reports, management reports, book reviews, notes, commentaries, and news. Also, IJBIS will publish system development and applications papers. Special Issues devoted to important topics in BIS will occasionally be published.
Editor in Chief
Gunasekaran, Angappa, Penn State Harrisburg, USA
(an.gunasekarangmail.com)
Editorial Board Members
Back, Barbro, Åbo Akademi University, Finland
Backhouse, James, London School of Economics, UK
Bansler, Jørgen P., Technical University of Denmark, Denmark
Choobineh, Joobin, Texas A&M University, USA
Chu, Bei-Tseng (Bill), UNC Charlotte, USA
Finnie, Gavin, Bond University, Australia
George, Joey, Florida State University, USA
Gill, Sam S., San Francisco State University, USA
Gottlob, Georg, Vienna University of Technology/TU Wien, Austria
Grover, Varun, Clemson University, USA
Gulla, Jon Atle, IDI Norwegian University of Science and Technology, Norway
Hackney, Raymond, Manchester Metropolitan University, UK
Harrison, Alan, Cranfield University, UK
Irani, Zahir, Brunel University, UK
Jeffcoate, Judith, University of Buckingham, UK
Johnson, Margaret, Stanford University, USA
Johnston, Robert B., University of Melbourne, Australia
King, William, University of Pittsburgh, USA
Klashner, Robb, New Jersey Institute of Technology, USA
Kochikar, Vivekanand, Infosys Technologies Ltd., India
Kunnathur, Anand S., University of Toledo, USA
Lee, Jae Kyu, Korea Advanced Institute of Science and Technology, South Korea
Lee-Post, Anita, University of Kentucky, USA
Love, Peter E.D., Edith Cowan University, Australia
Massey, Anne, Indiana University, USA
Mathiassen, Lars, Georgia State University, USA
Ngai, Eric W.T., The Hong Kong Polytechnic University, Hong Kong SAR, China
Oberweis, Andreas, University of Karlsruhe, Germany
Palley, Michael, City University of New York, USA
Panigrahi, Prabin Kumar, Indian Institute of Management Indore, India
Poo, Danny, National University of Singapore, Singapore
Raghunathan, Sankaran P., National Management School, India
Raman, Ramakrishnan, Symbiosis Institute of Business Management, India
Ramaprasad, Arkalgud, University of Illinois, Chicago, USA
Rapp, Birger, Blekinge Institute of Technology, Sweden
Rolland, Erik, University of California, USA
Rolland, Knut H. R., Norwegian University of Science and Technology (NTNU), Norway
Sato, Osam, Tokyo Keizai University, Japan
Savage, Arline, Cal Poly State University, USA
Shea, Timothy, University of Massachusetts – Dartmouth, USA
Sheffield, Jim, Victoria University of Wellington, New Zealand
Sondheimer, Norman, University of Massachusetts – Amherst, USA
Spalanzani, Alain, University of Pierre Mendes-France (UPMF), France
Sutton, Steve G., University of Melbourne, Australia and University of Central Florida, USA
Syed, Mahbubur Rahman, Minnesota State University, Mankato , USA
Talluri, Srinivas, Michigan State University, USA
Tribolet, José M., Instituto Superior Técnico- U.T.L, Portugal
Tyrväinen, Pasi, University of Jyväskylä, Finland
Vlachopoulou, Maro, University of Macedonia, Greece
Wieringa, R.J., University of Twente, Netherlands
Wilson, David W., University of London, UK
A few essentials for publishing in this journal
Submitted articles should not have been previously published or be currently under consideration for publication elsewhere.
Conference papers may only be submitted if the paper has been completely re-written (more details available here) and the author has cleared any necessary permissions with the copyright owner if it has been previously copyrighted.
Briefs and research notes are not published in this journal.
All our articles go through a double-blind review process.
All authors must declare they have read and agreed to the content of the submitted article. A full statement of our Ethical Guidelines for Authors (PDF) is available.
There are no charges for publishing with Inderscience, unless you require your article to be Open Access (OA). You can find more information on OA here.



Submission process

All articles for this journal must be submitted using our online submissions system.
View Author guidelines.
Journal news
The human face of cybersecurtity
18 November, 2022
New work in the International Journal of Business Information Systems looks at the human side of cybersecurity. We might think of cybersecurity as being mostly about firewalls, antivirus software, spam filters, and dDOS detection, but it is often social engineering and human failure that leads to breaches of computer systems and networks rather than sophisticated malware. Rajesh Kumar Upadhyay of the Graphic Era Hill University, Dehradun, and Anurag Singh and Brij Mohan Singh of the India and College of Engineering Roorkee surveyed professionals, non-professionals, and students working and studying in the educational sector of the Uttarakhand region. They hoped to explore the relationship between awareness of computer security issues and human behaviour. They focused on various personality traits to determine whether there were correlations between those and a person's understanding of cybersecurity. The team points out that while an organization or individual can put in place policies and tools to protect from intrusion that happens digitally it is almost impossible to protect against social engineering without ongoing education of users who might succumb to the dubious and persuasive skills of the confidence trickster [...]
More details...