International Journal of Machining and Machinability of Materials
This journal also publishes Open Access articles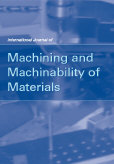 Editor in Chief

Prof. J. Paulo Davim

ISSN online

1748-572X

ISSN print

1748-5711
4 issues per year


CiteScore

2.3 (2022)

In modern manufacturing, there has been strong renewed interest in high-efficiency machining, while use of advanced materials has increased due to their special mechanical and physical properties. Advanced materials have replaced conventional materials in various fields of application including aeronautical, aerospace, automotive, biomechanical, mechanical and other industries. As a result of these properties and potential applications, there exists an urgent need to understand questions associated with the machinability of these materials. IJMMM addresses both machining and machinability of materials.
Topics covered include
Machining processes: turning, drilling, milling, grinding
Mechanics of cutting, chip formation
Cutting forces, cutting temperatures
Cutting tool material, coatings, tool wear
Surface finish, integrity of surfaces
Tribology in metal cutting
Hard turning, minimal lubrication; high speed machining
Nontraditional machining processes: laser, EDM, ECM, USM, water jet cutting
Precision machining, micro/nanomachining
Vibration/acoustic emission techniques
Machinability of materials: metallic/non-metallic/composite materials
Design of experiments: Taguchi methods, response surface methodology, etc.
Machining simulation: FEM models, etc.
Optimisation: genetic algorithms, neural networks, etc.
Intelligent machining, integrated manufacturing systems
More on this journal...
Objectives
The objectives of the IJMMM are to establish a channel of communication and to disseminate knowledge between academic/research institutions and practical industrial applications.
Readership
Academics; researchers; engineers; professionals in machining and related industries.
Contents
IJMMM publishes original papers; research papers; review papers; technical papers, technical notes; short communications; discussion on papers; case studies.
Editor in Chief
Davim, J. Paulo, University of Aveiro, Portugal
(pdavimua.pt)
Associate Editors
Astakhov, Viktor P., PSMi, USA
Lopez de Lacalle, Luis Norberto, University of the Basque Country, Spain
Editorial Board Members
Özel, Tuğrul, Rutgers University, USA
Abrão, Alexandre, Universidade Federal de Minas Gerais (UFMG), Brazil
António, Conceição, University of Porto, Portugal
Bianchi, Eduardo, Universidade Estadual Paulista (UNESP), Brazil
Chen, Mingjun, Harbin Institute of Technology, China
Cheng, Kai, Brunel University London, UK
Chou, Kevin, University of Louisville, USA
Di Ilio, Antoniomaria, University of L'Aquila, Italy
Gaitonde, V.N., B.V.B College of Engineering and Technology, India
Grzesik, Wit., Technical University of Opole, Poland
Hocheng, Hong, National Tsing Hua University, Taiwan, Province of China
Jain, V.K., (Prof. Retired) Indian Institute of Technology Kanpur, India
Kim, Dave (Dae-Wook), Washington State University, USA
Kishawy, H. A., University of Ontario Institute of Technology, Canada
Koshy, Philip, McMaster University, Canada
Li, Xiaoping, National University of Singapore, Singapore
Littlefair, Guy, Deakin University, Australia
Martin, Patrick, ENSAM - Technopole de Metz, France
Martins, Paulo A. F., Universidade Técnica de Lisboa, Portugal
Micari, F., DTMPIG - University of Palermo, Italy
Molinari, Alain, University of Metz, France
Mourão, António, New University of Lisbon, Portugal
Outeiro, J. C., Arts et Metiers ParisTech - LaBoMaP, France
Pei, Z.J., Kansas State University, USA
Quiza, Ramón, University of Matanzas, Cuba
Ramulu, M., University of Washington, USA
Rech, Joël, Ecole Nationale d'Ingénieurs de Saint-Etienne (ENISE), France
Umbrello, Domenico, Università della Calabria, Italy
Vaxevanidis, N.M., School of Pedagogical and Technological Education (ASPETE), Greece
Vijayarangan, S., PSG College of Technology, India
Vosniakos, George-Christopher, National Technical University of Athens, Greece
Wang, Jun, The University of New South Wales, Australia
Wang, Lihui, KTH Royal Institute of Technology, Sweden
Yan, Jiwang, Keio University, Japan
Zhang, Liangchi, Southern University of Science and Technology, China
A few essentials for publishing in this journal
Submitted articles should not have been previously published or be currently under consideration for publication elsewhere.
Conference papers may only be submitted if the paper has been completely re-written (more details available here) and the author has cleared any necessary permissions with the copyright owner if it has been previously copyrighted.
Briefs and research notes are not published in this journal.
All our articles go through a double-blind review process.
All authors must declare they have read and agreed to the content of the submitted article. A full statement of our Ethical Guidelines for Authors (PDF) is available.
There are no charges for publishing with Inderscience, unless you require your article to be Open Access (OA). You can find more information on OA here.



Submission process

All articles for this journal must be submitted using our online submissions system.
View Author guidelines.