International Journal of Business Governance and Ethics
This journal also publishes Open Access articles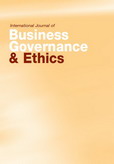 Editor in Chief

Dr. Stuart Farquhar

ISSN online

1741-802X

ISSN print

1477-9048
6 issues per year


CiteScore

1.8 (2022)

As the world becomes increasingly dominated by interconnected corporations alongside increasing demands for transparency and accountability, business governance is no longer just about running companies and organisations efficiently, but about managing wider responsibilities. Company directors need to move beyond governance concerns that deal with their functional responsibilities towards understanding how their personal values and actions affect the organisations they lead, and how in turn these affect local and global communities. IJBGE provides a professional forum to address these issues.
Topics covered include
Philosophies, theories, governance structures
Composition, tasks, behaviours, effectiveness of Boards
Selection, remuneration, motivation of Boards/Executives
Legal/statutory requirements of Boards
Values, actions, behaviours of business leaders
Strategies for effective stakeholder governance
Stakeholder accounting/measurement of business actions
Ethics of business actions, values/assumptions of business
Social/societal implications of corporate wealth, power, domination
Reconciling employee/business/community rights
Government-business relationships and public accountability
Challenge of ownership and responsibility
More on this journal...
Objectives
IJBGE aims to critically explore business and managerial strategies, actions, responsibilities and accountabilities for survival in a highly transparent and dynamic global world.
Readership
Professionals, academics, researchers, and managers .
Contents
IJBGE publishes high quality papers from a wide variety of disciplinary orientations on the general subject of business governance and ethics. The journal style and dialogue will be inclusive and attempt to involve all those who are interested in issues of business governance and ethics: business leaders, managers, employees, stockholders, business regulators (government agencies, national and international), consumer groups, and academics.
The journal will publish theoretical (literature review based), empirical (work surveys and case studies) and critically reflective work (thought-leadership commentaries) describing and developing pertinent insights into the broad subject matter. The style will be, as far as possible, free from specialist jargon.
Honorary Editor
Ahmed, Pervaiz K., Monash University Malaysia, Malaysia
Editor in Chief
Farquhar, Stuart, University of Northampton, UK
(stuart.s.farquhargmail.com)
Associate Editor
Bart, Christopher K., The Not-For-Profit Governance Institute, Canada
Editorial Board Members
Bassyouny, Hesham, University of Southampton, UK
Bezemer, Pieter-Jan, Edith Cowan University, Australia
Birch, David, Deakin University, Australia
Birindelli, Giuliana, The Gabriele d'Annunzio University of Chieti-Pescara, Italy
Callaghan, John, University of Salford, UK
Clarke, Thomas, University of Technology, Sydney, Australia
Cowton, Christopher J., Huddersfield University, UK
Cucari, Nicola, Sapienza University of Rome, Italy
De Bettignies, Henri C., INSEAD, France
Edgeman, Rick L., Aarhus University, Denmark
Hinna, Alessandro, University of Rome "Tor Vergata", Italy
Ingley, Coral, AUT University, New Zealand
Kakabadse, Nada K., University of Reading, UK
Kowalski, Tadeusz, The Poznan University of Economics, Poland
Leblanc, Richard, York University, Canada
Massoud, Hiba, Cardiff Metropolitan University, UK
Morais, Filipe M.A., Henley Business School, UK
Perez, Eloisa, MacEwan University, Canada
Pierce, Chris, University of Lincoln, UK
Smallman, Clive, Lincoln University, New Zealand
A few essentials for publishing in this journal
Submitted articles should not have been previously published or be currently under consideration for publication elsewhere.
Conference papers may only be submitted if the paper has been completely re-written (more details available here) and the author has cleared any necessary permissions with the copyright owner if it has been previously copyrighted.
Briefs and research notes are not published in this journal.
All our articles go through a double-blind review process.
All authors must declare they have read and agreed to the content of the submitted article. A full statement of our Ethical Guidelines for Authors (PDF) is available.
There are no charges for publishing with Inderscience, unless you require your article to be Open Access (OA). You can find more information on OA here.



Submission process

All articles for this journal must be submitted using our online submissions system.
View Author guidelines.
Journal news
Fraud vulnerability – the charity case
6 September, 2023
Research in the International Journal of Business Governance and Ethics has looked at the issue of fraud within charities operating in England and Wales. The study offers several insights into the sector's susceptibility to fraudulent activities. The work conducted by analyzing data from the annual reports and financial statements of 42 charities with fraud incidents and 42 without, aims to provide a tailored solution to addressing this ongoing problem across the not-for-profit sector. Charities in England and Wales play a pivotal role in both society and the economy as advocates, fundraisers and supports of a diverse range of worthy causes from medical research and healthcare support to animal welfare, environmental protection. It is important to address and mitigate the risks they face, including fraud and financial misconduct, to ensure donations reach their targets and those worthy causes are supported as fully as they can be by the organisation. Saffet Aras Uygur and Christopher J. Napier of the School of Business and Management at Royal Holloway University of London in Egham, Surrey, UK, demonstrated that, generally, charities with smaller boards, signifying a closely-knit governance environment, were at greater risk of succumbing to fraud [...]
More details...