International Journal of Technology Transfer and Commercialisation
This journal also publishes Open Access articles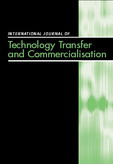 Editor in Chief

Prof. Leo Paul Dana

ISSN online

1741-5284

ISSN print

1470-6075
4 issues per year

IJTTC is a refereed journal that provides an authoritative source of information in the field of knowledge and technology transfer and diffusion, as well as commercialisation and related disciplines.
Topics covered include
Knowledge production transfer, innovation, technology transfer
Knowledge/technology transfer processes, strategies, implementation
Technology transfer, entrepreneurship, national development
Cost/economics of technology licensing/transfer
Direct and foreign investment in technology transfer/competition
Intellectual property protection: rights, international transactions, agreements
Policies for licensing of intellectual property
International technology transfer, technology acquisitions
Technology transfer mechanisms/indicators, e-commerce, IT tools
Defence technology transfer and conversion
Spin-offs from public technology sources
Patent licensing, intra-firm licensed technology, knowledge transfer
Technology transfer in university-industry-government cooperative research
Technological cooperation patterns: R&D consortia, international strategic alliances
Commercial applications and associated risks
More on this journal...
Objectives
IJTTC aims to disseminate knowledge and establish channels of communication between policy makers, executives in industry, commerce and related business, and also experts in relevant research and academic institutions.
Readership
Professionals, academics, researchers, and managers.
Contents
The IJTTC publishes: original papers; review papers; case studies; conference reports; briefs and reports and news; book reviews and notes. Commentaries on papers and reports published in IJTTC are encouraged. Authors will have the opportunity to respond to the commentary on their work before the entire treatment is published. Special Issues devoted to important topics in technology transfer and commercialisation and related topics, will be published occasionally.
Editor in Chief
Dana, Leo Paul, Dalhousie University, Canada
(lp762359dal.ca)
Associate Editors
Brahmi, Mohsen, IAE Southern Campus and FEM. S. University, Tunisia
Krueger, Jr, Norris, Entrepreneurship Northwest, USA
Ramadani, Veland, South-East European University, Macedonia, F.Y.R.
Ratten, Vanessa, La Trobe University, Australia
Singh, Sandeep, Punjabi University, Patiala, India
Vang, Jan, Aalborg University, Denmark
European Editor
Rouach, Daniel, ESCP Europe, Germany
Editorial Board Members
Acheampong, George, University of Ghana, Ghana
Aldieri, Luigi, University of Salerno, Italy
Andrade, Herlandí de Souza, University of Sao Paulo, Brazil
Audretsch, David B., Indiana University, USA
Bidault, Francis, Theseus International Management Institute, France
Birley, Sue, Imperial College, UK
Broccardo, Laura, Università degli studi di Torino, Italy
Caputo, Andrea, University of Trento, Italy and University of Lincoln, UK
Caratù, Myriam, Università degli Studi Internazionali di Roma, Italy
Chhabra, Meghna, Manav Rachna International Institute of Research and Studies, India
Crocco, Edoardo, University of Turin, Italy
Crupi, Antonio, University of Messina, Italy
Culasso, Francesca, University of Turin, Italy
Del Sarto, Nicola, Scuola Superiore Sant'Anna, Italy
Eisenhardt, Kathy, Stanford University, USA
Emami, Amir, Kharazmi University, Iran
Eyerer, Peter, Fraunhofer Institut für Chemische Technologie (ICT), Germany
Farber, David J., Carnegie Mellon University, USA
Geisler, Eliezer, Illinois Institute of Technology, USA
Georghiou, Luke, University of Manchester, UK
Giacosa, Elisa, University of Turin, Italy
Howells, Jeremy, University of Southampton, UK
Jain, P.K., Indian Institute of Technology, India
Jain, Ravi, University of the Pacific, USA
Joshi, Manoj, Amity University, India
Khoa, Bui Thanh, Industrial University of Ho Chi Minh City, Vietnam
Kierkegaard, Sylvia Mercado, International Association of IT Lawyers, Denmark
Kovac, Ivana, University of Zagreb, Croatia
Krattiger, Anatole F., Cornell University, USA
Krishna, Vinita, Shiv Nadar University, India
Kumar, Pawan, Lovely Professional University, India
Kumar, Vimal, Ministry of Science and Technology, India
Liang, Dan, UNIDO Investment and Technology Promotion, Austria
Mazzoleni, Alberto, University of Brescia, Italy
Munroe, Tapan, Munroe Consulting, Inc, USA
Musits, Bela L., Clarkson University, USA
Novak, Ivan, University of Zagreb, Croatia
Obhodjas, Ibrahim, University Vitez Travnik, Bosnia and Herzegovina
Ohkita, Kenichi, Aichi University, Japan
Omrane, Amina, University of Sfax and IHEC Carthage, Tunisia
Peris Ortiz, Marta, Universidad Politècnica de Valencia, Spain
Premus, Robert, Wright-State University Rike Hall, USA
Prencipe, Antonio, University of Teramo, Italy
Qin, Hailin, China Center for Information and Industry Development, China
Rexhepi, Gadaf, South East European University, North Macedonia
Singh, Jagdeep, Ludhiana College of Engineering and Technology, India
Tikas, Gaurav, Toyohashi University of Technology, Japan
Troise, Ciro, University of Turin, Italy
Van Maanen, John, Massachusetts Institute of Technology, USA
Vernon, John M., Duke University, USA
Vlacic, Ernest, Novamina, Croatia
A few essentials for publishing in this journal
Submitted articles should not have been previously published or be currently under consideration for publication elsewhere.
Conference papers may only be submitted if the paper has been completely re-written (more details available here) and the author has cleared any necessary permissions with the copyright owner if it has been previously copyrighted.
Briefs, research notes and case studies are not published in this journal.
All articles must be written in English, using UK spelling and terminology. If English is not your first language, please ask an English-speaking colleague to proofread your article.
All our articles go through a double-blind review process.
All authors must declare they have read and agreed to the content of the submitted article. A full statement of our Ethical Guidelines for Authors (PDF) is available.
There are no charges for publishing with Inderscience, unless you require your article to be Open Access (OA). You can find moreinformation on OA here.



Submission process

All articles for this journal must be submitted using our online submissions system.
View Author guidelines.