International Journal of Structural Engineering
This journal also publishes Open Access articles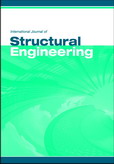 Editor in Chief

Dr. Ing. Wei-Liang Jin

ISSN online

1758-7336

ISSN print

1758-7328
4 issues per year


Impact factor (Clarivate Analytics) 2023

1.3
JCI 0.24

CiteScore

1.8 (2022)

Structural engineering is commonly considered a speciality within civil engineering, but it also includes any discipline which has a structural system. This field includes the analysis, design, plan, and research of structural components and structural systems. IJStructE is set up to report the relevant generic studies in this field.
Topics covered include
Analytical/design methods
Blast engineering
Bridges, tall buildings
Case studies
Fire engineering
Infrastructure engineering
Innovative structures
Life assessment/durability
New construction materials
Repairs, strengthening, maintenance
Structure-fluid-soil interaction
Structural health monitoring, safety, reliability
Testing technologies
Vibration, impact/structural dynamics
Wind/earthquake engineering
More on this journal...
Objectives
IJStructE aims to provide an international forum for research in the structural engineering. Particularly welcome are those latest development in the theory, experimental and design method relate to engineering structures such as buildings, bridges, offshore platforms, etc.
Readership
IJStructE provides a vehicle to help professionals, academics, and researchers working in the field of structural engineering, to disseminate information and to learn from each other's work.
Contents
IJStructE publishes original papers, review papers, technical reports, book reviews, commentaries, and news. Papers on theory, experiment, design, etc., are published and it is expected that many papers will contain aspects of all three. Special Issues devoted to important topics in structural engineering will be occasionally published.
Editor in Chief
Jin, Wei-Liang, Zhejiang University, China
(jinwlzju.edu.cn)
Associate Editor
Gong, Fuyuan, Zhejiang University, China
Assistant Editor
Chen, Ju, Zhejiang University, China
Editorial Board Members
Basheer, Muhammed, Queen's University Belfast, UK
Cai, C.S., Louisiana State University, USA
Cremona, Christian, Laboratoire Central Des Ponts Et Chaussees, France
Dong, Shi-Lin, Zhejiang University, China
Kim, Sang-Hyo, Yonsei University, South Korea
Knippers, Jan, University of Stuttgart, Germany
Leung, C.K.Y., Hong Kong University of Science & Technology, Hong Kong SAR, China
Li, Jie, Tongji University, China
Li, Long-yuan, University of Plymouth, UK
Lu, Yong, University of Edinburgh, UK
Lv, Zhi-Tao, Southeast University, China
Melchers, Robert E, University of Newcastle, Australia
Mohammadi, Jamshid, Illinois Institute of Technology, USA
Nie, Jian-Guo, Tsinghua University, China
Ohmori, Hiroshi, Nagoya University, Japan
Ou, Jin-Ping, Dalian University of Technology, China
Teng, Jin-Guang, The Hong Kong Polytechnic University, Hong Kong SAR, China
Ueda, Tamon, Hokkaido University, Japan
Xiao, Yan, University of Southern California, USA
Yang, Judy P., National Chiao Tung Unversity, Taiwan, Province of China
Yang, Yeong-Bin, Chongqing University, China
Yokota, Hiroshi, Hokkaido University, Japan
A few essentials for publishing in this journal
Submitted articles should not have been previously published or be currently under consideration for publication elsewhere.
Conference papers may only be submitted if the paper has been completely re-written (more details available here) and the author has cleared any necessary permissions with the copyright owner if it has been previously copyrighted.
Briefs and research notes are not published in this journal.
All our articles go through a double-blind review process.
All authors must declare they have read and agreed to the content of the submitted article. A full statement of our Ethical Guidelines for Authors (PDF) is available.
There are no charges for publishing with Inderscience, unless you require your article to be Open Access (OA). You can find more information on OA here.



Submission process

All articles for this journal must be submitted using our online submissions system.
View Author guidelines.