International Journal of Sustainable Aviation
This journal also publishes Open Access articles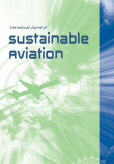 Editor in Chief

Prof. T. Hikmet Karakoc

ISSN online

2050-0475

ISSN print

2050-0467
4 issues per year


Impact factor (Clarivate Analytics) 2023

0.3 (5 Year Impact Factor 0.6)
JCI 0.17
IJSA handles a broad range of aviation-related issues with particular emphasis on environmental problems associated with sustainability. Aviation is cited as one of the major sources of noise and air pollution and considered a prominent cause of global warming. Future trends in aviation could constitute a major impediment to having sustainable development in economic, social and environmental perspectives. Sustainable aviation is a long term strategy aiming to offer innovative solutions to the challenges facing the aviation industry.
Topics covered include
Sustainable aviation; green aircraft and airlines
Environmental impacts: emissions/noise, global warming/climate change
Renewable energy sources; alternative/green aviation fuels
Propulsion technologies for aerospace vehicles
Combustion instabilities, innovative combustion technologies
Energy, exergy, performance analysis; flight and fluid mechanics
Energy recovery systems, alternative/renewable/clean energy technologies
Mathematical modelling, numerical/experimental methods, optimisation
Materials, measurement techniques and sensors
Life cycle design and life cycle assessment; cost efficiency; waste/recycling
Aircraft maintenance, repair and overhaul; airworthiness, reliability/safety
Sustainable aircraft design, technological change, innovation, research and development
Strategic planning, governmental legislation, policy-making
Aviation management, fleet planning/scheduling; air traffic management; future air transport
Airport design, management, planning, development
More on this journal...
Objectives
The aviation industry is one of the fastest growing industries in the world. It can be viewed as making a positive contribution to sustainability. IJSA, a peer-reviewed, international, multi-disciplinary journal, aims to address current issues in the field of aviation such as improving aircraft fuel efficiency, fostering use of biofuels, minimising environmental impact, mitigating GHG emissions and reducing of engine and airframe noise.
Readership
IJSA aims to bring solutions to all the major sectors of the aviation industry in terms of sustainability. To that end, it is of interest to the active and creative community of researchers, educators and practitioners not only in mainstream engineering (e.g., aeronautical, mechanical, civil, chemical, environmental, and industrial) but also in physics, biology, economics and management.
Contents
IJSA publishes original research papers, review papers, viewpoint articles, book reviews and technical notes. Special issues are devoted to important topics in the area and guest edited by key figures in the area.
IJSA is indexed in:
More indexes...
IJSA is listed in:
This journal is yet to be included in any lists or directories.

Editor in Chief
Karakoc, T. Hikmet, Eskisehir Technical University, Turkey
(hikmetkarakoc.ijsagmail.com)
Associate Editors
Kale, Utku, Budapest University of Technology and Economics, Hungary
Sziroczak, David, Budapest University of Technology and Economics, Hungary
Talib, Abd. Rahim Bin Abu, Universiti Putra Malaysia, Malaysia
Teekaraman, Yuvaraja, Vrije Universiteit Brussel, Belgium
Yilmaz, Nadir, Howard University, USA
Editorial Board Members
Agarwal, Ramesh K., Washington University in St. Louis, USA
Ahmadi, Pouria, University of Illinois at Urbana-Champaign (UIUC), USA
Boichenko, Sergii, National Aviation University, Ukraine
Clark, Patti J., Embry-Riddle Aeronautical University – Worldwide, USA
Dupoirieux, Francis, ONERA, France
Efthymiou, Marina, Dublin City University, Ireland
Fasone, Vincenzo, Kore University of Enna, Italy
Hajiyev, Chingiz, Istanbul Technical University, Turkey
Hepbasli, Arif, Yasar University, Turkey
Jagadeesh, Gopalan, Indian Institute of Science, India
Kourousis, Kyriakos I., University of Limerick, Ireland
Lin, Borong, Tsinghua University, China
Mohd-Jaafar, Mohammad Nazri, Universiti Teknologi Malaysia, Malaysia
Olsen, John, University of New South Wales, Australia
Peković, Ognjen, University of Belgrade, Serbia
Platzer, M. F., AeroHydro Research & Technology Associates, USA
Rajamani, Ravi, drR2 consulting , USA
Rao, K. Deergha, Osmania University, India
Rashidi, Mohammad Mehdi, University of Birmingham, UK
Sabatini, Roberto, Khalifa University, United Arab Emirates
Scarponi, Claudio, Università degli Studi di Roma "La Sapienza", Italy
Somov, Yevgeny, Samara State Technical University, Russian Federation
Stamoulis, Konstantinos, Amsterdam University of Applied Sciences, Netherlands
Zaporozhets, Oleksander, Institute of Aviation, Poland
Zingg, David W., University of Toronto, Canada
Editorial Assistant
Günaltılı, Enes, Necmettin Erbakan University, Turkey
A few essentials for publishing in this journal
Submitted articles should not have been previously published or be currently under consideration for publication elsewhere.
Conference papers may only be submitted if the paper has been completely re-written (more details available here) and the author has cleared any necessary permissions with the copyright owner if it has been previously copyrighted.
Briefs and research notes are not published in this journal.
All our articles go through a double-blind review process.
All authors must declare they have read and agreed to the content of the submitted article. A full statement of our Ethical Guidelines for Authors (PDF) is available.
There are no charges for publishing with Inderscience, unless you require your article to be Open Access (OA). You can find more information on OA here.



Submission process

All articles for this journal must be submitted using our online submissions system.
View Author guidelines.
Journal news
Inderscience journals accepted for indexing in Studies on Women and Gender Abstracts database
25 September, 2023
The Editorial Office is pleased to report that the following journals have been accepted for indexing in Taylor & Francis's Studies on Women and Gender Abstracts database: