International Journal of Computational Vision and Robotics
This journal also publishes Open Access articles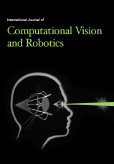 Editor in Chief

Prof. Srikanta Patnaik

ISSN online

1752-914X

ISSN print

1752-9131
6 issues per year


CiteScore

1.6 (2022)

IJCVR is an international refereed journal in the field of image processing, pattern recognition, machine vision and image understanding, providing an international forum for professionals, engineers and researchers.
Topics covered include
Early vision, vision systems
Computer vision, AI applications
Computer games and animation
Computational geometry
Shape/range/motion analysis
Signal/image processing
Image matching, medical imaging
Pattern/face recognition
Architecture, languages
Parallel computer vision
Interactive computational models
Biological vision, alternative eyes
3D vision/perception
Cognition
Robotics, multi-sensory data fusion
More on this journal...
Objectives
IJCVR aims to provide an international forum for all scientists and engineers engaged in research and development activities in the field of machine vision, robotics, cognition and perception. IJCVR publishes various articles comprising of innovations, comparisons, extensions and new applications.
Readership
IJCVR offers a forum to help academics, researchers, R&D personnel, consultants and manufacturers in the field of computer vision, robotics and intelligent systems to disseminate information and to learn from each other's work.
Contents
IJCVR reports various intelligent and soft computing techniques in the areas of image processing and pattern recognition. This also encourages the researchers to integrate various techniques of computer vision with robotics, image understanding and cognitive science. Special Issues devoted to important topics in the areas image processing, pattern recognition, machine vision and image understanding will also be published periodically.
Editor in Chief
Patnaik, Srikanta, Interscience Institute of Management and Technology, Bhubaneswar, India
(patnaik_srikantayahoo.co.in)
Associate Editors
Jia, Jiancheng (Kevin), International Game Technology, USA
Shi, Junsheng, Yunnan Normal University, China
Editorial Board Members
Bendjenna, Hakim, University of Larbi Tebessi, Algeria
Bhatia, Sanjiv K., University of Missouri - St. Louis, USA
Chaudhuri, Debasis, Defence Electronics Applications Laboratory, India
Damper, R.I., University of Southampton, UK
DeSouza, Guilherme N., University of Western Australia, Australia
Gini, Maria, University of Minnesota, USA
Governi, Lapo, University of Florence, Italy
Han, Wang, Nanyang Technological University, Singapore
Hu, Junlin, Beihang University, China
Koshizen, Takamasa, Honda Research Institute Japan Co. Ltd., Japan
Kothari, Ravi, IBM Research - India, India
Kountchev, Roumen Kirilov, Technical University of Sofia, Bulgaria
Krim, Hamid, North Carolina State University, USA
Lee, Chan-Su, Yeungnam University, South Korea
Lima, Pedro U., Instituto Superior Técnico, Puerto Rico
Mata, Mario, Universidad Europea de Madrid, Spain
Michalewicz, Zbigniew, University of Adelaide, Australia
Moreno, Luis, University of Carlos III, Spain
Nahvi, Ali, K.N. Toosi University of Technology, Iran
Ranjan, Jayanthi, Institute of Management Technology (IMT), India
Ruichek, Yassine, University of Technology of Belfort-Montbéliard, France
Samal, Ashok, University of Nebraska-Lincoln, USA
Sethi, Ishwar, Oakland University, USA
Shafazand, M. Hassan, Shahid Bahonar University of Kerman, Iran
Sharma, Rajeev, Pennsylvania State University, USA
Sun, Yu, Michigan State University, USA
Tan, Kok Kiong, National University of Singapore, Singapore
Wren, Christopher R., Mitsubishi Electric Research Laboratories, USA
Yang, Yeon-Mo, Kumoh National Institute of Technology, South Korea
Yeasin, Mohammed, University of Memphis, USA
Yezzi, Anthony, Georgia Institute of Technology, USA
Yin, Peng-Yeng, National Chi Nan University, Taiwan, Province of China
A few essentials for publishing in this journal
Submitted articles should not have been previously published or be currently under consideration for publication elsewhere.
Conference papers may only be submitted if the paper has been completely re-written (more details available here) and the author has cleared any necessary permissions with the copyright owner if it has been previously copyrighted.
Briefs and research notes are not published in this journal.
All our articles go through a double-blind review process.
All authors must declare they have read and agreed to the content of the submitted article. A full statement of our Ethical Guidelines for Authors (PDF) is available.
There are no charges for publishing with Inderscience, unless you require your article to be Open Access (OA). You can find more information on OA here.



Submission process

All articles for this journal must be submitted using our online submissions system.
View Author guidelines.
Journal news
The road ahead
7 November, 2022
In a world of tired or momentarily inattentive drivers, vehicle safety features that mitigate against those problems can reduce the number of road traffic accidents. Work in the International Journal of Computational Vision and Robotics looks at how convolutional neural networks can be used to analyse input from external cameras on a vehicle to detect obstacles in the road and assist the driver in avoiding them. Ramzi Mosbah and Larbi Guezouli of the University of Batna 2 in Batna, Algeria, have focused their attention on a forward-facing camera on a car that can see the road ahead. Images acquired from the camera are fed to the system which then determines whether an unexpected object is present in the path of the vehicle. They suggest that such an intelligent driving assistance system could alert the driver or be used to apply appropriate controls to the car directly to avoid a collision [...]
More details...
Making better photos
2 December, 2022
Removing noise, sharpening blurred areas, increasing resolution, and smoothing areas of similar tone are all useful in improving the quality of a digital photo. Writing in the International Journal of Computational Vision and Robotics, a team from China discusses their novel approach to image enhancement using skin-colour segmentation and smoothness. Haitao Sang, Bo Chen and Shifeng Chen of the College of Information Engineering at Lingnan Normal University in Zhanjiang and Li Yan of the College of Science at Guangdong University of Petrochemical Technology in Maoming explain how their enhancement algorithm is based on skin texture preservation and works with a mask so that hair detail is preserved during the smoothing and denoising. The mask is created using Gaussian fitting that detects and then feathers the edges of the skin areas in the photo [...]
More details...