International Journal of Medical Engineering and Informatics
This journal also publishes Open Access articles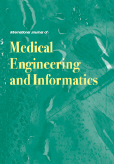 Editor in Chief

Prof. Dr. Dinesh P. Mital

ISSN online

1755-0661

ISSN print

1755-0653
6 issues per year


CiteScore

1.1 (2022)

IJMEI promotes an understanding of the structural/functional aspects of disease mechanisms and the application of technology towards the treatment/management of such diseases. It seeks to promote interdisciplinary collaboration between those interested in the theoretical and clinical aspects of medicine and to foster the application of computers and mathematics to problems arising from medical sciences. IJMEI includes authoritative review papers, the reporting of original research, and evaluation reports of new/existing techniques and devices. Each issue also contains a comprehensive information service.
Topics covered include
Hospital information/medical record systems, data protection/privacy
Disease modelling/analysis, evidence-based clinical modelling/studies
Computer-based patient/disease management systems
Clinical trials/studies, outcome-based studies/analysis
Electronic patient monitoring systems
Nanotechnology in medicine, medical applications
Tissue engineering, artificial organs, biomaterials design
Healthcare standards, service standardisation
Controlled medical terminology/vocabularies
Nursing informatics, systems integration
Healthcare/hospital management, economics
Medical technology, intelligent instrumentation, telemedicine
Medical/molecular imaging, disease management
Bioinformatics, human genome studies/analysis
Drug design
More on this journal...
Objectives
The objectives of IJMEI are to develop, promote and establish effective channels of communication among academicians, researchers, health professionals, policy makers, government agencies, and research institutions in order to coordinate the research, development, practice and applications of computer technology in the areas related to medical engineering. IJMEI aims to help professionals working in the field, academic educators and policy-makers to contribute, to disseminate knowledge, and to learn from each other's work. The international dimension is emphasized in order to overcome cultural and national barriers and to meet the needs of accelerating technological changes and exchanges in the global economy. IJMEI will provide an outstanding outlet that can shape a significant body of research in the field of medical engineering and informatics where results and new developments may be shared across institutions, governments, researchers and students, and also industry.
Readership
IJMEI will be of interest to physicians and surgeons, engineers and scientists, hospital administrators, and all personnel concerned with a practical approach to the application of technology to the field of medicine. In general, the readership will include those working in the fields of computing applied to the medical and life sciences, healthcare services, knowledge discovery, applied research, human genome, biotechnology, biomathematics, engineering and medicine.
Contents
IJMEI publishes original papers, review papers, technical reports, case studies, conference reports, management reports, book reviews, notes, commentaries, and news. Special Issues devoted to important topics pertaining medical engineering, clinical research, medical informatics, disease modelling, biomedical technology, human genome, bioengineering, life sciences, medical technology, clinical decision making systems, organ modelling and simulation, data mining, and knowledge engineering will also be published occasionally. Contribution may be by submission or invitation, and suggestions for special issues and publications are welcome.
An ideal paper will combine theory with experiment and papers published will range from theoretical modelling papers, computer based analysis and decision support to experimental clinical papers.
IJMEI also welcomes the submission of rapid communications, offering researchers the opportunity to pose problems and suggest pathways to the medical and informatics community and comment on topical issues and current research.
Editor in Chief
Mital, Dinesh P., Rutgers, the State University, USA
(dineshpmitalgmail.com)
Editorial Board Members
Abboud, Shimon, Tel Aviv University, Israel
Abeyratne, Udantha R., University of Queensland, Australia
Agarwal, Rajesh, UCDHSC, USA
Arya, Gaurav, University of California, San Diego, USA
Azar, Ahmad Taher, Prince Sultan University, Kingdom of Saudi Arabia and Benha University, Egypt
Borgulya, Gábor, Hungarian Academy of Sciences, Hungary
Cai, Li, Rutgers, The State University of New Jersey, USA
Carson, Daniel D., University of Delaware, USA
Chacón, Ricardo, Universidad de Extremadura, Spain
Chapman, Brian, University of Utah, USA
Cheung, Kei, Yale Center for Medical Informatics, USA
Chu, Tien-Min Gabriel, Indiana University, USA
Cork, Douglas J., Illinois Institute of Technology, USA
Cornet, Ronald, Academic Medical Center, Netherlands
Cox, Benita, Imperial College, London, UK
Degoulet, Patrice, Paris Descartes University, France
Douglas, Tania, University of Cape Town, South Africa
Durka, Piotr J., Warsaw University, Poland
Ebomoyi, William, Chicago State University, USA
Fallon, James, University of California, USA
Feng, Si-Shen, National University of Singapore, Singapore
Fukuda, Mitsunori, Tohoku University Aobayama, Japan
Gu, Zhongwei, Sichuan University, China
Hadfield, John A, University of Salford, UK
Hwang, Jenn-Kang, National Chiao Tung University, Taiwan, Province of China
Ichimura, Takumi, Hiroshima City University, Japan
Kheradvar, Arash, University of South Carolina, USA
Kim, Kang, University of Pittsburgh, USA
Kumar, Sathish A.P., Coastal Carolina University, USA
Liu, Wenguang, Tianjin University, China
Lu, William, University of Hong Kong, Hong Kong SAR, China
Massad, Eduardo, University of Sao Paulo, Brazil
Merla, Arcangelo, University "G. d'Annunzio" –Chieti-Pescara, Italy
Nagarajan, R., University Malaysia Perlis (UniMAP), Malaysia
Oztekin, Asil, University of Massachusetts Lowell, USA
Palaniswami, M., University of Melbourne, Australia
Piva, Terrence, RMIT University, Australia
Qian, Xiaoning, University of South Florida, USA
Qian, You-Wen, UMDNJ Robert Wood Johnson Medical School, USA
Rao, C. Durga, Indian Institute of Science, India
Rector, Alan, University of Manchester, UK
Sankararamakrishnan, R., Indian Institute of Technology, India
Song, Youqiang, The University of Hong Kong, Hong Kong SAR, China
Tawfik, Hissam, Liverpool Hope University, UK
Tiwari, Hemant K, University of Alabama at Birmingham, USA
Tsumoto, Shusaku, Shimane University, Japan
Varghese, Shyni, University of California, San Diego, USA
Visweswaran, Shyam, University of Pittsburgh, USA
White, Geoffrey, Discovery Technologies LLC, USA
Williams, P. Bassey, Chicago State University, USA
Wu, Jian-young, Georgetown University, USA
Wu, Suh-Chin (Samuel), National Tsing Hua University, Taiwan, Province of China
Yuce, Mehmet R., University of Newcastle, Australia
Zhong, Li, First Affiliated Hospital of Sun Yat-Sen University, China
A few essentials for publishing in this journal
Submitted articles should not have been previously published or be currently under consideration for publication elsewhere.
Conference papers may only be submitted if the paper has been completely re-written (more details available here) and the author has cleared any necessary permissions with the copyright owner if it has been previously copyrighted.
Briefs and research notes are not published in this journal.
All our articles go through a double-blind review process.
All authors must declare they have read and agreed to the content of the submitted article. A full statement of our Ethical Guidelines for Authors (PDF) is available.
There are no charges for publishing with Inderscience, unless you require your article to be Open Access (OA). You can find more information on OA here.



Submission process

All articles for this journal must be submitted using our online submissions system.
View Author guidelines.
Journal news
A multi-faceted approach to improve Alzheimer's diagnosis
12 September, 2023
A review in the International Journal of Medical Engineering and Informatics has surveyed current early detection methods for Alzheimer's disease, a prevalent neurodegenerative condition affecting millions of people worldwide. The work looks into the progression, causes, and diagnosis of Alzheimer's and emphasizes that a multi-modal approach coupled with advanced machine learning techniques could lead to much earlier diagnosis for many patients. Early diagnosis offers better options for planning and ongoing care. As the world population continues to age, the burden of Alzheimer's disease looms larger than ever [...]
More details...