Journal for Global Business Advancement
This journal also publishes Open Access articles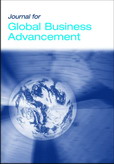 Editor in Chief

Prof. Zafar U. Ahmed

ISSN online

1746-9678

ISSN print

1746-966X
6 issues per year


CiteScore

1.8 (2022)

JGBA aims to advance contemporary research in the field of global business from the standpoint of both western and emerging countries vigorously participating in the globalised world. It wishes to act as a global platform for the pursuance of dialogue between different countries at dissimilar stages of economic development. JGBA intends to inspire both new and expert researchers to submit their empirical, conceptual and applied papers and case studies for publication.
Topics covered include
Political economy, trade, economic development, finance, macro/microeconomics
Real estate, banking, accounting, taxation, commercial law
Exporting and market entry, FDI, strategic alliances/networks, M&As
Global brands from developing countries, global outsourcing
Business education/training, HRM
Tourism/hospitality, cross-cultural/supply chain management
Technologies and e-commerce
Marketing research, consumer behaviour
Industrial, B2B, relationship marketing
Small business development, nonprofit organisations
Transition economies, globalisation, regionalisation
Environmental marketing, ethics, social responsibility
Strategic/healthcare/information management
NAFTA, APEC, ASEAN, MERCOSUR, CARICOM, GCG, SAARC, Andean Pact, EU
Religion, terrorism, war and business
More on this journal...
Objectives
The objectives of JGBA are to provide a global platform to facilitate communication between policy makers, government officials, academics, scholars, consultants, professionals working for multinational corporations, international civil servants, and entrepreneurs. JGBA wishes to provide a global platform to overcome cultural, national, ethnic, religious, economic barriers, and political boundaries, and meet the needs of accelerated economic and social change occurring in variety of countries participating in the global economy.
Readership
JGBA provides a vehicle to help professionals, academics, scholars, policy makers, entrepreneurs, consultants, and international civil servants working in the field of global business to disseminate information and to learn from each other's work.
Contents
JGBA publishes original papers, review papers, dissertation abstracts, technical reports, case studies, conference reports, management reports, book reviews, notes, commentaries, and news. Special issues devoted to important topics in Global Business will be published time to time.
Editor in Chief
Ahmed, Zafar U., Academy for Global Business Advancement, USA
(zafaruahmedgmail.com)
Managing Editor
Marquette, Christopher J., Millikin University, USA
Editorial Board Members
Abdel-Zaher, Dina, University of Houston Clear Lake, USA
Al-Fazari, Hamdan Sulaiman, Sohar University, Oman
Al-Ghamdi, Salem Matar Saeed, King Fahd University of Petroleum and Minerals, Saudi Arabia
Al-Kwifi, Osama Sam, Qatar University, Qatar
Al-Shammari, Minwir, University of Bahrain, Bahrain
Almashayekhi, Abdullah, King Fahd University of Petroleum and Minerals, Saudi Arabia
Althawadi, Othman, Qatar University, Qatar
Becker, Kip, Boston University, USA
Beldona, Sri, University of Dallas, USA
Benabess, Najiba, Elizabethtown College, USA
Capar, Nejat, KIMEP University, Kazakhstan
Chaney, Rick, University of Maryland Global Campus, Germany
Dana, Leo Paul, Dalhousie University, Canada
Dewani, Prem Prakash, Indian Institute of Management Lucknow, India
Elfakhani, Said, American University of Beirut, Lebanon
Elkrghli, Sabri, University of Benghazi, Libya
Farha, Allam K. Abu, Qatar University, Qatar
Faroque, Anisur R., University of Vaasa, Finland
Flores, Felix A., Metropolitan State University of Denver, USA
Frankwick, Gary L., University of Texas at El Paso, USA
Galy, Edith A., University of Texas Rio Grande Valley, USA
Gautam, Dhruba Kumar, Tribhuvan University, Nepal
Genç, Ömer Faruk, Youngstown State University, USA
Genc, Omer F., Youngstown State University, USA
Grosse, Robert, Arizona State University, USA
Han, Seung Hun, Korea Advanced Institute of Science and Technology, South Korea
Hinck, Wolfgang, American University of Iraq Soleimani, Iraq
Ibrahim, Abdul Razak Bin, Univeristi Melaka, Malaysia
Ibrahim, Daing Nasir, Universiti Malaysia Pahang, Malaysia
Islam, Anisul M., University of Houston-Downtown, USA
Islam, Rafikul, International Islamic University Malaysia, Malaysia
Itani, Maher, Ajman University, United Arab Emirates
Johnson, James P., Rollins College, USA
Koku, Paul Sergius, Florida Atlantic University, USA
Ladki, Said M., Lebanese American University, Lebanon
Lagat, Charles K., MOI University, Kenya
Lascu, Dana-Nicoleta, University of Richmond, USA
Lassleben, Hermann, Reutlingen University, Germany
Mehanna, Rock-Antoine, Hamdan Bin Mohammed Smart University, United Arab Emirates
Mohamed, Zainal Abidin, Universiti Putra Malaysia, Malaysia
Mostert, Pieter Gerhardus, University of Pretoria, South Africa
Mujtaba, Bahaudin G., Nova Southeastern University, USA
Munoz, J. Mark, Millikin University, USA
Parameswar, Nakul, Indian Institute of Technology Hyderabad, India
Rasheed, Abdul A., University of Texas at Arlington, USA
Rufaidah, Popy, Padjadjaran University, Indonesia
Sagafi-nejad, Tagi, Loyola University Maryland, USA
Seeley, Eugene L., Utah Valley University, USA
Sharma, Dheeraj P., Indian Institute of Management Rohtak, India
Sidani, Yusuf, American University of Beirut, Lebanon
Sohail, Mohammad Sadiq, King Fahd University of Petroleum and Minerals, Saudi Arabia
Talukdar, Asim, O.P. Jindal Global University, India
Teagarden, Mary, Thunderbird School of Global Management, USA
Tijjani, Bashir, Imam Abdulrahman Bin Faisal University, Saudi Arabia
Tri, Ha Minh, Vietnam National University, Vietnam
Van Der Poll, Breggie, University of South Africa, South Africa
Van Der Poll, John Andrew, University of South Africa, South Africa
Varadarajan, Rajan, Texas A&M University, USA
Vrontis, Demetris, University of Nicosia, Cyprus
Wright, Norman, Noorda College of Osteopathic Medicine, USA
Wysong, Scott, University of Dallas, USA
Yazdifar, Hassan, University of Derby, UK
Zening, Song, Beijing Foreign Studies University, China
A few essentials for publishing in this journal
Submitted articles should not have been previously published or be currently under consideration for publication elsewhere.
Conference papers may only be submitted if the paper has been completely re-written (more details available here) and the author has cleared any necessary permissions with the copyright owner if it has been previously copyrighted.
Briefs and research notes are not published in this journal.
All our articles go through a double-blind review process.
All authors must declare they have read and agreed to the content of the submitted article. A full statement of our Ethical Guidelines for Authors (PDF) is available.
There are no charges for publishing with Inderscience, unless you require your article to be Open Access (OA). You can find more information on OA here.



Submission process

All articles for this journal must be submitted using our online submissions system.
View Author guidelines.