International Journal of Vehicle Systems Modelling and Testing
This journal also publishes Open Access articles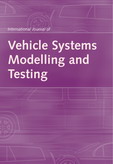 Editor in Chief

Prof. Dr. Johan P. Wideberg

ISSN online

1745-6444

ISSN print

1745-6436
4 issues per year


CiteScore

0.5 (2022)

IJVSMT provides a resource of information for the scientific and engineering community working with ground vehicles. Emphases are placed on novel computational and testing techniques that are used by automotive engineers and scientists.
Topics covered include
Computer aided modelling and simulation
Structural analysis
Kinematics and kinetics of vehicle systems, vehicles and their components; emphasis on rigid multi-body dynamics programs
Coupled field problems, such as introducing flexible bodies in rigid body dynamics calculations
Behaviour of alternative/concept vehicles
Applied vehicle dynamics
Applied control techniques
Modelling of active safety systems
Lean testing (i.e., how to minimise testing, yet maximise its impact)
Testing techniques
Test rigs
Vehicle-road interaction
Mathematical modelling and testing of ICE, hybrids and fuel-cells
Conventional and alternative fuels
Electronic engine controls
More on this journal...
Objectives
The objectives of IJVSMT are to highlight the theoretical background of research and development problems relating to numerical analysis, modelling and testing of vehicles and vehicle components.
Readership
IJVSMT
provides a resource of information for the scientific and engineering community, both for those in industry and in academia who are developing and testing ground vehicles.
Contents
IJVSMT
publishes original papers, review papers, technical reports, book reviews, notes, commentaries, and news.
Editor in Chief
Wideberg, Johan P., Universidad de Sevilla, Spain
(widebergus.es)
Associate Editors
Castejón, Luis, University of Zaragoza, Spain
Lv, Chen, Nanyang Technological University, Singapore
Sandu, Corina, Virginia Polytechnic Institute and State University, USA
Regional Editor Asia
Sun, Guangyong, Hunan University, China
Regional Editors Europe
Elmarakbi, Ahmed, Northumbria University, UK
Sorniotti, Aldo, University of Surrey, UK
Editorial Board Members
Álvarez, Daniel, University of Oviedo, Spain
Cheli, Federico, Politecnico di Milano, Italy
Dahlberg, Erik, Scania, Sweden
De Pont, John, TERNZ Ltd, New Zealand
Devarakonda, Maruthi N., Pacific Northwest National Laboratory (PNNL), USA
Els, Schalk, University of Pretoria, South Africa
Faris, Waleed F., International Islamic University Malaysia, Malaysia
Ferris, John, Virginia Polytechnic Institute and State University, USA
Gáspár, Péter, MTA SZTAKI, Hungary
Gillespie, Thomas D., Mechanical Simulation Corporation, USA
Jonasson, Mats, Volvo Car Corporation, Sweden
Juhala, Matti, Helsinki University of Technology, Finland
Lidberg, Mathias R., Chalmers Tekniska Högskola, Sweden
Longoria, Raul G., University of Texas at Austin, USA
Luo, Junjie, Hunan University, China
Luque, Pablo, University of Oviedo, Spain
Stratis, Kanarachos, Coventry University, UK
Tönük, Ergin, Middle East Technical University, Turkey
Taghavifar, Hamid, Coventry University, UK
Tartakovsky, Leonid, Technion - Israel Institute of Technology, Israel
Trigell, Annika Stensson, KTH Royal Institute of Technology, Sweden
Zhu, Bicheng, H.A. Automotive System Inc., USA
A few essentials for publishing in this journal
Submitted articles should not have been previously published or be currently under consideration for publication elsewhere.
Conference papers may only be submitted if the paper has been completely re-written (more details available here) and the author has cleared any necessary permissions with the copyright owner if it has been previously copyrighted.
Briefs and research notes are not published in this journal.
All our articles go through a double-blind review process.
All authors must declare they have read and agreed to the content of the submitted article. A full statement of our Ethical Guidelines for Authors (PDF) is available.
There are no charges for publishing with Inderscience, unless you require your article to be Open Access (OA). You can find more information on OA here.



Submission process

All articles for this journal must be submitted using our online submissions system.
View Author guidelines.