International Journal of Trade and Global Markets
This journal also publishes Open Access articles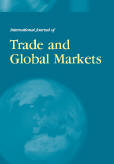 Editor

Prof. Bruno S. Sergi

ISSN online

1742-755X

ISSN print

1742-7541
8 issues per year


CiteScore

1.5 (2022)

IJTGM fosters discussion on the various interrelationships between economic growth at national and international levels and international trade. The journal will emphasise the implications that trade policy exerts on economic growth and vice versa, as well the role of national governments, international organisations and the business community on related issues of worldwide concern.
Topics covered include
International trade
Economic growth
The role of international economic organisations in the global economy
International economic issues
Interaction between global markets and trade
Implications of globalisation on markets and trade
WTO and its policies
FDI and the international economics
The role of IT in the process of globalisation
The importance of growing wealth disparity in trade and management
The impact of government debts on international trade and management issues
The role of oil and gas: industry intentions, pricing strategies, etc.
Trade as determined by currency instability
Financing trade deficits
More on this journal...
Objectives
The objectives of IJTGM are to become a main source of analyses and perspectives on the issues of economics and trade in order to be an effective channel of communication between policy-makers, government agencies, academic and research institutions. It emphasises problems of international significance and offers important lessons for policy-makers and the wide audience which participates in the policy debate in such a way that it promotes and coordinates developments in the field of international trade and economic growth. The journal will emphasise national, regional, international and global realities. It applies a rigid peer-reviewed approach, which aims to publish only very selective, substantive new empirical, methodological and theoretical research.
Readership
IJTGM provides a vehicle to help professionals, leading professional economists, researchers and policy makers, working in the field of international economics, trade, and business.
Contents
IJTGM publishes original papers and case studies. The aim is to offer an independent, non-partisan perspective on the issues of economics and trade.
Editor
Sergi, Bruno S., University of Messina, Italy
(bsergiunime.it)
Managing Editor
Pamungkas, Putra, Universitas Sebelas Maret, Indonesia
Associate Editors
O'Sullivan, Patrick, Grenoble School of Management, France
Sironi, Emiliano, Catholic University of the Sacred Heart, Italy
Regional Editor Africa
Barker, Rachel, University of South Africa, South Africa
Regional Editor Asia
Fung, Michael K., Hong Kong Polytechnic University, Hong Kong SAR, China
Regional Editor Europe
Matousek, Roman, Queen Mary University of London, UK
Regional Editor USA
Adekola, Abel, University of Wisconsin, Stout, USA
Editorial Board Members
Bagatelas, William T., University of New York in Prague, Czech Republic
Belarbi, Abdelhafid, Al Ain University, United Arab Emirates
Bellavite Pellegrini, Carlo, Catholic University of the Sacred Heart - Milan, Italy
Bernat, Tomasz, University of Szczecin, Poland
Bobek, Vito, University of Applied Sciences FH Joanneum, Austria
Chetvernina, Tatiana, State University Higher School of Economics, Russian Federation
Crespo, Nuno, University Institute of Lisbon, Portugal
Esposito, Mark, Hult International Business School and Harvard University, USA
Essayyad, Musa, McNeese State University, USA
Fuentes García, Fernando J., University of Córdoba, Spain
Grundey, Dainora, Vilnius University, Lithuania
Hsing, Yu, Southeastern Louisiana University, USA
Isachenko, Tatiana M., Moscow State Institute of International Relations (MGIMO), Russian Federation
Julian, Craig C., Academy of World Business, Australia
Kokkalis, Panagiotis, Al Falah University, United Arab Emirates
Maitah, Mansoor, Czech University of Life Sciences Prague, Czech Republic
Mroz, Bogdan, Warsaw School of Economics, Poland
Naghshpour, Shahdad, Alabama A&M University, USA
Ong, Fon Sim, University of Nottingham Malaysia Campus , Malaysia
Platonova, Irina N., Moscow State Institute of International Relations (MGIMO-University), Russian Federation
Qerimi, Qerim, University of Prishtina, Kosovo and University of Antwerp, Belgium
Reid, David McHardy, Seattle University, USA
Rossi, Fabrizio, University of Trieste, Italy
Sánchez Cañizares, Sandra, University of Córdoba, Spain
Sengenberger, Werner, 7 Les Collines de Pitegny, France
Tasie, George O., American University of Nigeria at Yola, Nigeria
Teichmann, Fabian, Teichmann International AG, Switzerland
Thaichon, Park, University of Southern Queensland, Australia
Topçu, Güneş, Çanakkale Onsekiz Mart University, Turkey
Tse, Terence, ESCP Europe, UK
Tvaronaviciene, Manuela, Vilnius Gediminas Technical University, Lithuania
Viducic, Ljiljana, University of Split, Croatia
Wamboye, Evelyn, Pennsylvania State University , USA
Wonglimpiyarat, Jarunee, Massachusetts Institute of Technology, USA
A few essentials for publishing in this journal
Submitted articles should not have been previously published or be currently under consideration for publication elsewhere.
Conference papers may only be submitted if the paper has been completely re-written (more details available here) and the author has cleared any necessary permissions with the copyright owner if it has been previously copyrighted.
Briefs and research notes are not published in this journal.
All our articles go through a double-blind review process.
All authors must declare they have read and agreed to the content of the submitted article. A full statement of our Ethical Guidelines for Authors (PDF) is available.
There are no charges for publishing with Inderscience, unless you require your article to be Open Access (OA). You can find more information on OA here.
It is essential that authors basing their papers on datasets use the most up-to-date available. Papers based on outdated datasets will be rejected.
If using their own dataset, authors are required to
∘ deposit their research data in a relevant data repository
∘ cite and link to this dataset in their article. If this is not possible, please add
a statement explaining why the research data cannot be shared.
Submission process
All articles for this journal must be submitted using our online submissions system.
View Author guidelines.
Journal news
Building blocs for diverse investment
4 August, 2023
Research in the International Journal of Trade and Global Markets has looked at the effects of the evolution of the BRIC economies to the BRICS bloc and the implications of that transition on investment and global trade. The work highlights the independence of leading emerging bond markets and their potential for investment diversification. Adefemi A. Obalade of the University of the Western Cape in Bellville and Brian Nxumalo, Dylan Hoover, Grace O. Obalade, and Paul-Francois of the University of KwaZulu-Natal in Durban, South Africa used the autoregressive distributed lag model (ARDL) and Pearson correlation tests to explore long-term relationships among bond markets within these blocs. Their findings suggest that investors might explore these markets for improved portfolio diversification opportunities, despite their being within the same league of emerging economies. The team suggests that understanding the dynamics of cointegration and independence among these markets has implications for portfolio management, risk assessment, and global market exposure [...]
More details...