International Journal of Information and Operations Management Education
This journal also publishes Open Access articles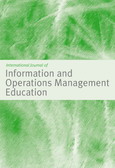 Editor in Chief

Associate Prof. Luna Leoni

ISSN online

1744-2311

ISSN print

1744-2303
4 issues per year

IJIOME covers continuing education and lifetime learning, mainly focusing on information systems and operations management subjects, providing high-quality knowledge advancement to researchers and educators. Considering globalisation and digitalisation, developing suitable and innovative training strategies, techniques and tools for effective learning is paramount for organisational competitiveness. Although IJIOME's core areas are information systems and operations management, we welcome contributions in related domains such as HR management, organisation studies, supply chains and sustainability, as long as their main focus is on learning/teaching.
Topics covered include
Continuing education/lifetime learning
Curriculum design/development
Distance learning strategies/techniques/tools
E/web-based/distance learning, online teaching
Government/industry/consultant participation
Group work, case studies
Industrial projects/visits, virtual tours
Innovation in learning
International comparisons
Learning through research
Pedagogical issues, knowledge management
Role of publishers/text book authors
Teaching quantitative techniques/models
Team teaching
Technology, multimedia, simulation games
More on this journal...
Objectives
The main objectives of IJIOME are to promote research and practice of innovation and lifetime learning in information systems and operations management. IJIOME aims to help professionals working in the field of information systems and operations management, academic educators, industry consultants, and practitioners to contribute, to disseminate and to learn from each other's work. The global dimension is emphasised to overcome cultural and national barriers and to meet the accelerating technological changes and changes in global economy. IJIOME aims to act as a forum for exchanging innovative ideas and sharing practical experiences in teaching and learning of information systems and operations management.
Readership
IJIOME is a forum to help professionals, academics, researchers and practitioners, working in the field of education and training of information systems and operations management, to discuss of important ideas, concepts and disseminate information and to learn from each other's work.
Contents
IJIOME publishes original papers, review papers, technical reports, case studies, conference reports, management reports, book reviews, notes, commentaries, and news. Special Issues devoted to important topics in education of information systems and operations management will occasionally be published.
Editor in Chief
Leoni, Luna, University of Rome "Tor Vergata", Italy
(editor.in.chief.ijiomegmail.com)
Executive Editor
Cristofaro, Matteo, University of Rome "Tor Vergata", Italy
Associate Editors
Dekkers, Rob, University of Glasgow, UK
Soosay, Claudine, University of South Australia, Australia
Steenhuis, Harm-Jan, Hawaii Pacific University, USA
Editorial Board Members
Alturas, Bráulio, Instituto Universitário de Lisboa, Portugal
Angelis, Jannis, KTH Royal Institute of Technology, Sweden
Fleury, Afonso Carlos Correa, Universidade de São Paulo, Brazil
Garbie, Ibrahim, Helwan University, Egypt
Gu, Vicky, University of Houston-Clear Lake, USA
Jeong, Ki-Young, University of Houston Clear Lake, USA
Madsen, Erik Skov, University of Southern Denmark, Denmark
Pepper, Matthew, University of Wollongong, Australia
Pham, D. T., University of Birmingham, UK
Ponciano, João, University of Glasgow, UK
Pretorius, Leon, University of Pretoria, South Africa
Rugg, Gordon, Keele University, UK
Swart, William, East Carolina University, USA
Tan, Boon Leing, Xian International University, China
Tarhini, Ali, Sultan Qaboos University, Oman
Tell, Joakim, Halmstad University, Sweden
Triche, Jason, University of Montana, USA
Vanteddu, Gangaraju, Southeast Missouri State University, USA
Yan, Jie (Kevin), Dalton State College, USA
Yazici, Hulya Julie, Florida Gulf Coast University, USA
Zhang, Yufeng, University of Birmingham, UK
A few essentials for publishing in this journal
Submitted articles should not have been previously published or be currently under consideration for publication elsewhere.
Conference papers may only be submitted if the paper has been completely re-written (more details available here) and the author has cleared any necessary permissions with the copyright owner if it has been previously copyrighted.
Briefs and research notes are not published in this journal.
All our articles go through a double-blind review process.
All authors must declare they have read and agreed to the content of the submitted article. A full statement of our Ethical Guidelines for Authors (PDF) is available.
There are no charges for publishing with Inderscience, unless you require your article to be Open Access (OA). You can find more information on OA here.



Submission process

All articles for this journal must be submitted using our online submissions system.
View Author guidelines.