International Journal of Globalisation and Small Business
This journal also publishes Open Access articles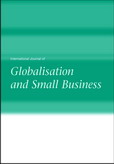 Editor

Prof. Dr. Susanne Royer

ISSN online

1479-3067

ISSN print

1479-3059
4 issues per year


CiteScore

1.6 (2022)

IJGSB explores opportunities and threats of globalisation for small businesses as well as small businesses'strategic options in an increasingly global world. Dramatic changes in contemporary society and the economy have impacts on small businesses. The changing environment negatively influences the development and survival of smaller organisations in some areas and creates new opportunities in others. Small firms'managers increasingly have to cope with global as well as local competitive dimensions. Research in this broad field thus is highly relevant.
Topics covered include
International strategies of small businesses
Entrepreneurship in global businesses
Small businesses in a changing environment
Globalisation in family businesses
New international paths, e.g. by 'born globals'
Impact of e-commerce on small businesses
Innovation management in global competition
International education for small businesses
Change of values in small businesses
More on this journal...
Objectives
The objectives of the
IJGSB
are to develop, promote and coordinate the research and practice in globalisation and small business management. It aims to help professionals working in the field, small business owners, business educators and policy makers to contribute or disseminate information and to learn from each other|s work. The international dimension is emphasised in order to overcome cultural and national barriers and to meet the needs of a changing global economy. The
IJGSB
wishes to help small businesses by exploring the opportunities and threats of globalisation and by providing strategic options.
Readership
Academics, research workers, and students - especially students in doctoral, MBA and similar programs - executives and managers, policy makers and administrators in private and public sector enterprises and systems; management consultants and specialists in business functions, e.g. in research and development departments or human resource development.
Contents
IJGSB publishes original papers, review papers, reports, case studies, conference reports, management reports, book reviews, notes, commentaries and news. Special Issues devoted to important topics in globalisation or small business management will occasionally be published.
Editor
Royer, Susanne, University of Flensburg, Germany
(royeruni-flensburg.de)
Associate Editor
Rossi, Matteo, University of Sannio, Italy
Editorial Board Members
Bengtsson, Lars, Lund University, Sweden
Boyd, Britta, University Witten/Herdecke, Germany
Brown, Kerry, Edith Cowan University, Australia
Casprini, Elena, University of Siena, Italy
Coluccia, Daniela, Sapienza University of Rome, Italy
Dietl, Helmut M., University of Zurich, Switzerland
Fait, Monica, University of Salento, Italy
Festing, Marion, ESCP Europe, Germany
Galati, Antonino, Università degli Studi di Palermo, Italy
Gilroy, Bernard Michael, Universität Paderborn, Germany
Glodek, Pawel, University of Lodz, Poland
Hine, Damian, University of Limerick, Ireland
Hinz, Holger, University of Flensburg, Germany
Joshi, Manoj, Amity University, India
Justinek, Gorazd, New University, Slovenia
Kolte, Ashutosh, Savitribai Phule Pune University, India
Leone, Daniele, University of Naples Federico II, Italy
Martini, Elvira, University of Sannio, Italy
McNaughton, Rod, University of Auckland, New Zealand
Motoya, Ruri, Oita University, Japan
Patnaik, Srikanta, Interscience Institute of Management and Technology, Bhubaneswar, India
Pillania, Rajesh K., Management Development Institute Gurgaon, India
Poggesi, Sara, Tor Vergata University, Italy
Romano Carrão, Ana Maria, Universidade Metodista de Piracicaba, Brazil
Schiavone, Francesco, University Parthenope of Naples, Italy
Scorrano, Paola, University of Salento , Italy
Sharma, Milind Kumar, Jai Narain Vyas University, India
Thérin, François, Africa Business School, Morocco
Van der Sijde, Peter, VU University of Amsterdam, Netherlands
Villasalero Díaz, Manuel, University of Castilla-La Mancha, Spain
A few essentials for publishing in this journal
Submitted articles should not have been previously published or be currently under consideration for publication elsewhere.
Conference papers may only be submitted if the paper has been completely re-written (more details available here) and the author has cleared any necessary permissions with the copyright owner if it has been previously copyrighted.
Briefs and research notes are not published in this journal.
All our articles go through a double-blind review process.
All authors must declare they have read and agreed to the content of the submitted article. A full statement of our Ethical Guidelines for Authors (PDF) is available.
There are no charges for publishing with Inderscience, unless you require your article to be Open Access (OA). You can find more information on OA here.



Submission process

All articles for this journal must be submitted using our online submissions system.
View Author guidelines.