European Journal of Cross-Cultural Competence and Management
This journal also publishes Open Access articles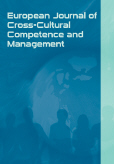 Editor in Chief

Prof. Bice Della Piana

ISSN online

1758-1516

ISSN print

1758-1508
4 issues per year

EJCCM is the official scholarly publication of the International Association of Cross-Cultural Management and Competence (IACCM). It aims to widen and deepen discussion about issues regarding the influence of cultural differences and diversity on the management of organisations of all kinds. Of particular relevance is the question of how culture affects both managers and decision-makers in situations involving the cross-cultural transfer of knowledge, values and experiences. The scope of EJCCM is further widened by close cooperation with SIETAR Austria and SIETAR Europa.
Topics covered include
Multinational work teams
Inter-/cross-cultural careers
Inter-/cross-cultural management
Inter-/cross-cultural knowledge management
Inter-/cross-cultural communication and relationship management
Inter-/cross-cultural issues in international business
Total submersion: expatriates/internationals and cultural re-entry problems
Inter-/cross-cultural competence and cultural intelligence
Global shifts in values and norms; tectonics of cultural change
Professional identities and organisational evolution: new individualism paradoxes
New methods of cultural comparison
Intercultural training methodology
More on this journal...
Objectives
EJCCM covers the broad field of cross-cultural research with special reference to management in practice. One of its main objectives is the establishment of a platform for the discussion of cultural issues in modern business across disciplines and cultures. In the spirit of its founding organisation, EJCCM encourages contributions from different fields of science dealing with the interrelations and links between culture, personality and patterns of behaviour; with the effects of culture and cultural differences on intercultural interactions and of interactions on cultural difference; with learning from successful and not so successful intercultural action; with strategies of cultural adjustment and hybridisation; and with cultural distinction and separation. The journal explicitly encourages papers about the dynamics of cross-cultural interactions during transition in East, Central and South East Europe, the former Soviet Union, and Newly Independent States.
Readership
EJCCM offers insights into the effects of culture on business in a globalised world, which are relevant for academics in business studies, social science and other fields of science dealing with culture, intercultural trainers and educators, as well as business people working internationally. While the title of the journal puts a clear emphasis on studies from a European perspective, distinct non-European perspectives are highly welcome, too.
Contents
EJCCM publishes original papers, case studies, book reviews, and management and conference reports. In its Practitioner´s Corner, applied and practical contributions are included which are of particular relevance for educators, trainers and business people working in an international and multicultural context. Special Issues devoted to new developments in the field and other important topics in cultural research are encouraged.
Editor in Chief
Della Piana, Bice, University of Salerno, Italy
(bdellapianaunisa.it)
Chief Editorial Advisor
Tung, Rosalie L., Simon Fraser University, Canada
Assistant Editor
Nava, Maria Rosaria, LUMSA University, Italy
Regional Editor Australasia
Sinclair, Marta, Griffith University, Australia
Regional Editor Central and South America
García de la Torre, Consuelo, Tecnologico de Monterrey, Mexico
Regional Editor Middle East and North Africa
Aliane, Nadir, King Faisal University, Saudi Arabia
Editorial Board Members
Barmeyer, Christoph, Lehrstuhl für Interkulturelle Kommunikation Universität Passau, Germany
Bell, Roger-Matthew, ESADE, Spain
Brueck, Frank, Vienna University of Economics and Business Administration, Austria
Calvelli, Adriana, Universitá Pathenope, Italy, Italy
Calza, Francesco, Università di Napoli, Italy
Cannavale, Chiara, Università degli studi di Napoli Parthenope, Italy
Chudzikowski, Katharina, University of Bath, UK
Claes, Marie-Therese, University of Louvain (UCLouvain), Belgium
Covarrubias Venegas, Barbara, University of Valencia, Spain
Eberhardt, Christian Johann, Ray & Berndtson Central and Eastern Europe, Austria
Eisenberg, Jacob, University College Dublin, Ireland
Erten, Christiane, WU Wien, Austria
Fells, Ray, University of Western Australia, Australia
Franklin, Peter, Konstanz University of Applied Sciences, Germany
Giannini, Marco, University of Pisa, Italy
Hößler, Ulrich, University of Regensburg, Germany
Hajro, Aida, Brunel University, UK
Hanappi-Egger, Edeltraud, Vienna University of Economics and Business, Austria
Hauser, Michael, Wirtschaftsuniversität Wien, Austria
Hernandez, S. Robert, University of Alabama at Birmingham, USA
Hofmeister Toth, Agnes, Corvinus University of Budapest, Hungary
Horacek, Georg, OMV AG, Austria
Javidan, Mansour, University of Calgary, Canada
Kainzbauer, Astrid, Mahidol University, Thailand
Lee, Hyun-jung, London School of Economics and Political Science, UK
Lilach, Sagiv, The Hebrew University of Jerusalem, Israel
Maimone, Fabrizio, Libera Università Maria Ss. Assunta, Italy
Malizia, Pierfranco, LUMSA University, Italy
Maslov, Vladimir, Moscow State University, Russian Federation
Michailova, Snejina, The University of Auckland Business School, New Zealand
Migliore, Laura Ann, University of Phoenix, USA
Mikova, Katarina, Matej Bel University, Slovakia
Morley, Michael J., University of Limerick, Ireland
Möslein, Kathrin, Universität Erlangen-Nürnberg, Germany
Odrakiewicz, Peter, Poznan University, Poland
Paik, Yongsun, Loyola Marymount University, USA
Popova, Juliana, University of Rousse, Bulgaria
Profili, Silvia, Università Europea di Roma and LUISS Business School, Italy
Rathmayr, Renate, Vienna University of Economics and Business Adminstration, Austria
Ravazzani, Silvia, Aarhus University, Denmark
Risberg, Annette, Copenhagen Business School, Denmark
Sackmann, Sonja, University Bw Munich, Germany
Sammarra, Alessia, Università dell'Aquila and LUISS Business School, Italy
Scheitza, Alexander, RADIUS Communication & Intercultural Cooperation, Germany
Schmid, Stefan, University of Regensburg, Germany
Stavrou, Eleni, University of Cyprus, Cyprus
Stelzl, Monika, St. Thomas University, Canada
Sumilo, Erika, University of Latvia, Latvia
Søndergaard, Mikael, University of Aarhus, Denmark
Tarba, Shlomo Y., University of Birmingham, UK
Thomas, David, Simon Fraser University, Canada
Vadi, Maaja, University of Tartu, Estonia
Vance, Charlie, Loyola Marymount University, USA
Wallis, Steve, Capella University, USA
Warter, Iulian, Center for Socio-Economic Studies and Multiculturalism (Iasi), Romania
Weber, Yaakov, College of Management, Israel
Yolles, Maurice, Liverpool John Moores University, UK
A few essentials for publishing in this journal
Submitted articles should not have been previously published or be currently under consideration for publication elsewhere.
Conference papers may only be submitted if the paper has been completely re-written (more details available here) and the author has cleared any necessary permissions with the copyright owner if it has been previously copyrighted.
Briefs and research notes are not published in this journal.
All our articles go through a double-blind review process.
All authors must declare they have read and agreed to the content of the submitted article. A full statement of our Ethical Guidelines for Authors (PDF) is available.
There are no charges for publishing with Inderscience, unless you require your article to be Open Access (OA). You can find more information on OA here.



Submission process

All articles for this journal must be submitted using our online submissions system.
View Author guidelines.
Journal news
Prof. Bice Della Piana appointed as new Editor in Chief of European Journal of Cross-Cultural Competence and Management
17 November, 2023
Prof. Bice Della Piana from the University of Salerno in Italy has been appointed to take over editorship of the European Journal of Cross-Cultural Competence and Management.