World Review of Science, Technology and Sustainable Development
This journal also publishes Open Access articles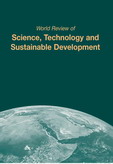 Editor in Chief

Dr. M.A. Dorgham

ISSN online

1741-2234

ISSN print

1741-2242
4 issues per year


CiteScore

1.3 (2022)

WRSTSD addresses issues central to the global efforts to implement the United Nations' "Sustainable Development Goals" (SDGs), acting in the nexus between sustainability, science and technology, helping deliver the goals of the UN 2030 Agenda. Its unique focus on the transformative potential of science and technology as they relate to sustainable development means it can document and promote scholarly research as well as innovative policy options and the benefits of innovation in sustainable development to both industrialised and developing nations.
Topics covered include
UN Sustainable Development Goals
Science, technology management, technical change
Technology and sustainable development
Best practice in the promotion of sustainable technologies
Industry and sustainable development
Sustainable development policies
Green economies and green growth
Eco-efficiency and cleaner production
Water and development
Sustainable energy use and renewable energy methods
Environmental health
Innovation and sustainable development
More on this journal...
Objectives
The objective of WRSTSD is to improve and enhance the literature on these issues in the developing world and the rest of the world. It will therefore benefit a wide range of institutions, including universities, research centres, governmental departments etc in developing and developed countries.
Readership
WRSTSD provides thousands of professionals, researchers and policymakers with the best available scientific evidence when contributing to better technological and economical development for all within the populations they serve. It therefore helps in reducing the gap and access to information between rich and poor countries.
Contents
WRSTSD publishes original papers, review papers, conceptual papers, technical reports, case studies, conference reports, management reports, book reviews, notes, commentaries, and news. Special Issues devoted to important topics in Science, Technology and Sustainable Development will occasionally be published.
Editor in Chief
Dorgham, M.A., International Centre for Technology and Management, UK
(editorialinderscience.com)
Associate Editor
Cerulli, Giovanni, CNR-IRCrES, Institute for Research on Sustainable Economic Growth, Italy
Editorial Board Members
Adeli, Hojjat, Ohio State University, USA
Alam, G. M. Monirul, Bangabandhu Sheikh Mujibur Rahman Agricultural University (BSMRAU) and University of Southern Queensland, Bangladesh
Ananthaswamy, V., The Madura College (Autonomous), India
Barresi, Paul A., Southern New Hampshire University, USA
Blersch, David, University at Buffalo, USA
Borumand Saeid, Arsham, Shahid Bahonar University of Kerman, Iran
Ciani, Adriano, University of Perugia, Italy
DiBerardinis, Louis, Massachusetts Institute of Technology, USA
Farber, David J., Carnegie Mellon University, USA
Grin, John, University of Amsterdam, Netherlands
Grunwald, Armin, Research Center Karlsruhe GmbH, Germany
Guglielmetti Mugion, Roberta, Università Studi Roma Tre, Italy
Isaacs, Andrew M., University of California, Berkeley, USA
Kamel, Sherif, The American University in Cairo, Egypt
Khan, Nadeem, University of Reading, UK
Klusacek, Karel, Academy of Sciences CR, Czech Republic
Low, Pak Sum, Xiamen University, Malaysia
Meyer, Patrick E., Meyer Energy Research Consulting, USA
Pietrobelli, Carlo, University Roma Tre, Italy
Potì, Bianca Maria, CNR - Consiglio Nazionale delle Ricerche, Italy
Renn, Ortwin, Institute for Advanced Sustainability Studies (IASS), Potsdam, Germany
Rhoades, Dawna L., Embry-Riddle Aeronautical University, USA
Riskowski, Gary, Texas A&M University, USA
Solomon, Barry, Michigan Technological University, USA
Wei, Yi-Ming, Beijing Institute of Technology (BIT), China
Zhang, Xiaoning, South China University of Technology, China
A few essentials for publishing in this journal
Submitted articles should not have been previously published or be currently under consideration for publication elsewhere.
Conference papers may only be submitted if the paper has been completely re-written (more details available here) and the author has cleared any necessary permissions with the copyright owner if it has been previously copyrighted.
Briefs and research notes are not published in this journal.
All our articles go through a double-blind review process.
All authors must declare they have read and agreed to the content of the submitted article. A full statement of our Ethical Guidelines for Authors (PDF) is available.
There are no charges for publishing with Inderscience, unless you require your article to be Open Access (OA). You can find more information on OA here.



Submission process

All articles for this journal must be submitted using our online submissions system.
View Author guidelines.
Journal news
Here comes the flood
7 August, 2023
The increasing frequency and intensity of flooding events worldwide due to climate change have drawn attention to the pressing issue of flood risk management. The loss of life can be devastating, particularly in less developed and more vulnerable parts of the world. In developed countries, the response is likely to save lives but sees a greater economic loss because of the damage to expansive and advanced infrastructure. That said, even in the developed world there is a big difference between the impact on low-income and affluent areas within the same regions. Research in the World Review of Science, Technology and Sustainable Development, has focused on two disparate regions of London: the low-income and ethnically diverse Newham and the more affluent Hammersmith. The study reveals that Newham has a much lower level of resiliency compared with Hammersmith in terms of flood risk, despite both being equally in the Thames flood plain. The researchers, Arzoo Hassan and Cody Morris Paris of Middlesex University Dubai in the United Arab Emirates point out that it might be argued that floods are not a wholly natural phenomenon given that they are almost always associated with the structures of roads and building in an at-risk area. Moreover, they are socially constructed disasters because those worst affected are usually the most vulnerable communities [...]
More details...