International Journal of Sustainable Strategic Management
This journal also publishes Open Access articles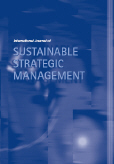 Editor in Chief

Dr. Say Keat Ooi

ISSN online

1753-3619

ISSN print

1753-3600
2 issues per year

Leaders in organisations and governments must make responsible strategic and policy decisions that satisfy two important objectives:
to facilitate and sustain high organisational performance, and
to manage organisational and national resources so that organisations and societies can benefit from them in the future.
Balancing these objectives can be complex and typically requires intellectual contributions across disciplines. IJSSM is a forum for publication of refereed scientific work in this field.
Topics covered include
General business topics, e.g. management, marketing, finance, international business, entrepreneurship, international management
Resource management
Sustainability of performance
Sustainability of competitive advantage
Crisis management from perspectives of society/government/the organisation
Ethical/social responsibility considerations
Role of IT in sustainable development
More on this journal...
Objectives
IJSSM serves as an interface between business leaders, policy makers, economists, and management scholars. IJSSM seeks contributions with global relevance concerned with organisational and economic sustainability.
Readership
Professionals, academics, researchers and policy makers.
Contents
IJSSM publishes original and review papers, technical reports, case studies, book reviews, and research notes. Contributions from diverse perspectives are welcome, but each one should blend issues associated with market sustainability (i.e., sustaining superior organisational performance) and environmental sustainability (i.e., consistency with environmental and social concerns). Qualitative and empirical submissions are invited. Contribution may be by submission or invitation, and suggestions for special issues and publications are welcome.
Editor in Chief
Ooi, Say Keat, Universiti Sains Malaysia, Malaysia
(ooisaykeatusm.my)
Associate Editor
Bahhouth, Victor, University of North Carolina at Pembroke, USA
Regional Editor China
Long, Zhang, China University of Geosciences (Beijing), China
Regional Editor India
Sangle, Shirish, National Institute of Industrial Engineering (NITIE), India
Regional Editor Middle East
Khoueiri, Roy, Notre Dame University, Lebanon
Editorial Board Members
Abou Hamad, Jeniffer, Notre Dame University, Lebanon
Cerda, Arcadio A., Universidad de Talca, Chile
De Bakker, Frank G.A., Vrije Universiteit, Netherlands
Dongkun, Luo, China University of Petroleum, China
Fasone, Vincenzo, Kore University of Enna, Italy
Ghobadian, Abby, Henley Management College, UK
Hockerts, Kai, Copenhagen Business School, Denmark
Jun, Deng, China University of Gecosciences (Beijing), China
McCann, Jack, Lincoln Memorial University, USA
O'Regan, Nicholas, Aston University, UK
Parnell, John A., University of North Alabama, USA
Pillania, Rajesh K., Management Development Institute Gurgaon, India
Ruiz, Carlos, Georgia Gwinnett College, USA
Shrivastava, Paul, Bucknell University, USA
Spillan, John E., University of North Carolina - Pembroke, USA
Stead, Jean Garner, East Tennessee State University, USA
Stead, W. Edward, East Tennessee State University, USA
Xiucheng, Dong, China University of Petroleum, China
Yalin, Lei, China University of Gecosciences (Beijing), China
A few essentials for publishing in this journal
Submitted articles should not have been previously published or be currently under consideration for publication elsewhere.
Conference papers may only be submitted if the paper has been completely re-written (more details available here) and the author has cleared any necessary permissions with the copyright owner if it has been previously copyrighted.
Briefs and research notes are not published in this journal.
All our articles go through a double-blind review process.
All authors must declare they have read and agreed to the content of the submitted article. A full statement of our Ethical Guidelines for Authors (PDF) is available.
There are no charges for publishing with Inderscience, unless you require your article to be Open Access (OA). You can find more information on OA here.



Submission process

All articles for this journal must be submitted using our online submissions system.
View Author guidelines.