International Journal of Services Operations and Informatics
This journal also publishes Open Access articles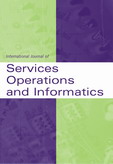 Editor in Chief

Dr. Daniel Palacios

ISSN online

1741-5403

ISSN print

1741-539X
4 issues per year


CiteScore

1.7 (2022)

Advances in distributed computing and networks make it possible to link people, heterogeneous service providers and physically isolated services efficiently and cost-effectively. As the economic dynamics and complexity of service operations continue to increase, it becomes a critical challenge to leverage information technology in achieving world-class quality and productivity in the production and delivery of physical goods and services. IJSOI addresses state-of-the-art R&D in the areas of service operations and the role of informatics towards improving their efficiency and competitiveness.
Topics covered include
Service science, engineering, practice
Service design, modelling, delivery, operations
Service networks, management, sustainability
Healthcare delivery networks
Homeland security networks
Logistics planning, integrated logistics networks, supply/demand forecasting
Customer relationship management
Production planning, scheduling, control
System integration/modelling, information integration, decision support systems
Production and service information systems
Event management systems
Real time identification/tracking, RFID technology/application
Sensor-based networks for service operations
Warehousing/distribution, intelligent transport systems
Simulation, data warehousing, data mining, knowledge integration
More on this journal...
Objectives
The objectives of the IJSOI are:
to establish an effective channel of communication between policy makers, government agencies, academic and research institutions and persons concerned with the science and technology of service operations and information technology and
to promote research and practice of new strategies, operations, and technologies for realising competitive advantages of both service providers and enablers around the world
The international dimension is emphasised in order to overcome cultural and national barriers and to meet the needs of accelerating service globalisation and technological change and changes in the global economy. IJSOI will publish high quality papers in all areas of service design, operations, and management; service process engineering; event management; production; integrated logistics and supply chain networks; productivity and quality management; and communications and information systems. Ultimately, the presented empirical results, discovered science and technology in the areas of service operations and informatics can be effectively disseminated in academia and explained to policy makers, practising professionals and managers.
Readership
IJSOI is a forum to help researchers, professionals, business analysts, managers, and policy makers, working in the field of service operations and information technology, to exchange their learning and disseminate their findings of the science and technology in the areas of service operations and information technology.
Contents
IJSOI publishes innovative and original papers, survey papers, technical correspondence, case studies, conference reports, management reports, and book reviews. Special Issues devoted to important topics in Service Operations and Informatics will occasionally be published.
Editor in Chief
Palacios, Daniel, Universitat Politècnica de València, Spain
(dapamardoe.upv.es)
Associate Editor Business Intelligence and Analytics
Jiang, Zhibin, Shanghai Jiao Tong University, China
Associate Editor Decision Science
Chen, Mei-Fang, Tatung University, Taiwan, Province of China
Associate Editor Manufacturing and Service Operations
Benyoucef, Lyes, Aix-Marseille University, France
Associate Editors Operations Management
Riemma, Stefano, University of Salerno, Italy
Zhang, Juliang, Beijing Jiaotong University, China
Associate Editor Service Science and Sustainability
Lin, Grace Y., Asia University, Taiwan, Province of China
Associate Editor System Integration and Modelling
Qian, Li, South Dakota State University, USA
Advisory Editor
Qiu, Robin G., The Pennsylvania State University, USA
Editorial Board Members
Adil, Gajendra K., Indian Institute of Technology Bombay, India
Banerjee, Amarnath, Texas A&M University, USA
Cheng, Chun Hung, The Chinese University of Hong Kong, Hong Kong SAR, China
Dong, Jin, IBM China Research Lab, China
Feng, Cheng-Min, National Chiao Tung University, Taiwan, Province of China
Högberg, Dan, University of Skövde, Sweden
Hu, Xiaohua (Tony), Drexel University, USA
Jaggi, Chandra K, University of Delhi, India
Kachani, Soulaymane, Columbia University, USA
Kwon, Changhyun, University at Buffalo, SUNY, USA
Lambiase, Alfredo, University of Salerno, Italy
Lee, Jay, University of Cincinnati, USA
Leung, Ying Tat, IBM Almaden Research Center, USA
Li, Dong, University of Liverpool, UK
Lima, Ricardo Massa Ferreira, Federal University of Pernambuco, Brazil
Meng, Qingliang, Jiangsu University of Science and Technology, China
Niemi, Esko, Helsinki University of Technology, Finland
Sainfort, Francois, University of Minnesota, USA
Sen, Suvrajeet, The Ohio State University, USA
Shapiro, Jeremy, Massachusetts Institute of Technology, USA
Son, Young-Jun, University of Arizona, USA
Sonehara, Noboru, National Institute of Informatics (NII), Japan
Sun, Wei, Drexel University, USA
Teich, Tobias, Westsächsische Hochschule Zwickau, Germany
Wang, Walter, The Pennsylvania State University, USA
Wu, Hsien-Jung, National Taichung University of Science and Technology, Taiwan, Province of China
Xu, Qi, Donghua University, China
Yee, John, United States Coast Guard, USA
Zhang, Runtong, Beijing Jiaotong University, China
A few essentials for publishing in this journal
Submitted articles should not have been previously published or be currently under consideration for publication elsewhere.
Conference papers may only be submitted if the paper has been completely re-written (more details available here) and the author has cleared any necessary permissions with the copyright owner if it has been previously copyrighted.
Briefs and research notes are not published in this journal.
All our articles go through a double-blind review process.
All authors must declare they have read and agreed to the content of the submitted article. A full statement of our Ethical Guidelines for Authors (PDF) is available.
There are no charges for publishing with Inderscience, unless you require your article to be Open Access (OA). You can find more information on OA here.



Submission process

All articles for this journal must be submitted using our online submissions system.
View Author guidelines.
Journal news
Recruiting digital twins to fix the factory
19 July, 2023
Research in the International Journal of Services Operations and Informatics discusses how the concept of the digital twin might be used to improve factory layout. The approach could cut the time and resources needed to design floorplans for industrial plants and ultimately improve the efficiency of the factory. A digital twin is a virtual replica of a real-world object or system that can be used to simulate the way in which that object or system might work if changes are made. It is not simply a three-dimensional model of the object or system, however. It includes information about connectivity between components of the system as well as about their behaviour in the real world. Andreas Lind of Global Industrial Development at Scania CV AB in Södertälje, Lars Hanson, Dan Högberg, and Anna Syberfeldt of the University of Skövde, and Dan Lämkull of the Volvo Car Corporation in Göteborg, Sweden, have turned to the digital twin concept to help them demonstrate better factory design in the automotive industry. They point out that the extended communication framework offered by a digital twin can be used in the real world once a design has been implemented. It enables data exchange between virtual and physical objects and so could revolutionize the way industries operate [...]
More details...