International Journal of Social Entrepreneurship and Innovation
This journal also publishes Open Access articles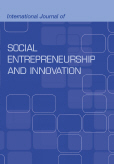 Editor in Chief

Dr. John O. Okpara

ISSN online

2043-8265

ISSN print

2043-8257
4 issues per year

IJSEI provides valuable insights into successful business techniques and strategies in the emerging field of social entrepreneurship, including theoretical perspectives, cutting-edge research, and actionable solutions to identified problems of particular interest to policy makers in government and international agencies, academics and researchers.
Topics covered include
Micro-financing
Education and literacy, poverty alleviation strategies
Diversity, multiculturalism, cross-cultural management
Corporate social responsibility
Global/local environmental issues
Funding social entrepreneur ventures
Women/minority entrepreneurs, immigrant entrepreneurship
Social policy and economic issues
Health, medical, bioethics issues
Human rights and social service issues
Economics and sustainability, entrepreneurship and sustainable development
Role of NGOs and economic development
Entrepreneurial opportunities for the disabled and the poor
Technology/social innovation, technology-based social enterprises
Social challenges and technology innovations
More on this journal...
Objectives
The objectives of IJSEI are to establish an effective channel of communication between policy makers, government agencies, academic and research institutions and persons concerned with complex global social issues and innovation. It also aims to promote and coordinate developments in the emerging field of social entrepreneurship. The international dimension is emphasised in order to overcome cultural and national barriers and to meet the needs of accelerating technological and innovative activities taking place in the global economy.
Readership
IJSEI provides a vehicle to help professionals, academics, researchers and policy makers, working in all the functional areas of management, social sciences, public administration, NGOs, technology, engineering, and education, and practitioners, to disseminate information and to learn from each other's work.
Contents
IJSEI publishes original papers, review papers, technical reports, and case studies. Special issues devoted to important topics in social entrepreneurship and innovation will occasionally be published.
Editor in Chief
Okpara, John O., Bloomsburg Univeristy of Pennsylvania, USA
(jokparabloomu.edu)
Editor
Halkias, Daphne, École des Ponts ParisTech, France
Consulting Editor
Morfopoulos, Richard, Briarcliffe College - Patchogue, USA
Associate Editors
Harkiolakis, Nicholas, New England College, USA
Marjerison, Rob, Wenzhou-Kean University, China
Thurman, Paul W., Columbia University, USA
Regional Editor Africa
Nkamnebe, Anayo D., Nnamdi Azikiwe University, Nigeria
Regional Editor Asia, Australia and New Zealand
Vaccarino, Franco A., Massey University, New Zealand
Regional Editor Europe
Cassia, Lucio, Università degli Studi di Bergamo, Italy
Regional Editors North and South America
Grosso, Jean-Luc E., University of South Carolina, USA
Smith, Teresa L., University of South Carolina, USA
Editorial Board Members
Adendorff, Christian, Powerhouse Strategies, South Africa
Alderson, Keanon J., California Baptist University, USA
Alserhan, Baker Ahmad Abdullah, Princess Sumaya University for Technology (PSUT), Jordan
Bathala, Chenchuramaiah, Cleveland State University, USA
Curtis, Timothy, University of Northampton, UK
De Massis, Alfredo, Free University of Bolzano, Italy
Demirdjian, Z.S., California State University, USA
Ekonomou, Lambros, A.S.P.E.T.E. School of Pedagogical and Technological Education, Greece
Harper, Timothy, Skidmore College, USA
Jalajas, David S., Long Island University, USA
Kabongo, Jean D., University of South Florida, Sarasota-Manatee, USA
Katsikis, Ioannis N., Athens University of Economics and Business, Greece
Khatiwada, Ekanath, c/o SNV-The Netherlands Development Organisation, Zambia
Komodromos, Marcos, University of Nicosia, Cyprus
Koveos, Peter E., Syracuse University, USA
Kuada, John, Aalborg University, Denmark
Nwajiuba, Chinedum, Building Nigeria's Response to Climate Change (BNRCC), Nigeria
Prinia, Despina, Hellenic American University, Greece
Rishi, Meenakshi, Seattle University Albers School of Business and Economics, USA
Yartey, Charles Amo, International Monetary Fund (IMF), USA
A few essentials for publishing in this journal
Submitted articles should not have been previously published or be currently under consideration for publication elsewhere.
Conference papers may only be submitted if the paper has been completely re-written (more details available here) and the author has cleared any necessary permissions with the copyright owner if it has been previously copyrighted.
Briefs and research notes are not published in this journal.
All our articles go through a double-blind review process.
All authors must declare they have read and agreed to the content of the submitted article. A full statement of our Ethical Guidelines for Authors (PDF) is available.
There are no charges for publishing with Inderscience, unless you require your article to be Open Access (OA). You can find more information on OA here.



Submission process

All articles for this journal must be submitted using our online submissions system.
View Author guidelines.
Journal news
Inderscience journals accepted for indexing in Studies on Women and Gender Abstracts database
25 September, 2023
The Editorial Office is pleased to report that the following journals have been accepted for indexing in Taylor & Francis's Studies on Women and Gender Abstracts database: