International Journal of Quality and Innovation
This journal also publishes Open Access articles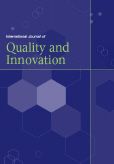 Editor in Chief

Prof. Marc Lim

ISSN online

1756-6983

ISSN print

1756-6975
2 issues per year

Both 'quality' and 'innovation' play vital roles for businesses to remain competitive. Broadly-speaking, quality aims for high and sustainable performance in existing business areas, while innovation aims for breakthrough. Both concepts are in some ways mutually dependent, yet mutually paradoxical. IJQI serves as a multi-industry platform to address issues of quality and innovation facing businesses, especially how quality and innovation may be integrated into a coherent and powerful strategic package, and the dilemmas/tensions faced in pursuing quality and innovation concurrently.
Topics covered include
The strategies and integration of quality and innovation
The dilemmas and tensions of quality and innovation
Leadership and management issues in achieving quality and innovation
Socio-cultural issues in quality and innovation
Training and education issues in quality and innovation
Change management in achieving quality and innovation
Risk and cost of quality and innovation
Technologies, techniques and tools for quality and innovation
Performance indicators for quality and innovation
Quality assurance systems and innovation frameworks
Innovative solutions for quality challenges
Quality platform for innovation and breakthrough
The relationship between quality and innovation and other disciplines such as knowledge management, total quality management and organisational learning
National policies for quality and innovation
Quality and innovation through industry-university collaboration
More on this journal...
Objectives
IJQI aims to promote understanding and dialogue across cultures and industries on the issues of quality and innovation by serving as a platform where new theories, research findings and case studies can be published and shared internationally.
Readership
IJQI is a vehicle which provides the latest findings and developments to industry leaders, corporate managers, engineers, scientists, consultants, academics and researchers involved in the field of quality and innovation. IJQI is a forum through which members of different professional communities (manufacturing or services sectors; public or private sectors; profit or non-profit sectors) can disseminate theories, strategies and practices involved in quality and innovation, thus learning from one other's expertise and experience.
Contents
IJQI publishes original papers in theoretical development and empirical research, case studies, discussion papers dealing with the frontiers of quality and innovation, conference reports, book reviews, commentaries and news. Special issues devoted to important themes in the area of quality and innovation will also be published from time to time. IJQI welcomes contributions from academics, researchers, industry leaders and practitioners across the globe and from any industry.
Editor in Chief
Lim, Marc, Swinburne University of Technology, Australia
(marclimswin.edu.au)
Managing Editors
Islam, Md Asadul, BRAC University, Bangladesh
Wynn, Katherine, Ontario Tech University, Canada
Editorial Board Members
Al-Hemyari, Zuhair, University of Nizwa, Oman
Aylward, David, University of Technology, Sydney, Australia
Azis, Yudi, Universitas Padjadjaran, Indonesia
Banerji, Sujit, University of Warwick, UK
Campbell, David, University of Klagenfurt, Austria
Cardinali, Silvio, Università Politecnica delle Marche, Italy
Charles, Cheng, United Nations Industrial Development Organization, Austria
Chung, Hwa-Hsu, National Kaohsiung University of Applied Sciences, Taiwan, Province of China
Ciasullo, Maria Vincenza, University of Salerno, Italy
Douglas, Alexander, Management University of Africa, Kenya
Douglas, Jacqueline, Liverpool John Moores University, UK
Ferooq, Sami, Aalborg University, Denmark
Hayward, Fred M., World Bank on Quality Assurance and Accreditation, USA
Karimi, Iftekhar, National University of Singapore, Singapore
Liang, Thow Yick, Singapore Management University, Singapore
Moyano-Fuentes, José, University of Jaén, Spain
Örtenblad, Anders, Nord Univesrsity, Norway
Prencipe, Antonio, University of Teramo, Italy
Retna, Kala S., Victoria University of Wellington, New Zealand
Richon, Dominique, École Nationale Supérieure des Mines de Paris-ParisTech, France
Sarkar, Niloy, NSHM Knowledge Campus and Maulana Abul Kalam Azad University of Technology, India
Zhao, Yushan, University of Wisconsin, USA
A few essentials for publishing in this journal
Submitted articles should not have been previously published or be currently under consideration for publication elsewhere.
Conference papers may only be submitted if the paper has been completely re-written (more details available here) and the author has cleared any necessary permissions with the copyright owner if it has been previously copyrighted.
Briefs and research notes are not published in this journal.
All our articles go through a double-blind review process.
All authors must declare they have read and agreed to the content of the submitted article. A full statement of our Ethical Guidelines for Authors (PDF) is available.
There are no charges for publishing with Inderscience, unless you require your article to be Open Access (OA). You can find more information on OA here.



Submission process

All articles for this journal must be submitted using our online submissions system.
View Author guidelines.