International Journal of Industrial and Systems Engineering
This journal also publishes Open Access articles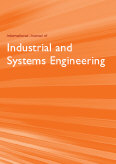 Editor in Chief

Prof. Angappa Gunasekaran

ISSN online

1748-5045

ISSN print

1748-5037
12 issues per year


CiteScore

1.5 (2022)

In today's global economy, the most successful engineering managers rely on a combination of technical skills and business principles. Industrial and systems engineering (ISE) aims at imparting fundamental knowledge to develop the ability to address complex industrial issues, highlighting how to design, run, control and optimise production systems. IJISE addresses the development of ISE principles, tools, systems and methods with special emphasis on the applications of ISE techniques and tools in improving organisational productivity and competitiveness in global markets.
Topics covered include
Engineering economic analysis
Computer methods for engineering
Engineering experimental design
CIMS, robotics and automation
Quality engineering, environment risk analysis
Systems reliability engineering, maintenance analysis
Human factors/ergonomics in design
Simulation modelling/analysis
System design and control systems, concurrent engineering
Production systems analysis/design
Facilities layout/design
Financial/investment engineering
Information systems, ICT, AI/expert systems design
Project management, decision support systems
Technology management/transfer
More on this journal...
Objectives
The main objective of IJISE is to provide a platform for interaction between researchers and practitioners who are dealing with ISE theory and applications. It also aims to promote and coordinate developments in the field of ISE. A systems perspective is emphasised with the objective of developing new industrial engineering concepts and technologies to meet the needs of organisational changes in the global e-markets. IJISE will provide executives and academics with the state of the art of ISE theory and applications. It aims to facilitate the exchange of information on the advances in ISE among researchers and practitioners.
Readership
IJISE acts as a vehicle to help professionals, academics and researchers working in the field of ISE to disseminate information and latest developments and to learn from each other's research.
Contents
IJISE publishes original papers, review papers, technical reports, case studies, book reviews, and notes. Special Issues devoted to important topics in ISE will occasionally be published.
Editor in Chief
Gunasekaran, Angappa, Penn State Harrisburg, USA
(an.gunasekarangmail.com)
Editorial Board Members
Abbasi, Ghaleb, University of Jordan, Jordan
Abdel-Malek, Layek, New Jersey Institute of Technology, USA
Al-Ahmari, Abdulrahman M., King Saud University, Saudi Arabia
Allen, Theodore T., The Ohio State University, USA
Askin, Ronald, Arizona State University, USA
Büyüközkan, Gülçin, Galatasaray University, Turkey
Backhouse, Chris, Loughborough University, UK
Banerjee, Pat, University of Illinois at Chicago, USA
Baykasoglu, Adil, Dokuz Eylul University, Turkey
Booth, Richard, Aston University, UK
Boucher, Thomas, Rutgers University, USA
Brennan, Robert W., University of Calgary, Canada
Bush, Stephen, University of Manchester, UK
Butt, Steven, Western Michigan University, Kalamazoo, USA
Campagne, Jean-Pierre, INSA de Lyon, France
Chen, Chin-Sheng, Florida International University, USA
Chen, Yuh-Min, National Cheng Kung University, Taiwan, Province of China
Cheraghi, S. Hossein, Wichita State University, USA
Chew, Ek Peng, National University of Singapore, Singapore
Chou, Yon-Chun, National Taiwan University, Taiwan, Province of China
Cochran, Jefferey, Arizona State University, USA
Deshmukh, Sanjeev, Indian Institute of Technology - Delhi, India
Fang, Liping, Ryerson University, Canada
Fox, Mark, University of Toronto, Canada
Helo, Petri T., University of Vaasa, Finland
Huang, Samuel, University of Cincinnati, USA
Ji, Guojun, Xiamen University, China
Khoshnevis, Behrokh, University of Southern California, USA
Kim, Yeong-Dae, Korea Advanced Institute of Science and Technology (KAIST), South Korea
Krishnamurthi, Murali, Northern Illinois University, USA
Lau, Henry C. W., University of Western Sydney, Australia
Lee, H. Felix, Southern Illinois University Edwardsville, USA
Lee, Yuan-Shin, North Carolina State University, USA
Logendran, Rasaratnam, Oregon State University, USA
Mak, Kai Ling, The University of Hong Kong, Hong Kong SAR, China
Maropoulos, Paul G., Queen's University Belfast, UK
Narendran, T.T., Indian Institute of Technology - Madras, India
Noble, James S., University of Missouri, USA
O'Sullivan, David, National University of Ireland, Galway, Ireland
Pati, Niranjan, Rowan University, USA
Perkins, James R., Boston University, USA
Pines, Edward, New Mexico State University, USA
Piplani, Rajesh, Nanyang Technological University, Singapore
Platts, Ken, University of Cambridge, UK
Pulat, P. Simin, The University of Oklahoma, USA
Rai, Bharatendra K., University of Massachusetts - Dartmouth, USA
Salvendy, Gavriel, Purdue University, USA
Shikdar, Ashraf, Sultan Qaboos University, Oman
Son, Young-Jun, University of Arizona, USA
Tabucanon, Mario, Asian Institute of Technology, Thailand
Thorstenson, P. Anders, Aarhus School of Business, Denmark
Tuominen, Markku, Lappeenranta University of Technology, Finland
Van Wassenhove, Luk N., INSEAD, France
Werner, Herbert, Technical University Hamburg-Harburg, Germany
Zhang, Chun (Chuck), Florida A&M University - FSU, USA
Zheng, Li, Tsinghua University, China
Zohadie, Muhamad, Universiti Putra Malaysia, Malaysia
A few essentials for publishing in this journal
Submitted articles should not have been previously published or be currently under consideration for publication elsewhere.
Conference papers may only be submitted if the paper has been completely re-written (more details available here) and the author has cleared any necessary permissions with the copyright owner if it has been previously copyrighted.
Briefs and research notes are not published in this journal.
All our articles go through a double-blind review process.
All authors must declare they have read and agreed to the content of the submitted article. A full statement of our Ethical Guidelines for Authors (PDF) is available.
There are no charges for publishing with Inderscience, unless you require your article to be Open Access (OA). You can find more information on OA here.



Submission process

All articles for this journal must be submitted using our online submissions system.
View Author guidelines.
Journal news
A framework for weighing up innovation
20 June, 2023
Research in the International Journal of Industrial and Systems Engineering, offers a new approach to evaluating and classifying innovative ideas within a company. The work introduces an ontology, a conceptual framework, for defining and measuring how radical a new idea is so that decision-makers within the company can assess its potential impact and push the company down a particular road rather than an alternative. Earlier researchers have grappled with how to identify and evaluate radically new ideas with an innovating company. Obviously, it is impossible to test all possible ideas. Previous discussions often revolved around assessing the level of risk or waiting until the effects of an innovation could be quantified. However, these approaches have proven to be limited in their effectiveness. Objective probabilities are frequently unavailable for radical ideas, rendering risk assessment inadequate. Additionally, relying on retrospective assessment of outcomes does not aid decision-making in the early stages of idea selection. Andrew N. Forde and Mark S. Fox of the Department of Industrial and Information Engineering at the University of Toronto, Ontario, Canada, have found a way to address the shortcomings of earlier approaches. They have a fresh perspective that treats radical ideas as uncertainties and then employs subjective probabilities in the process of making a decision about whether a given idea should be taken further. This approach acknowledges that different decision-makers may hold varying beliefs about the potential outcomes of an idea, making probabilistic assessments subjective [...]
More details...