International Journal of Higher Education and Sustainability
This journal also publishes Open Access articles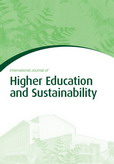 Editor in Chief

Prof. J. Paulo Davim

ISSN online

2056-4031

ISSN print

2056-4023
4 issues per year

IJHES proposes and fosters discussion on the evolution of higher education for sustainability, with emphasis on the three interconnected pillars, the environmental, the economic and the social, along with emerging dimensions of culture and politics. The incorporation of sustainability in higher education is critical in producing human resources, in terms of the essential skills, understanding and knowledge, in the 21st century. IJHES also considers the likely and actual implications for the workplace.
Topics covered include
Curriculum development for sustainability
Strategic sustainable development
Sustainability policies
Index of sustainability
Management for sustainability
Green engineering education
Global green standards: ISO 14000
Sustainability reports
Administration, academic staff and student initiatives
Campus design for sustainability
Recycling and energy efficiency
Green computing
Human resource management
Green universities/institutes: cases studies
Theoretical and practical implications for the workplace
More on this journal...
Objectives
The objectives of IJHES are to provide a channel of communication to disseminate knowledge between academics, researchers, politicians, administrators, managers and engineers, and also to serve as a useful reference for these and other professionals in matters related to higher education and sustainability.
Readership
IJHES provides a vehicle to help academics, researchers, politicians, administrators, managers and engineers working in the field of higher education and sustainability to disseminate information.
Contents
IJHES publishes original papers, review papers, technical reports and case studies. Special issues devoted to important topics in higher education and sustainability will occasionally be published.
Editor in Chief
Davim, J. Paulo, University of Aveiro, Portugal
(pdavimua.pt)
Associate Editor
Machado, Carolina, University of Minho, Portugal
Editorial Board Members
Azeiteiro, Ulisses Miranda, University of Aveiro, Portugal
Brinia, Vasiliki, Athens University of Economics and Business, Greece
Chambers, Dianne, University of Melbourne , Australia
Coelho, Margarida, University of Aveiro, Portugal
Correia, Paulo Rogério Miranda, University of São Paulo, Brazil
Dieleman, Hans, Universidad Autónoma de la Ciudad de México (UACM), Mexico
Franchetti, Matthew J., University of Toledo, USA
Fratila, Domnita, Technical University of Cluj-Napoca, Romania
Gelegenis, John J., Technological Educational Institute of Athens, Greece
Hancock, Linda, Deakin University, Australia
Harris, Douglas J., Heriot-Watt University, UK
Juarez Najera, Margarita, Universidad Autónoma Metropolitana, Azcapotzalco, Mexico
Lozano, Rodrigo, University of Gävle, Sweden
Mulder, Karel F., Delft University of Technology, Netherlands
O'Brien, Will, Clark University, USA
Rao, Prakash, Symbiosis International University, India
Rogers, Judy, RMIT University, Australia
Roorda, Niko, Avans University, Netherlands
Sdrolias, Labros, Technological Educational Institute of Thessaly, Greece
Sidiropoulos, Liz, Central Queensland University Melbourne, Australia
Vinodh, S., National Institute of Technology Tiruchirappalli, India
Wan Alwi, Sharifah Rafidah, Universiti Teknologi Malaysia, Malaysia
A few essentials for publishing in this journal
Submitted articles should not have been previously published or be currently under consideration for publication elsewhere.
Conference papers may only be submitted if the paper has been completely re-written (more details available here) and the author has cleared any necessary permissions with the copyright owner if it has been previously copyrighted.
Briefs and research notes are not published in this journal.
All our articles go through a double-blind review process.
All authors must declare they have read and agreed to the content of the submitted article. A full statement of our Ethical Guidelines for Authors (PDF) is available.
There are no charges for publishing with Inderscience, unless you require your article to be Open Access (OA). You can find more information on OA here.



Submission process

All articles for this journal must be submitted using our online submissions system.
View Author guidelines.