International Journal of Global Warming
This journal also publishes Open Access articles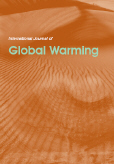 Editor in Chief

Prof. Dr. Ibrahim Dincer

ISSN online

1758-2091

ISSN print

1758-2083
12 issues per year


Impact factor (Clarivate Analytics) 2023

0.9 (5 Year Impact Factor 0.9)
JCI 0.16

CiteScore

1.6 (2022)

IJGW aims to bring all disciplines together for local/global solutions to combat global warming and its consequences. It focuses around nine main pillars: better remediation, avoidance, efficiency, cost effectiveness, design, resource utilisation, environmental quality, energy security, and sustainable development. It also address issues related to global changes as a direct/indirect result of climate modification and strategies for adaptation to such changes. IJGW covers disciplines as diverse as engineering, climate science, ecology, economics, education, management, information sciences, politics, strategy development, etc.
Topics covered include
Atmospheric changes, acid precipitation, aerosols, ozone depletion, smog
Biofuels and alternatives, carbon sequestration, carbon tax
Climate change modelling/simulation
Climate networks, weather forecasts/scenarios
Earth sciences, ecology, ecosystems, biodiversity
Energy/environment policies/strategies/security/technologies
Global warming modelling/simulation
Engineering tools, IT, green design/manufacturing
Greenhouse gases, emissions and control, exergetic improvements
Human health/welfare issues, education/training
Hurricanes and climatic/catastrophic events, deforestation
Renewables, hydrogen/nuclear/other cleaner energy resources/technologies
Solid/municipal wastes, waste management
Sustainable development, economy, environment and health
Urban/regional planning, water/water issues, food and agriculture
More on this journal...
Objectives
The objectives of IJGW are to establish an effective channel of communication between professionals, academics, researchers, scientists, engineers, and policymakers in academia and research institutions, government agencies, all sectors (industrial, residential, commercial, governmental, transportation, utilities, etc.), and other private organisations with a common goal to understand global warming and its consequences and bring local and global solutions to these. It also aims to promote and coordinate developments in the field of global warming and global change. The dimension of the journal is diverse and global because of the nature of the topic on global warming and global changes.
Readership
IJGW provides a vehicle to help professionals, academics, researchers, scientists, engineers and policymakers, working in the fields of energy, environment, and sustainable development with a primary focus on bringing local and global solutions to global warming and its global changes, to disseminate information and to learn from each other's work.
Contents
IJGW publishes high-quality original papers, review articles, and technical notes in the area of global warming, covering a diverse range of topics and problems related but not limited to energy, environment, ecology, climate, economy, fuels, social and physical infrastructure, clean and green technologies, sustainable development, policy and strategy development, etc., with a common goal of addressing an issue or bringing a solution to the issue. Those pertaining to modelling, theory, analysis, computational methods and simulations, design, experiments, visualisation and measurement techniques are also appropriate for the journal. IJGW will also include letters to the editor, book reviews, an events calendar, etc.
Honorary Editor
Veziroglu, T. Nejat, IAHE, USA
Editor in Chief
Dincer, Ibrahim, University of Ontario Institute of Technology, Canada
(Ibrahim.Dinceruoit.ca)
Editorial Board Members
Agelin-Chaab, M., University of Ontario Institute of Technology, Canada
Barker, T., University of Cambridge, UK
Colpan, Can Özgür, Dokuz Eylül University, Turkey
Dimitriou, H., University College London, UK
Grammelis, Panagiotis, Centre for Research and Technologyand Chemical Process and Energy Resources Institute, Greece
Imai, Haruo, Kyoto University, Japan
Jones, I.S.F., University of Sydney, Australia
Leal Filho, Walter, Hamburg University of Applied Sciences, Germany
Massel, S., Polish Academy of Sciences, Poland
Midilli, Adnan, Yildiz Technical University, Turkey
Munasinghe, Mohan, Munasinghe Institute for Development (MIND), Sri Lanka
Reis, A. Heitor, University of Évora, Portugal
Riffat, S., University of Nottingham, UK
Sawa, T., Kyoto University, Japan
Schaffer, D., TWAS, The Academy of Sciences for the Developing World, Italy
Sen, Z., Istanbul Technical University, Turkey
Sinbuathong, Nusara, Kasetsart University, Thailand
Singh, H.B., NASA Ames Research Center, USA
Todorovic, M., University of Belgrade, Serbia
Von Weizsäcker, E.U., University of California, Santa Barbara, USA
Warner, K., United Nations University, Germany
Yildiz, Ilhami, Dalhousie University, Canada
Zhang, Xin-Rong (Ron), Peking University, China
Zhang, Zhihua, Shandong University, China
A few essentials for publishing in this journal
Submitted articles should not have been previously published or be currently under consideration for publication elsewhere.
Conference papers may only be submitted if the paper has been completely re-written (more details available here) and the author has cleared any necessary permissions with the copyright owner if it has been previously copyrighted.
Briefs and research notes are not published in this journal.
All our articles go through a double-blind review process.
All authors must declare they have read and agreed to the content of the submitted article. A full statement of our Ethical Guidelines for Authors (PDF) is available.
There are no charges for publishing with Inderscience, unless you require your article to be Open Access (OA). You can find more information on OA here.



Submission process

All articles for this journal must be submitted using our online submissions system.
View Author guidelines.
Journal news
How green is your t-shirt?
12 June, 2023
Research in the International Journal of Global Warming has looked at the study, the carbon footprint of t-shirts made from different materials. The textile and clothing industry is vast and so has a significant impact on climate change through gathering resources, processing and manufacturing of products, and supply to the market. The team undertaking the work is based at Zhejiang Sci-Tech University in Hangzhou, Zhejiang, China, and examines the entire lifecycle of these popular garments whether made from the wholly natural fibre, cotton, the semi-synthetic material viscose, or entirely synthetic polyester. They consider the various stages from raw material extraction to end-of-life disposal [...]
More details...
SMEs can't afford to chill in the face of heatwaves
25 July, 2023
As the world attempts to cope with the increasing frequency of intense heatwaves, soaring temperatures, wildfires, and extreme weather events that affect lives and livelihoods, communities and businesses have to adapt to cope with the undeniable. One area of concern is the vulnerability of small and medium enterprises (SMEs) to these extremes. Now, research in the International Journal of Global Warming, has focused on a particularly vulnerable region in the developing world, Visakhapatnam, India, in order to identify what measures are crucial to the necessary adaptation. The team, Hrishikesh Mahadev Rayadurgam and Prakash Rao of the Symbiosis Institute of International Business at Symbiosis International (Deemed to be University) in Hinjewadi, Pune, India, have used statistical modelling to delve into the factors contributing to the susceptibility of SMEs to problems arising from extreme heatwaves. The team's findings offer new insights, highlighting the factors that affect risk to SMEs and suggesting ways to mitigate the problems such companies face [...]
More details...