International Journal of Environment, Workplace and Employment
This journal also publishes Open Access articles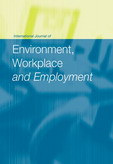 Editor in Chief

Prof. Daphne Halkias

ISSN online

1741-8445

ISSN print

1741-8437
4 issues per year


CiteScore

1.7 (2022)

IJEWE provides a refereed international forum for discussion and analysis of how empowering leaders and empowered employees participate in long-term value creation and cross-functional collaboration to shape the future of sustainability and social innovation.
Topics covered include
Systems by which entrepreneurial leaders and employees collaborate to shape a more economically and socially just global labour market
Business leaders, policymakers and investors developing environmental, social and governance (ESG) strategies as an essential business priority
Operationalising ESG strategies as tangible and meaningful goals for employees
Reskilling and upskilling employees for the job demands of the Fourth Industrial Revolution
Leaders and employees collaborating to create long-term value for businesses and the environment in marketing, finance, tourism, fashion, STEM, healthcare and education
Cross-functional collaboration in the workplace on change initiatives in organisations through digital transformation, design-thinking disruptive innovation, diffusion of innovations, and diffusion of artificial intelligence in the workplace
Developing metaverse sustainably into industry sectors, including marketing, fashion, tourism, healthcare and education
Building workforce ecosystems to promote public-private partnership
Employee participation in developing climate technologies to meet net-zero targets
Research, theoretical and policy agendas for an equitable and inclusive future of work across developed and developing economies
More on this journal...
Objectives
The objective of IJEWE is to establish channels of communication and to disseminate knowledge between managers and academics working in universities, government departments, research institutions, as well as industry and related organisations.
Readership
Academics, researchers, professionals and policy makers.
Contents
IJEWE publishes original papers, review papers, case studies and book reviews. Empirical, methodological and theoretical papers are welcome. Commentaries on papers and reports published in IJEWE are encouraged. Authors will have the opportunity to respond to the commentary on their work before the entire treatment is published. Special Issues devoted to important topics in Environment, Workplace, and Employment will be published occasionally.
Editor in Chief
Halkias, Daphne, École des Ponts ParisTech, France
(daphne_halkiasyahoo.com)
Editor
Diaz, Jordi, EADA Business School, Spain
Managing Editor
Harkiolakis, Tatiana, London School of Economics and Political Science, UK
Associate Editors
Alserhan, Baker Ahmad Abdullah, Princess Sumaya University for Technology (PSUT), Jordan
Harkiolakis, Nicholas, New England College, USA
Thurman, Paul W., Columbia University, USA
Editorial Board Members
Adendorff, Christian, Powerhouse Strategies, South Africa
Hollis, Leah, Boston University, USA
Jakpa-Johns, Evans, Walden University, UK
Jones-Esan, Larry, York St John University, UK
Komodromos, Marcos, University of Nicosia, Cyprus
Margaritis, Vasileios, Swiss School of Management, Greece
Mearman, Andrew, University of the West of England, UK
Mezgobo, Tewelde, Mekelle University, Ethiopia
Mystakidis, Stylianos, University of Patras and Hellenic Open University, Greece
Neubert, Michael, European Institute of Management, Malta
Pezzuto, Ivo, Catholic University of the Sacred Heart and University of Bergamo, Italy
Ramadani, Veland, South-East European University, North Macedonia
Sanders Muhammad, Ray, Georgia State University, USA
Santora, Joseph C., Ecole de Ponts Business School, France
Vlachopoulos, Dimitrios, Erasmus University Rotterdam, Netherlands
Xiong, Lisa, EMLyon Business School, France
Zeqiri, Jusuf, South East European University, North Macedonia
A few essentials for publishing in this journal
Submitted articles should not have been previously published or be currently under consideration for publication elsewhere.
Conference papers may only be submitted if the paper has been completely re-written (more details available here) and the author has cleared any necessary permissions with the copyright owner if it has been previously copyrighted.
Briefs and research notes are not published in this journal.
All our articles go through a double-blind review process.
All authors must declare they have read and agreed to the content of the submitted article. A full statement of our Ethical Guidelines for Authors (PDF) is available.
There are no charges for publishing with Inderscience, unless you require your article to be Open Access (OA). You can find more information on OA here.



Submission process

All articles for this journal must be submitted using our online submissions system.
View Author guidelines.