International Journal of Corporate Strategy and Social Responsibility
This journal also publishes Open Access articles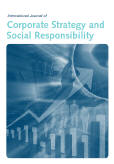 Editor in Chief

Dr. M.A. Dorgham

ISSN online

2054-8087

ISSN print

2054-8079
4 issues per year

The possibility that firms can develop a competitive edge over rivals by investing in social initiatives has been made increasingly likely over recent years by changes in consumer behaviour and policy choices towards the society. IJCSSR fosters discussion on unresolved theoretical and empirical issues relating to the strategic implications of CSR and acknowledges that analysis of these implications can be hampered by cross-cultural differences. This perspective recognises the role of a firm's value chain in attaining competitive advantage through CSR.
Topics covered include
Building social responsibility into corporate strategy
Cross-cultural corporate social responsibility (CSR)
CSR in banking industry and financial institutions
Socially responsible investment (SRI)
Green supply chain analysis and social responsibility in global supply chains
Integrating ethics and social responsibility in marketing strategies
Clean production and sustainable product design and development
Strategic human resources management and social responsibility
Leadership, creativity, and social responsibility
Economics of CSR
Reporting and auditing of CSR
Comparative studies in CSR
Social responsibility in public service organisations and NGOs
Strategic CSR for SMEs
Best practices and business case for corporate social and environmental responsibility
More on this journal...
Objectives
The objective of IJCSSR is to encourage and motivate original corporate strategy and social responsibility research and its application for competitiveness of manufacturing, service and governmental and nongovernmental organisations. The journal deals with strategy and social responsibility at function-level as well as from the firm perspective.
Readership
IJCSSR is a forum to help managers, professionals, practitioners, researchers and policy makers concerned with contemporary developments in the field of corporate strategy and social responsibility to exchange their knowledge and publicise their conclusions. IJCSSR attracts people from a variety of disciplines such as strategic management, marketing, corporate finance, production economics, operations research, inventory management, industrial engineering, materials management, supply chain management, statistics, human resources, economics, etc.
Contents
IJCSSR publishes original and innovative papers. Empirical studies, survey papers, technical correspondence, case studies and book reviews are relevant to IJCSSR, provided there is practical managerial relevance. State-of-the-art review papers that examine and evaluate recent developments of corporate strategy and social responsibility will also be considered. Special Issues devoted to important topics in corporate strategy and social responsibility will occasionally be published.
Editor in Chief
Dorgham, M.A., International Centre for Technology and Management, UK
(supportinderscience.com)
Editorial Board Members
Al-Tamimi, Hussein, University of Sharjah, United Arab Emirates
Bouvain, Petra, University of Canberra, Australia
Brown, Mike, Birmingham City University, UK
Callan, Scott, Bentley University, USA
Chen, Injazz J., Cleveland State University, USA
Fifka, Matthias, University Erlangen-Nuernberg, Germany
Fooks, Gary, University of Bath, UK
Joseph, Corina, Universiti Teknologi MARA Sarawak, Malaysia
Kasim, Azilah, Universiti Utara Malaysia, Malaysia
Lee, Seoki, Pennsylvania State University, USA
Luetge, Christoph, Technical University of Munich, Germany
Matute, Jorge, University of Zaragoza, Spain
Nejati, Mehran, Universiti Sains Malaysia (USM), Malaysia
Nkundabanyanga, Stephen Korutaro, Makerere University, Uganda
Pathan, Shams, University of Queensland, Australia
Perez, Andrea, University of Cantabria, Spain
Rahman, Zillur, Indian Institute of Technology Roorkee, India
Rashid, Afzalur, University of Southern Queensland , Australia
Semenova, Natalia, Umeå University, Sweden
Shen, Chung-Hua, Shih Chien University, Taiwan, Province of China
Wahba, Hayam, Ain Sham University, Egypt
Weber, Olaf, University of Waterloo , Canada
Wu, Meng-Wen, National Taipei University, Taiwan, Province of China
A few essentials for publishing in this journal
Submitted articles should not have been previously published or be currently under consideration for publication elsewhere.
Conference papers may only be submitted if the paper has been completely re-written (more details available here) and the author has cleared any necessary permissions with the copyright owner if it has been previously copyrighted.
Briefs and research notes are not published in this journal.
All our articles go through a double-blind review process.
All authors must declare they have read and agreed to the content of the submitted article. A full statement of our Ethical Guidelines for Authors (PDF) is available.
There are no charges for publishing with Inderscience, unless you require your article to be Open Access (OA). You can find more information on OA here.



Submission process

All articles for this journal must be submitted using our online submissions system.
View Author guidelines.