International Journal of Comparative Management
This journal also publishes Open Access articles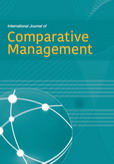 Editor in Chief

Prof. Vishwanath V. Baba

ISSN online

2514-412X

ISSN print

2514-4111
4 issues per year

IJCM aims to publish mainly comparative studies in all fields of management including accounting, corporate strategy, finance, information systems, international business, human resources, marketing and organisational behaviour. The journal is a focal venue for theory-driven research grounded in comparative perspectives such as context, ownership, strategy, communication, performance and methods. IJCM invites all forms of comparative investigations leveraging theoretical or empirical observations using qualitative or quantitative methods based on survey, interview or archival data.
Topics covered include
Comparative strategic management perspectives
Comparative investigations in marketing management
Comparative analysis in corporate finance
Comparative discoveries in international business
Comparative frameworks in emerging market economies
Comparative cultural studies in business management
Government, publicly listed, private and family-owned enterprises
Strategic alliances, joint ventures and technological collaborations
Mergers, acquisitions, takeovers, buyouts and diversification
Internationalisation strategy, business groups and firm performance
Business models, new venturing and entrepreneurship
Comparative issues in human resource and general management
Foreign direct investment, economic growth and developing economies
Comparative economic policy analysis and international development
Cross-disciplinary/country/industry implications for comparative management
More on this journal...
Objectives
The objective of IJCM is to become a leading international forum for comparative research ideas in the changing dynamics of globalised production and value-chain systems driven by economic transitions, cultural adaptation and technology transfer. The journal aims to bridge the knowledge gap between academia and business practice. The editorial board recognises "best paper/reviewer" of each volume with a certificate of appreciation.
Readership
IJCM is an international academic platform to communicate and discuss managerial and policy-driven research findings among academic scholars, policy makers, independent researchers and corporate managers.
Contents
IJCM publishes conceptual and empirical papers, survey research, literature review papers, case study research and methodology ideas. Special Issues devoted to important topics within comparative management perspectives will occasionally be published.
Editor in Chief
Baba, Vishwanath V., McMaster University , Canada
(editorinchief.ijcmgmail.com)
Managing Editor
Miecznikowski, Victoria, McMaster University, Canada
Associate Editors
Caiazza, Rosa, Parthenope University of Naples, Italy
Galperin, Bella, University of Tampa, USA
Wang, Haibo, Texas A&M International University, USA
Advisory Board
Acquaah, Moses, University of North Carolina Greensboro, USA
Bodolica, Virginia, American University of Sharjah, United Arab Emirates
Igel, Barbara, Skolkovo Moscow School of Management, Russian Federation
Larraza-Kintana, Martin, Universidad Pública de Navarra, Spain
Sharma, Basu, University of New Brunswick, Canada
Stokes, Peter, De Montfort University, UK
Verbeke, Alain, University of Calgary, Canada
Wang, Greg G., The University of Texas at Tyler, USA
Editorial Board Members
Abbas, Muhammad, National University of Computer and Emerging Sciences, Pakistan
Abu-Shanab, Emad, Qatar University, Qatar
Agarwala, Tanuja, University of Delhi, India
Alberti, Fernando G., LIUC Università Cattaneo, Italy
Badir, Yuosre, Asian Institute of Technology, Thailand
Behl, Abhishek, O.P. Jindal Global University, India
Borim-de-Souza, Rafael, Universidade Estadual de Londrina, Brazil
Kumar, Divesh, Malaviya National Institute of Technology, India
Mouraviev, Nikolai, Abertay University, UK
Sana, Shib Sankar, Kishore Bharati Bhagini Nivedita College, India
Tarus, Daniel Kipkirong, Moi University, Kenya
A few essentials for publishing in this journal
Submitted articles should not have been previously published or be currently under consideration for publication elsewhere.
Conference papers may only be submitted if the paper has been completely re-written (more details available here) and the author has cleared any necessary permissions with the copyright owner if it has been previously copyrighted.
Briefs and research notes are not published in this journal.
All our articles go through a double-blind review process.
All authors must declare they have read and agreed to the content of the submitted article. A full statement of our Ethical Guidelines for Authors (PDF) is available.
There are no charges for publishing with Inderscience, unless you require your article to be Open Access (OA). You can find more information on OA here.



Submission process

All articles for this journal must be submitted using our online submissions system.
View Author guidelines.
Journal news
Inderscience journals accepted for indexing in Studies on Women and Gender Abstracts database
25 September, 2023
The Editorial Office is pleased to report that the following journals have been accepted for indexing in Taylor & Francis's Studies on Women and Gender Abstracts database: