International Journal of Markets and Business Systems
This journal also publishes Open Access articles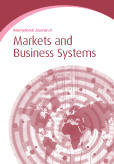 Editor in Chief

Prof. Gandolfo Dominici

ISSN online

2056-4120

ISSN print

2056-4112
2 issues per year

IJMABS proposes and fosters discussion on cutting-edge system theory and grounded research and practice addressing new ways of thinking, models and methodologies for understanding and acting within the complexities of market and organisational environments. The journal seeks to contribute to debates concerning the challenges of today regarding local and global economies and society. IJMABS is the official journal of the scientific society, Business Systems Laboratory.
Topics covered include
Systemic approaches to organisations in their environments
Qualitative research methods for markets and organisations
Communication systems, internal and external, to manage organisations
Innovation and design of social interactions
Sustainability in ecologies of organisational connections
Social responsibility and business ethics
Complexity and chaos theory
Service-dominant logic
Knowledge and information management
Systems thinking and system dynamics
The management of change
Startup and business incubation systems
Market and consumption systems
Market, public and business systems education
Financial systems
More on this journal...
Objectives
IJMABS aims to be a channel of communication between academics, researchers and practitioners concerned with understanding the complex human and technological interactions in today's market and organisational environments. It promotes new business theories in the context of the rapid technological, cultural and economic changes that transform how business can be conducted. Contemporary business practices can no longer be limited to cultures and nations. The journal aims to encourage debate on the new ways of thinking and acting required by the growing global economy and increasing connectedness of organisational and market decisions.
Readership
IJMABS is intended to aid academics, researchers, professionals, and policy makers to deal with the complexities of business environments, encouraging collaboration, information dissemination and facilitation of education.
Contents
IJMABS publishes original papers, reviews and case studies. It also publishes one special issue each year with revised papers presented at the Business Systems Laboratory annual symposia as well as other special issues devoted to important topics that emerge in domain of the market, public and business systems community. IJMABS grew out of the Business Systems Review; issues of BSR may be found via this link.
Editor in Chief
Dominici, Gandolfo, Business Systems Laboratory and University of Palermo, Italy
(gandolfo.dominicilibero.it)
Associate Editors
Del Giudice, Manlio, University of Rome "Link Campus", Italy
Di Fatta, Davide, University of Palermo, Italy
Assistant Editors
Caputo, Francesco, Università degli Studi di Napoli Federico II, Italy
Papa, Armando, University of Turin, Italy
Advisory Board
Bosch, Ockie, University of Adelaide, Australia
Espejo, Raul, World Organisation of Systems and Cybernetics and Syncho Research , UK
Jackson, Mike C., University of Hull, UK
Krippendorff, Klaus, University of Pennsylvania, USA
Mella, Piero, Pavia University, Italy
Mulej, Matjaz, University of Maribor, Slovenia
Schwaninger, Markus, University of St. Gallen, Switzerland
Stowell, Frank, University of Portsmouth, UK
Yolles, Maurice, Liverpool John Moores University, UK
Editorial Board Members
Bardy, Roland, Florida Gulf Coast University, USA
Basile, Gianpaolo, Business Systems Laboratory, Italy
Bechter, Clemens, Thammasat University, Thailand
Blachfellner, Stefan, Bertalanffy Center for the Study of Systems Science, Austria
Brunsonn, Karin, Uppsala University and Jönköping University, Sweden
Casali, Gian Luca, Queensland University of Technology, Australia
Dobson, Stephen, Leeds University, UK
Erçetin, Sefika Sule, Hacettepe University and International Science Association, Turkey
Fuentalsaz, Lucio, Universidad de Zaragoza, Spain
Gagnidze, Ineza, Ivane Javakhishvili Tbilisi State University, Georgia
Giesler, Markus, York University, Canada
Hernandez-Carriòn, Josè Rodolfo, University of Valencia, Spain
Heydari, Nastaran Haji, University of Tehran, Iran
Ibrahim, Rahinah, Universiti Putra Malaysia, Malaysia
Klein, Louis, Systemic Excellence Group, Germany
Laszlo, Alexander, Instituto Tecnológico de Buenos Aires, Argentina
Lee, Rich, National Tsing-Hua University, Fu Jenen Catholic University and IBM Taiwan, Taiwan, Province of China
Löbler, Helge, University of Leipzig, Germany
Martin, Diane, Aalto University, Finland
McDonagh, Pierre, University of Bath, UK
Mocciaro Li Destri, Arabella, University of Palermo, Italy
Nguyen, Nam, University of Adelaide, Australia
Okura, Mahito, Doshisha Women's College of Liberal Arts, Japan
Ourhamoune, Nassima, NEOMA Business School, France
Perano, Mirko, Reald University of Vlorë, Albania
Raguž, Ivona Vrdoljak, University of Dubrovnik, Croatia
Scannella, Enzo, University of Palermo, Italy
Sciarelli, Mauro, University of Naples Federico II, Italy
Skarzauskiene, Aelita, Mykolas Romeris University, Lithuania
Stepanić, Josip, University of Zagreb, Croatia
Wallner, Thomas, University of Applied Sciences Upper Austria, Austria
Editorial Assistant
Roblek, Vasja, Fizioterapevtika, Slovenia
A few essentials for publishing in this journal
Submitted articles should not have been previously published or be currently under consideration for publication elsewhere.
Conference papers may only be submitted if the paper has been completely re-written (more details available here) and the author has cleared any necessary permissions with the copyright owner if it has been previously copyrighted.
Briefs and research notes are not published in this journal.
All our articles go through a double-blind review process.
All authors must declare they have read and agreed to the content of the submitted article. A full statement of our Ethical Guidelines for Authors (PDF) is available.
There are no charges for publishing with Inderscience, unless you require your article to be Open Access (OA). You can find more information on OA here.



Submission process

All articles for this journal must be submitted using our online submissions system.
View Author guidelines.