International Journal of Knowledge Management in Tourism and Hospitality
This journal also publishes Open Access articles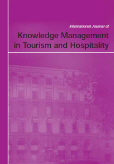 Editor in Chief

Prof. Angappa Gunasekaran

ISSN online

1756-0330

ISSN print

1756-0322
4 issues per year

IJKMTH provides a forum for academics and practitioners to contribute to the body of knowledge on hospitality. With the industry in dynamic change and consumers with ever more demanding expectations, IJKMTH aims to develop a platform where new theoretical and practical topics are presented with the vision to enhance as well as maintain a leadership role within the hospitality literature.
Topics covered include
Human resource management
Leadership
Strategic management
E-marketing
Yield and revenue management
Wellness and spa management
Event management
Operation management
Design and architecture
Social responsibility, ethical and cultural issues
Marketing and segmentation
Consumer behaviour
Quality management techniques: six sigma, ISO 9000
Risk and investment strategies
Sustainability and green issues
More on this journal...
Objectives
The objectives of IJKMTH can be viewed as twofold: firstly, to challenge and enhance the existing literature; secondly, to provide the platform where new practices are discussed, enabling the development of new techniques for researching as well as managing the hospitality industry. With its international scope and principles of hospitality, it aspires to become a leading journal in the field of the hospitality industry.
Readership
The readership of IJKMTH covers both academics and practitioners. IJKMTH will provide a platform for debate and will contribute towards the dissemination of knowledge amongst academics, practitioners, government departments, non-governmental organisations, consultants, researchers and students of the industry.
Contents
IJKMTH publishes theoretical papers, empirical papers, case studies and book reviews. Special issues of the journal will also be produced in which selected papers from hospitality and tourism conferences will be published.
Editor in Chief
Gunasekaran, Angappa, Penn State Harrisburg, USA
(an.gunasekarangmail.com)
Editorial Board Members
Agiomirgianakis, George M., The Hellenic Mediterranean University, Greece
Clavijo, Henry, Institut Paul Bocuse, France
Dwyer, Larry, University of New South Wales, Australia
Knowles, Tim, Manchester Metropolitan University, UK
Lashley, Conrad, Nottingham Trent University, UK
McKercher, Bob, The Hong Kong Polytechnic University, Hong Kong SAR, China
Morrison, Alison, University of Strathclyde, UK
Pizam, Abraham, University of Central Florida, USA
Smith, Ginger, New York University, USA
Swarbrooke, John, Plymouth University, UK
Vaughan, David Roger, Bournemouth University, UK
Vieregge, Michael, University Centre César Ritz, Switzerland
Wickens, Eugenia, Buckinghamshire New University, UK
Wood, David, theHospitality.biz, UK
A few essentials for publishing in this journal
Submitted articles should not have been previously published or be currently under consideration for publication elsewhere.
Conference papers may only be submitted if the paper has been completely re-written (more details available here) and the author has cleared any necessary permissions with the copyright owner if it has been previously copyrighted.
Briefs and research notes are not published in this journal.
All our articles go through a double-blind review process.
All authors must declare they have read and agreed to the content of the submitted article. A full statement of our Ethical Guidelines for Authors (PDF) is available.
There are no charges for publishing with Inderscience, unless you require your article to be Open Access (OA). You can find more information on OA here.



Submission process

All articles for this journal must be submitted using our online submissions system.
View Author guidelines.