International Journal of Intelligent Machines and Robotics
This journal also publishes Open Access articles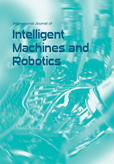 Editor in Chief

Prof. Zhen Gao

ISSN online

2398-7529

ISSN print

2398-7510
4 issues per year

IJIMR is an academic platform which puts the emphasis on disseminating state-of-art technology in the interdisciplinary fields of machine intelligence, advanced robots and real-life applications. This is important because of the ubiquitous nature of intelligent machines and their increasing impact on society. Aiming to fill the gap between academia and industry, IJIMR also welcomes the contributions on robotics and automation education
Topics covered include
Industrial automation and process control
System control and data acquisition
Industrial robots, service robots
Intelligent robots, autonomous robots, collaborative robots
Robotics and computer integrated manufacturing
Cloud machines, cloud robots
Smart systems, HCI, brain computer interface
Artificial intelligence, big data and analytics
Industry 4.0
Internet of things, industrial IoT
Machine learning
Machine vision and image processing
Human-machine interaction
Machine emotion and consciousness
Robotics and automation education
More on this journal...
Objectives
The objective of IJIMR is to report and encourage discussion on cutting-edge research and practical applications that will support and foster innovation and technology improvements related to this important subject. It aims to become a key international forum for stimulating and sharing global knowledge on all kinds of automated and intelligent systems to advance innovative theories and practices in related areas. The journal will put more emphasis on the applications of robotics, automation and smart systems to boost the technology progress and to bring benefits to academia and industry, as well as our daily life.
Readership
IJIMR provides a vehicle to help professionals, academics, researchers and policy makers working in the field of artificial intelligence, advanced robotics and automation education to disseminate information and to learn from each other's work.
Contents
IJIMR publishes original papers, review papers, technical reports, case studies and book reviews. Special sections devoted to robotics and automation education will occasionally be published.
IJIMR is indexed in:
IJIMR is listed in:

This journal is yet to be included in any lists or directories.

Honorary Editor
Singh, Ishwar, McMaster University, Canada
Editor in Chief
Gao, Zhen, McMaster University, Canada
(ijimr.editorgmail.com)
Associate Editors
Espinosa, Felipe, University of Alcala, Spain
Fu, Baochuan, Suzhou University of Science and Technology, China
Editorial Board Members
Akmeliawati, Rini, International Islamic University Malaysia, Malaysia
Awad, Mohammed I., University of Leeds, UK
Bi, Yu, University of Central Florida, USA
Dasgupta, Ranjan, Tata Consultancy Services, India
Dinakaran, D., Hindustan Institute of Technology and Science, India
Malosio, Matteo, National Research Council of Italy, Italy
Palani, I. A., Indian Institute of Technology Indore, India
Plaza Merino, Pedro, Siemens, Spain
Ranga, V. Pandu, IIT Bhubaneswar, India
Reif, Wolfgang, University of Augsburg, Germany
Rivas Lalaleo, David, Universidad de las Fuerzas Armadas ESPE, Ecuador
Rosell-Polo, Joan R., University of Lleida, Spain
Xing, Jinlei, Schneider Electric, China
A few essentials for publishing in this journal
Submitted articles should not have been previously published or be currently under consideration for publication elsewhere.
Conference papers may only be submitted if the paper has been completely re-written (more details available here) and the author has cleared any necessary permissions with the copyright owner if it has been previously copyrighted.
Briefs and research notes are not published in this journal.
All our articles go through a double-blind review process.
All authors must declare they have read and agreed to the content of the submitted article. A full statement of our Ethical Guidelines for Authors (PDF) is available.
There are no charges for publishing with Inderscience, unless you require your article to be Open Access (OA). You can find more information on OA here.



Submission process

All articles for this journal must be submitted using our online submissions system.
View Author guidelines.