International Journal of Intelligent Engineering Informatics
This journal also publishes Open Access articles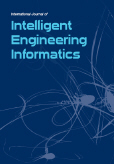 Editor in Chief

Prof. Ahmad Taher Azar

ISSN online

1758-8723

ISSN print

1758-8715
4 issues per year


Impact factor (Clarivate Analytics) 2023

6.3 (5 Year Impact Factor 4.6)
JCI 0.4
IJIEI addresses a new discipline dedicated to interdisciplinary research on artificial intelligence, cognitive science, intelligent control, machine learning, information technology and chaos theory. Intelligent engineering informatics can be seen as an emerging science supporting engineering management activities using computational intelligence, soft computing and knowledge reasoning techniques. IJIEI highlights new techniques and systems using the cognitive and intelligent paradigms mentioned above. It will therefore particularly highlight intelligence and knowledge as well as engineering applications.
Topics covered include
Artificial immune systems and swarm intelligence systems
Autonomous agents, autonomy-oriented computation, multi-agent systems
Chaos theory and intelligent control systems
Computational intelligence and soft computing
Cognitive systems
Knowledge discovery and ontology engineering
Evolutionary computation and DNA/cellular/molecular computing
Fault detection, fault analysis and diagnostics
Human-computer interaction, virtual reality in engineering applications
Information storage, security, integrity, privacy and trust
Machine vision and image processing
Pattern recognition, speech recognition and synthesis
Rough sets and granular computing
Social/engineering intelligence, web intelligence/mining
Ubiquitous, grid and high performance computing
More on this journal...
Objectives
The main objectives of IJIEI are to foster the discipline of 'intelligent engineering informatics' and establish an effective discussion platform between academic and research institutions, engineering management agencies, and persons concerned with intelligent informatics and its engineering applications. At the same time, it also aims to promote developments in the fields of intelligent informatics, computational intelligence, soft computing, chaos theory and control systems.
Readership
IJIEI provides an effective channel for academics, researchers, engineers and technologists, working in the broad areas of intelligent systems and development-related technologies including robotics, mechatronics, artificial intelligence, computer science, computational intelligence, soft computing, control systems, chaos theory, advanced computing and modelling, as well as their applications in manufacturing, bioengineering, agriculture, horticulture, space and medical fields, to disseminate information and to learn from each other's work. The readership will have a wide range across the world.
Contents
IJIEI publishes original research papers and state-of-the-art review papers which cover new developments, innovations and future trends in the field, as well as new methodologies, techniques and case studies. Special Issues devoted to important topics in intelligent engineering informatics will occasionally be published. Technical notes, briefs and reports are also published to discuss new technical concepts and developments, and new applications of existing techniques.
Editor in Chief
Azar, Ahmad Taher, Prince Sultan University, Kingdom of Saudi Arabia and Benha University, Egypt
(ahmad_t_azarieee.org)
Managing Editors
Kamal, Nashwa Ahmad, Cairo University, Egypt
Sapidis, Nickolas S., University of Western Macedonia, Greece
Associate Editor
Vaidyanathan, Sundarapandian, Vel Tech University, India
Regional Editor Africa
Rhif, Ahmed, University of Carthage, Tunisia
Regional Editor Asia
Oleiwi, Bushra Kadhim, University of Technology, Iraq
Regional Editor Middle East
Hassanien, Aboul Ella, Cairo University, Egypt
Editorial Board Members
Awasthi, Anjali, Concordia University, Canada
Bastan, Mahdi, University of Eyvanekey, Iran
Ben Abdallah, Mariem, Monastir University, Tunisia
Çunkaş, Mehmet, Selcuk University, Turkey
Djemai, Mohamed, University Polytechnic Hauts-de-France, France
Fouad, Khaked M., Benha University, Egypt
Gaber, Tarek, Suez Canal University, Egypt
Galli, Brian, Long Island University, USA
Gao, Xiao-Zhi, University of Eastern Finland, Finland
Garg, Sandeep Kumar, Banaras Hindu University, India
Hameed, Ibrahim A., Norwegian University of Science and Technology (NTNU), Norway
Hannah Inbarani, H., Periyar University, India
Haqiq, Abdelkrim, Hassan 1st University, Morocco
Karaköse, Mehmet, Firat University, Turkey
Karawash, Ahmad, University of Quebec at Chicoutimi, Canada
Malek, Jihene, Higher Institute of Applied Sciences and Technology Sousse, Tunisia
Mavrommati, Irene, Hellenic Open University, Greece
Moore, Philip, University College Falmouth, UK
Munoz-Pacheco, Jesus Manuel, Autonomous University of Puebla, Mexico
Niazi, Muaz A., COMSATS Institute of Information Technology, Pakistan
Nizar Banu, P. K., B.S. Abdur Rahman University, India
Pan, Tianhong, Anhui University, China
Pham, Viet-Thanh, Hanoi University of Science and Technology, Vietnam
Polat, Kemal, Abant Izzet Baysal University, Turkey
Raheem, Firas, University of Technology, Iraq
Ramadan, Rabie A., Hail University, Saudi Arabia
Rokbani, Nizar, ISSAT - University of Sousse, Tunisia
Sassi-Hidri, Minyar, National Engineering School of Tunis (ENIT), Tunisia
Shaikh, Asadullah, Najran University, Saudi Arabia
Souri, Alireza, Haliç University, Turkey
Turunen, Esko, Tampere University of Technology, Finland
Volos, Christos, Aristotle University of Thessaloniki, Greece
Xu, Jin, Behavior Matrix LL, USA
A few essentials for publishing in this journal
Submitted articles should not have been previously published or be currently under consideration for publication elsewhere.
Conference papers may only be submitted if the paper has been completely re-written (more details available here) and the author has cleared any necessary permissions with the copyright owner if it has been previously copyrighted.
Briefs and research notes are not published in this journal.
All our articles go through a double-blind review process.
All authors must declare they have read and agreed to the content of the submitted article. A full statement of our Ethical Guidelines for Authors (PDF) is available.
There are no charges for publishing with Inderscience, unless you require your article to be Open Access (OA). You can find more information on OA here.



Submission process

All articles for this journal must be submitted using our online submissions system.
View Author guidelines.
Journal news
International Journal of Intelligent Engineering Informatics indexed by Scopus and celebrates Clarivate impact factor
19 September, 2023
We are pleased to announce that the International Journal of Intelligent Engineering Informatics has been indexed in Elsevier's Scopus database.
Prof. Ahmad Taher Azar, the journal's Editor in Chief, has provided the following statement:
"The indexing of the International Journal of Intelligent Engineering Informatics by Scopus - one of the most prestigious academic databases in the world - represents a significant milestone for our journal, and signifies a major step forward in our mission to disseminate high-quality research to a global audience.
Furthermore, we are delighted to share that IJIEI has achieved an impressive Clarivate impact factor of 6.3. This remarkable recognition underscores the exceptional quality of the research published in our journal and the dedication of our scholarly community.
We would like to express our deepest gratitude to our esteemed Inderscience journal team and board members, whose guidance and expertise have played an instrumental role in shaping the journal's direction. We also extend our heartfelt thanks to our authors, whose insightful contributions have enriched our publication, and to our diligent reviewers for their invaluable support in maintaining our high standards.
This accomplishment is a testament to the collective effort and commitment of our entire community. As we move forward, we remain dedicated to fostering excellence in research and providing a platform for the dissemination of groundbreaking discoveries.
Thank you for your unwavering support and trust in the International Journal of Intelligent Engineering Informatics. We look forward to continuing this remarkable journey together."
New Clarivate Web of Science impact factors for Inderscience journals
6 July, 2023
Clarivate has recently released its latest impact factors, and Inderscience's Editorial Office is pleased to report that many Inderscience journals have increased their impact factors, including the following titles:
The International Journal of Hydromechatronics deserves a special mention for earning an impressive initial impact factor of 5.1.