International Journal of Information and Computer Security
This journal also publishes Open Access articles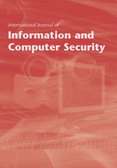 Editor in Chief

Associate Prof. Biju Issac

ISSN online

1744-1773

ISSN print

1744-1765
12 issues per year


CiteScore

1.1 (2022)

Information and computer security are especially significant with the ubiquity of the internet and the rise of high-speed broadband networks. Information sharing among network users has caused countless invasions of privacy and security worldwide, with hackers demanding ransoms from organisations. This risk has generated enormous concern about security among internet users. IJICS is a double-blind refereed and authoritative reference which addresses information and computer security in computer/mobile networks. High-quality case studies, applications, novel ideas and survey papers are welcome.
Topics covered include
Cyber security, cloud security, blockchain security
AI/machine learning in security, data mining in security
Malware and botnet detection, virus/worm controls
Computer crime prevention/detection, digital/cyber forensics and analysis
Confidentiality protection, cryptography and data protection
Information warfare, denial of service protection, spoofing protection
e-Commerce security; image, audio and video security
Android/iOS security, database and data security
Information ethics, privacy issues, information security
Social media abuse detection, intrusion detection and prevention, network security
Risk management, safety-critical systems
Secure communications technology and computer systems
Security control measures, policy models and authentication
Software and hardware security architectures
Wireless/mobile network and data security
More on this journal...
Objectives
IJICS focuses on theory, design, implementation, analysis, and application of secure information and computer systems. Emphases will also be on the related social, political and economic issues as well as emerging issues of interest to legislators, professionals, researchers, academics, and technical community.
Readership
Professionals, researchers, legislators, academics, and technical community.
Contents
IJICS publishes original and review papers, technical reports, case studies, conference reports, management reports, book reviews, notes, and commentaries. Contribution may be by submission or invitation, and suggestions for special issues and publications are welcome.
Honorary Editor in Chief
Li, Eldon Y., National Chung Cheng University, Taiwan, Province of China
Editor in Chief
Issac, Biju, Northumbria University, UK
(bissacieee.org)
Former Editor in Chief
Tso, Raylin, National Chengchi University, Taiwan, Province of China
Executive Editor
Chen, Chien-Ming, Harbin Institute of Technology, China
Associate Editor
Xiong, Hu, University of Electronic Science and Technology of China, China
Editorial Board Members
Agrawala, Ashok K., University of Maryland, USA
Amin, Massoud, University of Minnesota, USA
Atluri, Vijay, Rutgers University, USA
Bertino, Elisa, Purdue University, USA
Burmester, Michael, Florida State University, USA
Canas, Daniel, Wake Forest University, USA
Chapin, Steve J., Syracuse University, USA
Chen, Hsinchun, The University of Arizona, USA
Chen, Jinjun, Swinburne University of Technology, Australia
Davida, George, University of Wisconsin at Milwaukee, USA
Davis, James A., Iowa State University, USA
Denning, Dorothy, Naval Postgraduate School, USA
Doi, Norihisa, Chuo University, Japan
Frincke, Deborah A., Pacific Northwest National Laboratory, USA
Hinke, Thomas H., NASA Ames Research Center, USA
Honavar, Vasant, Iowa State University, USA
Imai, Hideki, Chuo University, Japan
Irwin, J. David, Electrical and Computer Engineering Department, USA
Jajodia, Sushil, Center for Secure Information Systems, USA
Khosla, Pradeep, Department of Electrical and Computer Engineering and Information Networking Institute (INI), USA
Killcrece, Georgia T., Carnegie Mellon University, USA
Kim, Kwangjo, Information and Communications University, South Korea
Ladd, David, Microsoft Research, USA
Lam, Kwok-Yan, Nanyang Technological University, Singapore
Lee, Der-Tsai, Academia Sinica, Taiwan, Province of China
Lee, Ruby B., Princeton University, USA
Liu, Ximeng, Singapore Management University, Singapore & Xidian University, Singapore
Müller, Günter, Albert-Ludwig University of Freiburg, Germany
Manaf, Azizah Abd, Universiti Teknologi Malaysia, Malaysia
Martella, Giancarlo, University of Milano, Italy
Mclean, John D., Naval Research Laboratory, USA
Micali, Silvio, Massachusetts Institute of Technology, USA
Miller, Les, Iowa State University, USA
Ostrovsky, Rafail, University of California at Los Angeles, USA
Palmer, Charles C., IBM T.J. Watson Research Center, USA
Pieprzyk, Josef, Queensland University of Technology, Australia
Porras, Phillip A., SRI International, USA
Preneel, Bart, Katholieke Universiteit Leuven, Belgium
Qing, Sihan, Chinese Academy of Sciences, China
Reeves, Douglas, North Carolina State University, USA
Rubin, Aviel, Johns Hopkins University, USA
Safavi-Naini, Rei, University of Wollongong, Australia
Samarati, Pierangela, Università degli Studi di Milano, Italy
Shieh, Shiuhpyng, National Chiao Tung University, Taiwan, Province of China
Spafford, Eugene, Purdue University, USA
Staddon, Jessica, Palo Alto Research Center, USA
Thuraisingham, Bhavani, University of Texas at Dallas, USA
Ting, T.C., University of Connecticut, USA
Tygar, Doug, University of California at Berkeley, USA
Varadharajan, Vijay, Macquarie University, Australia
Wallach, Dan S., Rice University, USA
Warren, Mathew J., Deakin University, Australia
Wong, Johnny, Iowa State University, USA
Wool, Avishai, Tel Aviv University, Israel
Wright, Rebecca, Rutgers University, USA
Wu, Chwan-Hwa (John), Auburn University, USA
Yang, Ming-Hour, Chung Yuan Christian University, Taiwan, Province of China
Yang, Shuang-Hua, Loughborough University, UK
Yu, Fang, National Chengchi University, Taiwan, Province of China
Zeleznikow, John, Victoria University, Australia
A few essentials for publishing in this journal
Submitted articles should not have been previously published or be currently under consideration for publication elsewhere.
Conference papers may only be submitted if the paper has been completely re-written (more details available here) and the author has cleared any necessary permissions with the copyright owner if it has been previously copyrighted.
Briefs and research notes are not published in this journal.
All our articles go through a double-blind review process.
All authors must declare they have read and agreed to the content of the submitted article. A full statement of our Ethical Guidelines for Authors (PDF) is available.
There are no charges for publishing with Inderscience, unless you require your article to be Open Access (OA). You can find more information on OA here.



Submission process

All articles for this journal must be submitted using our online submissions system.
View Author guidelines.
Journal news
A puzzling approach to encryption
11 August, 2023
A novel advance in data security is discussed in the International Journal of Information and Computer Security in which the Japanese puzzle known as Sudoku promises a cryptographic system for text information that works even in situations where computational power is limited. The approach could have applications in devices with constrained computer resources such as radio-frequency identification devices (RFID), medical and healthcare instruments, remote sensing networks, and smart cards. Shadi R. Masadeh of the Department of Cyber Security at Isra University, in Amman, Jordan, Hamza Abbass Al-Sewadi of the Computer Technology Engineering Department at Iraq University College, in Basrah, and Mohammad Abbas Fadhil Al-Husainy of the Al-Maaqal University also in Basrah, Iraq, demonstrate how the dynamic nature of the Sudoku puzzle can be used as the basis of a secret encryption key, or cipher, to unlock a new approach to securing sensitive information [...]
More details...