International Journal of Hydrology Science and Technology
This journal also publishes Open Access articles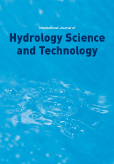 Editor in Chief

Prof. Saeid Eslamian

ISSN online

2042-7816

ISSN print

2042-7808
8 issues per year


Impact factor (Clarivate Analytics) 2023

1.8
JCI 0.32

CiteScore

2.4 (2022)

IJHST is a peer-reviewed international journal covering research and practical studies on hydrological science, technology, water resources and related topics including water, air and soil pollution and hazardous waste issues. IJHST was initiated to communicate ideas, findings, methods, techniques or summaries of interesting projects or investigations in the area of hydrology.
Topics covered include
Dams and modelling reservoir operations
Geostatistics, groundwater modelling
Climate change and variability
Eco-hydrology and hydro-ecology
Environmental hydrology and hydraulics
Flood and drought regionalisation and control
Rain, evapotranspiration and wind analysis
Remote sensing, GIS and data analysis
River and sediment engineering
Urban, surface, snow and karst hydrology
Water distribution networks; irrigation, drainage and water deficit
Water resources engineering and best management practices
Water policy, economics and scarcity
Water use and consumption; water reuse and wetlands
Water, soil and air quality and pollution
More topics...
Advances in river restoration
Agricultural hydrology for irrigated crop production
Application of artificial neural networks (ANNs), support vector machines (SVM), empirical orthogonal teleconnection (EOT), empirical orthogonal functions (EOF), fuzzy logic and genetic algorithms in hydrology
Applications of remote sensing and geographic information systems (GIS) in hydrology
Aquatic hydrology
Coupled hydrological, ecological and atmospheric modelling
Data assimilation of wind and rainfall data into meso-scale atmospheric models
Dynamics of droughts
Eco-hydrology
Emerging contaminants
Environmental hydrogeology
Environmental isotopes in the hydrological cycle
Environmental nanotechnology
Environmental river mechanics
Estimation of hydraulic properties of porous media
Evaluation of multi-parameter algorithms for hydrological applications
Flood frequency analysis
Fluvial geomorphology and landscape evolution
Geostatistics
Groundwater and surface water interaction
Conjunctive use of surface and groundwater
Hydroecology
Hydrological effects associated with climate change and variability and modelling hydrological changes
Hydrological impacts of forest management practices
Hydrological, fisheries, economic and social impacts of dam removal
Hydrologic dynamics and ecosystem structure
Hydrology and integrated water management
Hydrology of extremes
Land surface-atmosphere interactions
Lateral effects of drainage ditches on wetland hydrology
Modelling reservoir operations with biological constraints
Nonlinear dynamics and multiple scale processes in hydrology
Quantifying hydrological needs of endangered species
Quantitative precipitation forecasting
Regionalisation in hydrology
Regional scale dynamics of soil moisture processes
Role of hydrologic models in the TMDL process in large basins
Karst hydrology
Measurements and estimation of aquifer recharge
Monthly, seasonal and/or decadal forecasting
Multi-phase flow in heterogeneous porous media
New methodological developments in stochastic hydrology
Scaling issues: scale dependence and scale invariance in hydrology
Statistical analysis of water quality data
Transport and coupled processes in the vadose zone
Urban hydrology
Water policy
Water pricing
Water scarcity
Wetland restoration and best management practices
Wind frequency and modelling
More on this journal...
Objectives
The main objective of IJHST is the promotion of hydrological science and technology through challenging traditional and conventional methods and publishing new methods in global, regional and national changing climates. IJHST covers the effects of urbanisation, agriculture, industry, forestry, etc., and the research undertaken and needed to better define their effects on water resources.
IJHST allows the viewpoints of cities, factories, farmers, fisheries, foresters, etc. to be brought together to answer questions about how technical problems are addressed and solved, and how management issues are decided between competing hydrological resources. IJHST aims to strengthen the partnerships between water scientists, engineers, geologists, chemists, biologists and the other disciplines to develop current hydrology methods. It helps define the knowledge that is required to make informed hydrological decisions.
Readership
IJHST provides a vehicle to help professionals, academics, researchers and policy makers to disseminate information and to learn from each other's work. Such a readership will be working in the field of hydrological technology management, science, engineering and business education as surface hydrologists, groundwater hydrologists, hydrometeorologists, hydrogeologists, agrometeorologists, environmental scientists, physical geographers, agricultural hydrologists, ecohydrologists, river engineers, environmental geologists, hydroecologists, civil engineers and environmental statisticians.
Contents
IJHST publishes original papers, review papers, technical reports, notes and case studies. Special Issues devoted to important topics in hydrological technology, science and engineering will occasionally be published.
Editor in Chief
Eslamian, Saeid, Isfahan University of Technology, Iran
(ijh.resgmail.com)
Advisory Board
Al-Turbak, Abdulaziz S., King Saud University, Saudi Arabia
Bonacci, Ognjen, University of Split, Croatia
Boynagryan, Vladimir, Yerevan State University, Armenia
Cassardo, Claudio, University of Torino, Italy
Chen, Bang-Fuh, National Sun Yat-sen University, Taiwan, Province of China
Dac, Nguyen Tat, Sub-Institute for Water Resources Planning (SIWRP), Vietnam
Elshorbagy, Amin A., University of Saskatchewan, Canada
Gambolati, Giuseppe, Universitá degli Studi di Padova, Italy
Ghidaoui, Mohamed, Hong Kong University of Science and Technology, Hong Kong SAR, China
Herrera, Ismael, National University of Mexico (UNAM), Mexico
Khan, Shahbaz, Charles Sturt University, Australia
Latif, Muhammad, University of Engineering and Technology, Pakistan
Lundqvist, Jan, Linkoping University, Sweden
Lyberatos, Gerasimos, National Technical University of Athens, Greece
Manopimoke, Supachit, Ritsumeikan Asia Pacific University, Japan
Miller, Norman L., E.O. Lawrence Berkeley National Laboratory, USA
Murad, Ahmed Ali Abdalla, United Arab Emirates University, United Arab Emirates
Mutua, Francis M., University of Nairobi, Kenya
Naidu, Ravi, University of South Australia, Australia
Nicolas, Kalogerakis, Technical University of Crete, Greece
Pagliara, Stefano, Universitá di Pisa, Italy
Papanastasiou, Panos, University of Cyprus, Cyprus
Radojičić, Zoran M., University of Belgrade, Serbia
Rashed, Muhammad Al, Kuwait Institute for Scientific Research, Kuwait
Scarpati, Olga Eugenia, La Plata National University, Argentina
Selahattin, Incecik, Istanbul Technical University, Turkey
Shatanawi, Muhammad Rashid, University of Jordan, Jordan
Starkel, Leszek, Polish Academy of Sciences, Poland
Szolgay, Jan, Slovak University of Technology, Slovakia
Wang, Zhao-Yin, Tsinghua University, China
Editorial Board Members
Ahmed, Shakeel, National Geophysical Research Institute (N.G.R.I.), India
Alomran, Abdulrasoul, King Saud University, Saudi Arabia
Bardsley, Earl, University of Waikato, New Zealand
Cheng, Alexander H.- D., University of Mississippi, USA
Coles, Neil Andrew, University of Leeds, UK
Conacher, Arthur, University of Western Australia, Australia
Di Baldassarre, Giuliano, UNESCO-IHE Institute for Water Education, Netherlands
Diersch, Hans-Jorg G., DHI-WASY GmbH, Germany
Dupont, R. Ryan, Utah State University, USA
Dvinskih, Svetlana Aleksandrovna, Perm State University, Russian Federation
Gomez-Hernandez, Jaime, Universidad Politécnica de Valencia, Spain
Grismer, Mark E., University of California, USA
Gupta, Ashim Das, Asian Institute of Technology, Thailand
Howard, Ken W.F., University of Toronto at Scarborough, Canada
Khanbilvardi, Reza M., City University of New York, USA
Kisi, Ozgur, Ilia State University, Georgia
Klove, Bjorn, University of Oulu, Finland
Kovar, Pavel, Czech University of Life Sciences Prague, Czech Republic
Kowalczak, Piotr, Institute of Meteorology and Water Management, Poland
Kroiss, Helmut, Vienna University of Technology, Austria
Lazaridou-Dimitriadou, Maria, Aristotle University, Greece
Matouq, Mohammed, Al-Balqa Applied University, Jordan
McCuen, Richard H., University of Maryland, USA
McKay, Jennifer, University of South Australia, Australia
Meddi, Mohamed, Higher National School of Hydraulics, Algeria
Miyazaki, Tsuyoshi, University of Tokyo, Japan
Ong, Say Leong, National University of Singapore, Singapore
Patzek, Tadeusz W., University of California, USA
Persson, Kenneth M, Lund University, Sweden
Razack, Moumtaz, University of Poitiers, France
Santos, João Filipe Fragoso, Polytechnic Institute of Beja, Portugal
Sherif, Mohsen Morad, United Arab Emirates University, United Arab Emirates
Shui, Lee Teang, Universiti Putra Malaysia, Malaysia
Singh, Vijay P., Texas A&M University, USA
Sivakumar, Mannava V.K., World Meteorological Organization, Switzerland
Stauffer, Fritz, ETH Zürich, Switzerland
Szidarovszky, Ferenc, University of Arizona, USA
Tan, Yih-Chi, National Taiwan University, Taiwan, Province of China
Tulipano, Luigi, Sapienza - Università di Roma, Italy
Vairavamoorthy, Kalanithy, University of Birmingham, UK
Vogel, Richard M., Tufts University, USA
White, Ian, Australian National University, Australia
Xia, Jun, Chinese Academy of Sciences, China
Zareian, Mohammad Javad, Water Research Institute, Iran
A few essentials for publishing in this journal
Submitted articles should not have been previously published or be currently under consideration for publication elsewhere.
Conference papers may only be submitted if the paper has been completely re-written (more details available here) and the author has cleared any necessary permissions with the copyright owner if it has been previously copyrighted.
Briefs and research notes are not published in this journal.
All our articles go through a double-blind review process.
All authors must declare they have read and agreed to the content of the submitted article. A full statement of our Ethical Guidelines for Authors (PDF) is available.
There are no charges for publishing with Inderscience, unless you require your article to be Open Access (OA). You can find more information on OA here.



Submission process

All articles for this journal must be submitted using our online submissions system.
View Author guidelines.