International Journal of Electronic Healthcare
This journal also publishes Open Access articles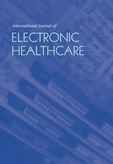 Editor in Chief

Associate Prof. Chongying Wang

ISSN online

1741-8461

ISSN print

1741-8453
4 issues per year


CiteScore

0.7 (2021)

IJEH is an authoritative, peer-reviewed international journal which presents current practice and research in the area of e-healthcare. It is dedicated to design, development, management, implementation, technology and application issues in e-healthcare.
Topics covered include
Meaning for patients, providers and payers
Strategy, implementation, privacy, trust
Hospital strategies, small sized hospitals
National health information infrastructure
Cultural/social/political issues, social exclusion
HIPPA
Impacts on efficiencies, effectiveness, transparency
Process models, quality management
Reengineering hospital administrative processes
Electronic medical records
Healthcare portals, web services
E-procurement, e-payments
E-doctors and e-pharmacy
Knowledge management, technical aspects of knowledge flow
Where do we go from here?
More on this journal...
Objectives
IJEH aims to help professionals working in the field, academic educators and policy makers to contribute, to disseminate knowledge, and to learn from each other|s work through cutting edge thinking in e-healthcare. The international dimension is emphasised in order to overcome cultural and national barriers and to meet the needs of accelerating technological change and changes in the global economy. IJEH is an outstanding outlet that will enable e-healthcare research to take a shape of its own and whose results can be shared across institutions, governments, researchers and students, as well as across the healthcare industry:
Up-to-date, leading edge research to keep readers ahead and maintain a competitive edge best practice in e-healthcare
Practical guidance on ways to achieve significant effectiveness and efficiency in e-healthcare development and implementation
In-depth analysis and interpretation to advance our understanding and provide a framework for further study of e-healthcare
International coverage which allows us to share information and knowledge and insight on a worldwide scale.
Readership
Professionals, academics, researchers, managers, policy makers, and non-profit organisations.
Contents
IJEH publishes original and review papers, technical reports, case studies, conference reports, management reports, book reviews, and notes, commentaries, and news. Contribution may be by submission or invitation, and suggestions for special issues and publications are welcome:
High quality papers to keep readers at the forefront of the latest thinking and research in e-healthcare
Case studies and practical applications to illustrate e-healthcare design, development, management and implementation.
Editor in Chief
Wang, Chongying, Nankai University, China
(wang.ijehgmail.com)
Associate Editors
Wang, Jiaojiao, Institute of Automation, China
Zhao, Xi, Xi'an Jiaotong University, China
Senior Editor
Shieh, Yao Y., University of California, USA
Editorial Board Members
Ahluwalia, Punit, University of Texas - Rio Grande Valley, USA
Al-Mashari, Majed, King Saud University, Saudi Arabia
Batenburg, Ronald S., Utrecht University, Netherlands
Chuang, Ta-Tao, Gonzaga University, USA
Conrad, Steven A., Louisiana State University, USA
Courtney, Karen L., University of Pittsburgh, USA
Demiris, George, University of Pennsylvania, USA
Haux, Reinhold, Technical University of Braunschweig, Germany
Kim, Chang-yup, Seoul National University, South Korea
Kohun, Frederick G., Robert Morris University, USA
Krabbendam, Koos, University of Twente, Netherlands
Lau, Adela S.M., The Hong Kong University of Science and Technology, Hong Kong SAR, China
Lin, Binshan, Louisiana State University in Shreveport, USA
Lorence, Daniel P., Virginia Military Institute, Lexington, USA
McLaughlin, Curtis P., University of North Carolina at Chapel Hill, USA
Mehrotra, Deepti, Amity University Uttar Pradesh, India
Memon, Qurban Ali, United Arab Emirates University, United Arab Emirates
Merhi, Mohammad I., Indiana University South Bend, USA
Nenonen, Mikko, Rheumatism Foundation Hospital, Finland
Phuong, Nguyen Hoang, Ministry of Health of Vietnam, Vietnam
Prybutok, Gayle Trofe, University of North Texas, USA
Rajarajan, M., City University, UK
Siau, Keng, Missouri University of Science and Technology, USA
Sood, Sanjay P., C-DAC School of Advanced Computing, Mauritius
Standing, Craig, Edith Cowan University, Australia
Steele, Robert, Medical University of South Carolina, USA
Tan, Joseph, McMaster University, Canada
Tichon, Jennifer, Queensland University of Technology, Australia
Tounsi, Mohamed, Prince Sultan University, Saudi Arabia
Tung, Y. Alex, University of Connecticut, USA
Van Merode, G.G., University of Maastricht, Netherlands
Von Lubitz, Dag, Central Michigan University, USA
Wickramasinghe, Nilmini, Swinburne University and Epworth HealthCare, Australia
Yunis, Manal M., Lebanese American University, Lebanon
Zwass, Vladimir, Fairleigh Dickinson University, USA
A few essentials for publishing in this journal
Submitted articles should not have been previously published or be currently under consideration for publication elsewhere.
Conference papers may only be submitted if the paper has been completely re-written (more details available here) and the author has cleared any necessary permissions with the copyright owner if it has been previously copyrighted.
Briefs and research notes are not published in this journal.
All our articles go through a double-blind review process.
All authors must declare they have read and agreed to the content of the submitted article. A full statement of our Ethical Guidelines for Authors (PDF) is available.
There are no charges for publishing with Inderscience, unless you require your article to be Open Access (OA). You can find more information on OA here.



Submission process

All articles for this journal must be submitted using our online submissions system.
View Author guidelines.
Journal news
Associate Prof. Chongying Wang appointed as new Editor in Chief of International Journal of Electronic Healthcare
1 March, 2023
Associate Prof. Chongying Wang from Nankai University in China has been appointed to take over editorship of the International Journal of Electronic Healthcare.